Have you ever wanted to triple your energy, shift unwanted weight, clear your skin and boost your immune system?
Have you ever wanted to detox your body and mind and lift the mental fog?
My guess is that you have, and I 100% believe that an alkaline cleanse is the most efficient and effective way to achieve all of this and more.
What is an Alkaline Cleanse
Put most simply, an alkaline cleanse involves consuming raw, fresh, alkaline soups, juices and smoothies for a period of between 3 and 10 days (and beyond for some!).
The sole aim of an alkaline cleanse is to flood the body with an abundance of easily absorbed and assimilated alkalising nutrients so that the body can detoxify, cleanse and rebuild itself.
In simple terms, you give your body all the good stuff it needs, and none of the bad stuff that harms it, in a way that it is as easy as possible for your body to digest and use (i.e. as a liquid).
This might sound like you are starving yourself, but in reality the opposite is true. You consume a LOT of nutrients, a LOT of calories and a LOT of food! You don't go hungry. If you feel hungry, you have some more.
What Else? Surely there is something else?
True, you also consume a lot of water during the cleanse. Good quality, clean, pure water. I also like to have herbal teas, ginger tea especially, alongside warm lemon water.
What Should We Avoid?
Everything else! If you are consuming only fresh, raw, cleansing, alkaline foods in the format of soups, juices and smoothies then you don't really need to know a full and exhaustive list of things you will be avoiding! But if you are new to alkalising there could be some gray areas for you, so here is a selection in no particular order.

[See Also: The Seven Most Alkaline Foods (Free Guide) – Click here to get it]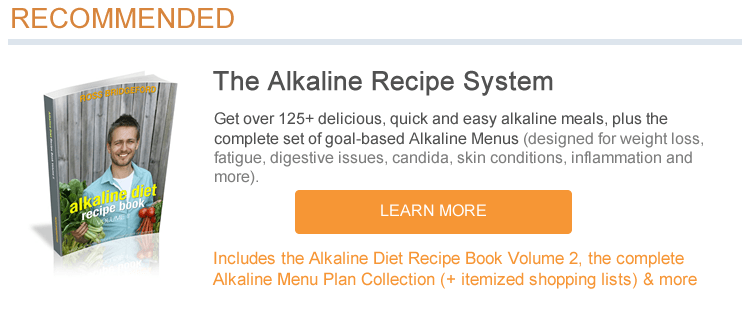 Foods To Avoid While Cleansing (and when alkalising in general!)
Sugar
Trans fats
Crisps
Chocolate
Fizzy drinks
Gluten & Grains
Bread
White pastas, noodles etc
Simple carbs
High sugar fruit (all fruit when cleansing except lemons, limes, grapefruit, avocado, tomato)
Alcohol
Tobacco
Dairy
Meat
Refined foods
Frozen foods
Condiments
Yeasts
Fermented foods
Eggs
Mushrooms
Caffeine
Corn
Anything microwaved
Supplementation on the Alkaline Cleanse
Supplementation while cleansing is only as important as at any other time in your life. Supplements are exactly that, supplements. They are there to supplement. If there is something missing in your normal diet or if you need more of something at any particular time, then you supplement.
While cleansing I wholeheartedly recommend the following:
Fibre: because you are consuming a lot of juice, you actually lose a bit of the fibre you would normally get if you were consuming these foods whole. A fibre supplement such as Dr Young's pHlush will also give your body a HUGE helping hand in cleansing the digestive system of harmful acids (fungus and yeasts) which prevent the body from properly absorbing the nutrients from the foods you consume. All in all a bit of a star when it comes to cleansing.
Parasite Cleanse: using a natural, herbal parasite cleansing product is not only great for ridding the body of any parasites (you would be surprised at how many of us have them lingering around for years!) but the herbs in these products also help to cleanse and replenish the whole digestive system, ridding the body of old mucous, yeast and waste buildup. Vitaklenze is absolutely amazing for this and I recommend it 110% percent. Click here for more info on Vitaklenze.
Essential Fatty Acids: EFAs (omega 3, 6 and 9) are absolutely vital at all times in life, but this is especially true during a cleanse. It is estimated that 70% or more of us are chronically deficient in these essential omega oils, so I really recommend taking them at all times. Omega 3 especially is so hard to consume through diet alone! However, on a cleanse it is doubly important because these fats provide a really smart, clean source of energy. Udo's Choice is undoubtedly the best omega oil supplement on the market, providing a ratio of omega 3, 6 and 9 that is best for human health.
Green (Wheatgrass) Powder: to help with the detoxification of the body, consuming greens four times a day will really help to kickstart and power up the cleansing and alkalising process. The greens are SO nutrient dense they will really ensure that your body is getting a hit of the goodness it needs to rebuild and repair. I recommend pHion's Green Superfood, perfectlyhealthy's MegaGreens and Dr Young's green drink, pH Miracle Greens.
pH Drops: having four litres of water each day is essential on the cleanse. When you are consuming this quantity of water, ensuring that it is alkalising and healthy is of utmost importance! pH drops such as pH Miracle PuripHy or pH Booster from pHion do a fantastic job of raising the alkalinity of your water to between a pH of 8-9 that you really can't do without it!
Exercise on the Alkaline Cleanse
While cleansing it is a great idea to keep active, but try to make sure it is aerobic and not anaerobic (resistance) training. It is not a good idea to over-exert yourself. Walking, light jogging or even better rebounding is excellent.
Exercising aerobically helps to flush your body of toxins through your sweat, breath and lymph (rebounding is especially good for pumping your lymph around your body!).
Anything too strenuous such as resistance training can cause dizziness and weakness, and some anaerobic exercise, while good for you, can lead to the temporary production of acids, which is exactly what you are trying to avoid during the cleanse.
Remember – our aim is to make it as easy as possible for the body to heal itself.
Stick to exercise that, intuitively, you know will help with this!
Some Sample Recipes
Knowing what to eat is quite straightforward, knowing how to eat it to make it tasty and satisfying is another! You can find plenty of recipes throughout this site (or join our Alkaline Lifestyle Course and get our Alkaline Recipe Book FREE) – but here are a sample juice, smoothie and soup recipe to give you an idea of how you would eat on an alkaline cleanse:
And That's All There Is To It!
If you have any questions you can either leave them below or post them at our Alkaline Diet Message Board, where there are tons of other people interested in the alkaline approach to health posting questions, answering questions, supporting each other and generally being very nice to one another!
Happy cleansing!