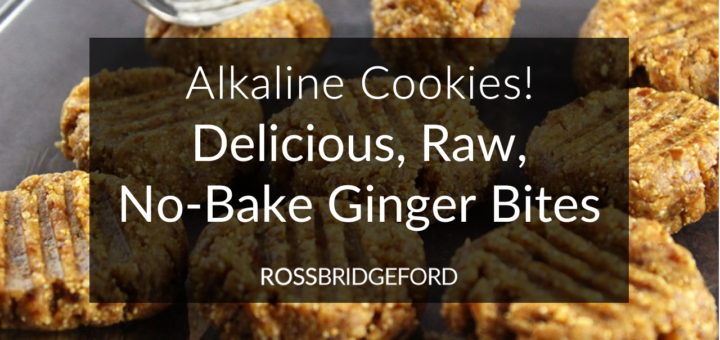 This is a fast (5-minute!), delicious, alkaline and healthy-fat rich (so it's great for your brain and will keep you going) recipe that EVERYONE in your family will love!
Hey! Ross here with a brand-new alkaline snack recipe for you. These little cookie-bites are DELICIOUS. The healthy fat coming from the almonds, almond butter, coconut oil, and macadamia nuts is so great for fighting inflammation, soothing the gut, speeding your metabolism, fighting bad cholesterol and raising good cholesterol…and so much more.
Plus you're getting the anti-inflammatory benefit from the ginger, nutmeg for the digestive system, cinnamon for your metabolism and cardiovascular system and cancer-fighting cardamon that's also good for bad breath!
The sugar from the dates and rice malt syrup in this entire batch equates to a total of 86g of sugar, and of this 28g of fructose, which is the sugar we really need to avoid. This means each cookie contains 6g sugar and under 2g of fructose. Which is the equivalent to the sugar and fructose in less than a quarter of an average-sized apple.
Enjoy 🙂
Alkaline, No-Bake Ginger Cookie Bites
Makes 14 Cookies
Ingredients
3 tbsp almond butter
1/4 cup macadamia nuts
1/4 cup raw almonds
2 tbsp coconut oil
2 tbsp rice malt syrup
4 Medjool dates (pitted)
2 tsp ground cinnamon
3 tsp ground ginger (you can increase or decrease depending on how spicy you like it)
1 tsp of ground cardamon
Pinch of ground nutmeg
1 cup oats
Note: total metabolised fructose per cookie: 1.6g – approx the same as 1 grapefruit)
Method
Using a blender or food processor, blitz together the almond butter, coconut oil, rice malt syrup, dates (ideally soaked in hot water for a few minutes first, but it's not a biggie), ginger, cinnamon, cardamom, nutmeg and oats until they're well combined.
Next throw in the almonds and macadamias and blend further, leaving these a bit chunky.
Now, using your hands, simply roll them into balls and then flatten slightly to make the cookie shape. Put them into the freezer for half an hour and then transfer to the fridge. See if you can make them last 24 hours 😉