A Tasty, Easy Alkaline Snack
Snacks are our saviour! In my 15+ years of coaching, and almost 20 years of living alkaline I know that it is those moments of low blood sugar…tiredness…feeling busy and hungry and with nothing healthy to hand…THIS is when most people fall off track.
Having an armory of delicious, easy-to-make, quick and simple alkaline snacks is SO important – it can truly be the difference.
And these bliss balls are no exception.
Quick, delicious, easy – and you can make them in bulk to last you and the fam all week!
They are sweet, but not too much (and only 4g sugar per ball) plus they're full of protein, fiber and healthy fats – the three things that keep you feeling full for a long, long time.
And they're DELICIOUS!
Recipe: Carrot Cake Bliss Balls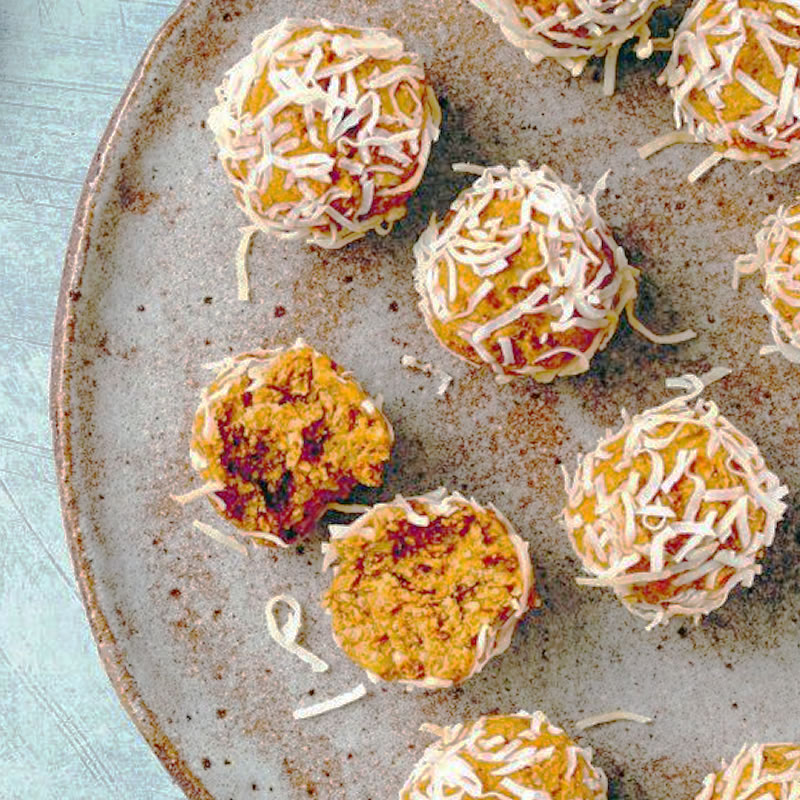 Ingredients:
1/2 cup sunflower seeds
1 cup rolled oats
5 pitted medjool dates
180g grated carrots
1/4 cup raisins
20g walnuts
20g almonds
1 1/2 tsp cinnamon
Zest & juice of 1/4 of an orange
1tbsp coconut oil
Unsweetened desiccated coconut (for rolling)
Instructions
Put everything except the desiccated coconut into a blender or food processor and blend for 2-3 minutes until everything is finely chopped and a nice soft, 'wet' mixture is formed.
Scoop the mixture out a tablespoon at a time and roll between your hands to form a rough ball
Roll the ball in the coconut to coat the ball and then roll and squeeze it a little more in your hands to stick the coconut to the ball
That's all there is to it!
This should make about 15-18 balls and will store in the fridge for a week or two in an airtight container…but I beat they're all gone well before that 🙂
SEE ALSO:
The Ultimate List of Alkaline Snacks
11 Portable, High-Protein Alkaline Snacks
Why Most People Fail with the Alkaline Diet (and how to fix it)