This is an absolute favorite, it constantly wows friends and families at dinner parties, it turns any dish into a decadent-alkaline-keto feast and frankly – it takes under 30 seconds to make!
It's a 3-ingredient dressing that can be used on practically anything
Creamy, warm (or cold), it's a lot like a Caesar Dressing, but dairy-free, gluten-free, acid-free, sugar-free and really rather alkaline!
Ross' 3-Ingredient Alkaline Cesar Dressing
Serves 4
Ingredients:
1/2 cup raw (organic) cashews
1 cup (250ml) yeast-free vegetable stock/bouillon
1-2 cloves garlic
Instructions:
(If you don't have a high-speed blender (Vitamix, Blendtec, etc) the cashews need to be soaked in warm water for at least 30 minutes prior to making, otherwise, it might not blend too smooth…!)
1. Drain the cashews (if soaked)
2. Add to a blender with the garlic and stock
3. Blend until smooth!
……et voila!
That's it, it's that simple and it is awesome.
You can serve over veggies, on salads or any other dish.
It could be your backup, simple, easy way to get a big hit of greens: just wilt some spinach or kale and serve with this dressing – delicious!
Just like this: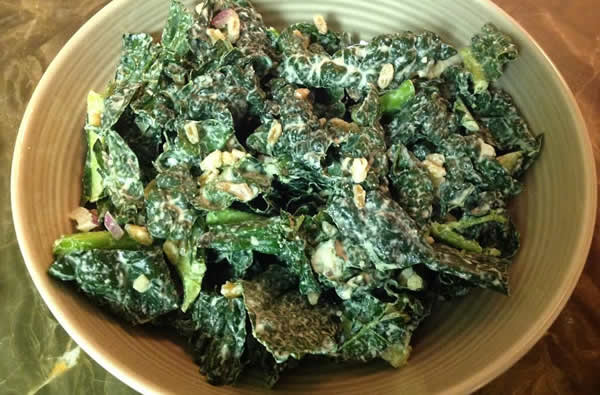 Plus, fresh from the blender, unless you've cooled your stock the dressing is warm like a sauce and is so darn delicious!
Enjoy 🙂
PPS. cashew nuts, when raw and (preferably) organic are mildly alkaline-forming. Stored, treated, roasted and flavored nuts are acid-forming. Keep it fresh and natural baby!