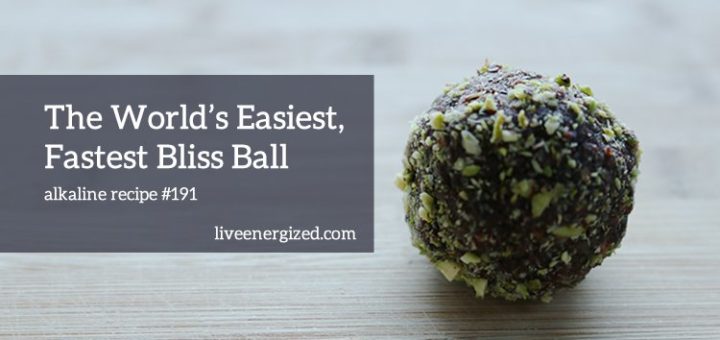 Hey guys – these bliss balls are a lifesaver at Bridgeford Alkaline HQ!
It's a truly delicious, raw alkaline snack to keep you going, energised and your taste buds satisfied!
Let's face it, when you're super-hungry and busy it's THE stress-test to see if you are going to slip up, crack and grab something unhealthy.
This bliss ball recipe completely prevents this because it's:
a) delicious
b) easy to make
c) quick to make
d) can be stored in the fridge
e) did I mention delicious?
It contains a little sweetness from the dates, but aside from that it's highly alkaline with the cacao, pistachio, almond meal, coconut oil, chia seeds and almonds.
It's full of healthy fats, protein, fibre and antioxidants and frankly the cacao makes it chocolatey while the almond meal gives it an almost brownie-like quality.
See Also: Get Over 125+ Delicious & Easy-to-Make Alkaline Recipes Here
We strictly use cacao here – not cocoa. The difference is explained by Sarah Wilson here brilliantly and it's really important that even if you don't want to understand why, that you always use cacao.
I strongly recommend you try these out – they're a staple in our house, especially for Leo (our little 4 year old boy). Having delicious, healthy, alkaline snacks at hand can be the difference between success and failure for a lot of people.
---
Raw Cacao, Pistachio & Almond Bliss Balls
---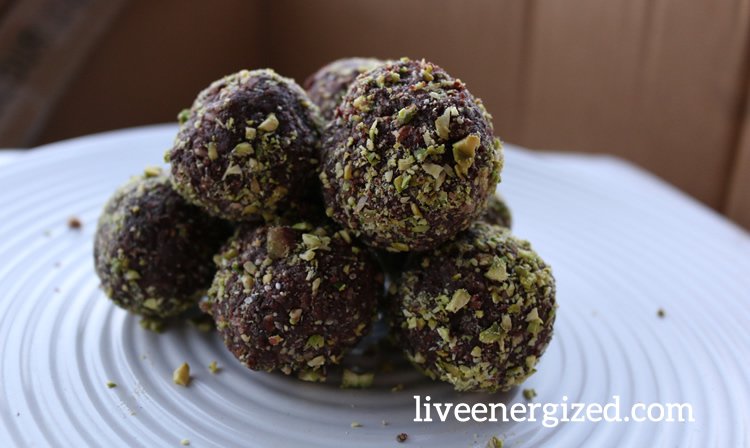 Makes 12 Bliss Balls
Ingredients
4 Medjool dates (in case you're wondering this means 1.3g of sugar per ball – absolutely acceptable)
1 cup almond meal
1/2 cup shredded coconut
1/3 cup coconut oil
1/3 cup cacao powder
1/3 cup pistachios
1/4 cup almonds
1 tbsp chia seeds
Instructions
Start by softening the dates and almonds in hot water. Preferably soak the almonds for at least 4 hours…unless you're using a high speed blender or food processor (such as the Vitamix, in which case no softening is needed).
The dates need about an hour to soften – make sure you remove the seed.
Now process/blend the dates, almond meal, almonds, half of the pistachios, shredded coconut, coconut oil, cacao and chia together.
Move this to a bowl and let it stand for a few minutes to allow the chia to soften and expand.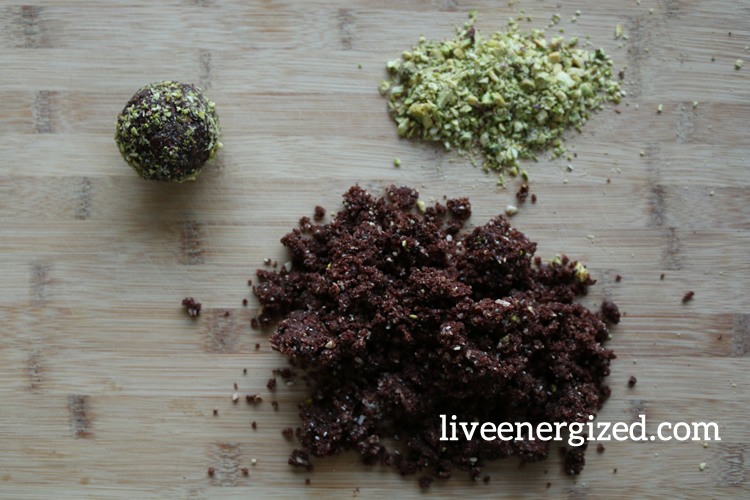 Smash the remaining pistachios and roll this raw mixture into small balls and roll in the crushed pistachios to coat them.
Enjoy!
These will keep in the fridge for seven days, and are a great grab and go snack offering dense, filling nourishment to keep you going until your next meal.
Do you have a bliss ball recipe you want to share? Or a variant? Do you love it with more cacao, less coconut, added goji berries, raw or baked? Let me know in the comments below!
Ross
SEE ALSO: the Alkaline Guide to Nuts