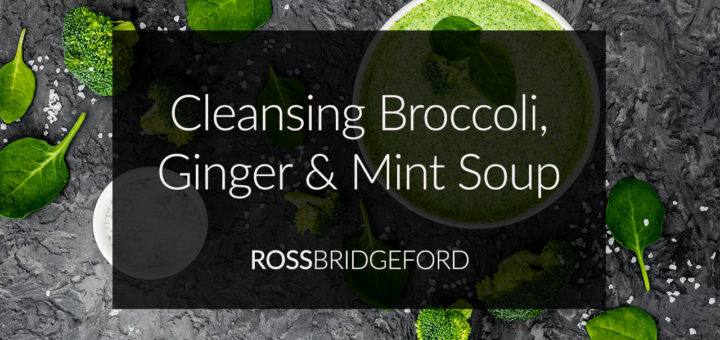 Super-Fast Cleansing Broccoli Soup Recipe
Sometimes you just need nourishing. You just get that craving for greens and goodness.
Other times you just need something QUICK, that is warming, filling and will keep you going – but not take hours to make.
This Cleansing Broccoli Soup is BOTH!
It takes just 10-15 minutes from start to finish, creates very minimal mess – and has been road-tested with my 1-year-old, 5-year-old and 9-year-old, all providing thumbs up. Well, the 1-year-old showed he liked it by eating it without much fuss, rather than throwing his spoon on the floor and tipping the soup everywhere. Result.
It's vegan, vegetarian, alkaline, healthy – contains no dairy or cream, yet it's super-creamy…amazing.
Cleansing Broccoli Soup with Ginger, Mint & Spinach
Serves 2
Ingredients:
1 large head of broccoli, roughly chopped(approx 400g)
1 small brown onion, diced
2 cloves of garlic, minced
1/2 bunch of fresh mint, roughly chopped
2 large handfuls of spinach
1/2 cucumber, roughly sliced
1.5 cm of fresh root ginger, grated
3-500ml of organic vegetable stock
Himalayan salt & black pepper to taste
1 tbsp coconut or avocado oil
Instructions:
Start by gently sauteeing the onion and garlic in the oil in a large pan for around 2-3 minutes, and then add the chopped broccoli
Continue to gently warm through for another 1-2 minutes and then stir in the ginger, mint and pour over the stock – you can start with just 200-300ml and if this covers the broccoli, save the remainder for once you've blended it, to get the consistency you want
Let this simmer for 3-4 minutes until the broccoli just starts to soften.
Transfer everything to a blender, and add the spinach and cucumber (raw), and blend on high speed until everything is completely smooth
Add more stock to get the consistency you like and serve with a sprig of mint atop each bowl and a little drizzle of avocado or olive oil