Shredded Kale & Brussels Creamy Salad Recipe
This is such an awesome springtime salad, I love it. It's basically either summer or spring in Brisbane (yes, that's bragging) so I enjoy this all-year-round. The crunchy-creamy combo is always a winner, and the hemp seeds add that texture similar to having parmesan in there.
It's just perfect.
Of course – kale, cabbage, spinach, carrot, Brussels, flax…it's super alkaline and so nutrient dense. Masses of chlorophyll, vitamins, minerals, antioxidants and match-winners glutathione and sulforaphane.
Let's do this!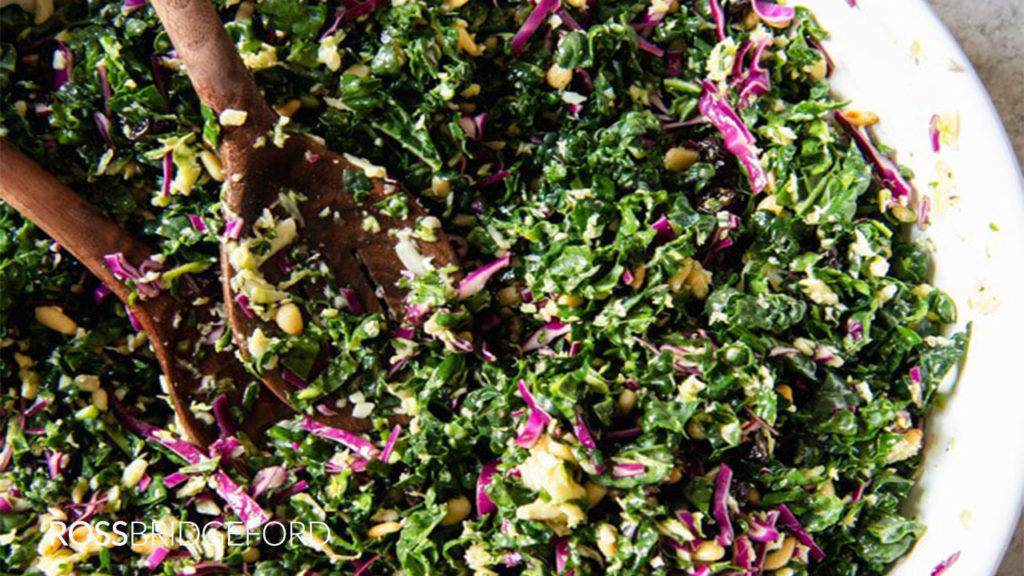 Ingredients
For the salad:
2 medium bunches Tuscan kale finely chopped
1/4 red cabbage
1 cup baby spinach leaves
1 medium-large carrot
10 brussels sprouts
1/2 cup of hemp seeds
3/4 cup pine nuts
Optional: handful of dried cranberries OR 1 fresh pomegranate
For the dressing:
(note: this makes more than you need)
3 avocados
1 lemon (Juiced)
1 handful of Parsley
1 handful of Coriander (Cilantro)
1 handful of Mint
3 big handfuls of Spinach
1/4 cup of Pumpkin Seeds
1/4 cup of Flax Seeds
Himalayan Salt & Black Pepper to taste
50-100ml of Water (or more to your own taste)
Instructions
Start by finely chopping the kale, cabbage, spinach and Brussels. Put these into a large bowl and toss together.
Now spiralize, or make ribbons of the carrot (techniques below), and put this with the leaves.
Throw in the hemp and pine nuts and the optional fruit and mix roughly together
Next onto the dressing: this is simple, put it all into a high-speed blender and blend until smooth – starting with 50ml of water, and adding more until it's your desired consistency.
Mix the dressing through the salad quite liberally and enjoy!
In terms of easy prep, here's a couple of technique videos (especially if you don't have a spiralizer)!
Shredding the Cabbage
Carrot or Zucchini Noodles
And if you love the look of this recipe, you'll also love:
Recipe: Turmeric Roasted Cauliflower & Kale Salad
Recipe: Tunisian Chickpea Soup
Recipe: Live Dirty, Eat Clean Bowl
Juice: The Alkaline Detox Juice