The Triple A Juice
This is an essential juice recipe. It's delicious and it's powerful. It is one of the most loved and important recipes from my Alkaline Reset Cleanse…
And it's more powerful than 99% of other juices…..but why?
First let's take a step back…let me explain:
Firstly, everything I teach is designed to do two things:
Rapidly get you to the energy of your dreams so you feel vibrant and alive all day long
Give your body all of the tools it needs to thrive and protect you from ALL preventable sickness and diseases
Core to this (from an abundance of scientific research and medical studies) is the fact that these triple forces are  at the root cause of practically all preventible diseases, sicknesses and health challenges:
Acidity (net-dietary acid load i.e. more acidity from your diet than your body can handle)
Oxidative-Stress (the death and mutation of cells i.e. the opposite of anti-oxidant reactions)
Inflammation (we know all about this one!)
When you combine these three (which the standard American diet / modern, Western diet of processed foods, sugar, gluten, additives, etc does in bucket-loads), your entire system gets horribly out of balance:
Your endocrine system – the system of glands and organs such as your thyroid, adrenals, pancreas, hypothalamus, etc. that manages your hormones
Your immune system – with either low immunity (increasing cancer risk, infection, viruses, flu, etc) or over-active immunity (autoimmune, leaky gut, hypothyroidism, etc)
Your detoxification system – primarily of your liver and kidneys, but also your lymphatic system, skin and more
Your digestive system – leading to an imbalance in gut bacteria, clogged digestion, reflux/GERD, leaky gut, candida overgrowth and more
And of course your pH buffering system – which is critical to all of the above working effectively
These five systems (what I call our Five Master Systems) need to be nourished and thankfully Mother Nature has given us everything we need…and this juice does it in abundance.
It's called the Tripe A because it's highly alkaline, antioxidant-rich and packed with natures most potent anti-inflammatories.
And it's delicious.
And it's definitely the most powerful juice in the Alkaline Reset Cleanse.
Try it today and make it a part of your life.
You'll love it!
Alkaline Recipe #206: The Tripe A Juice (Alkaline, Anti-Inflammatory & Antioxidant-Rich)
Serves 2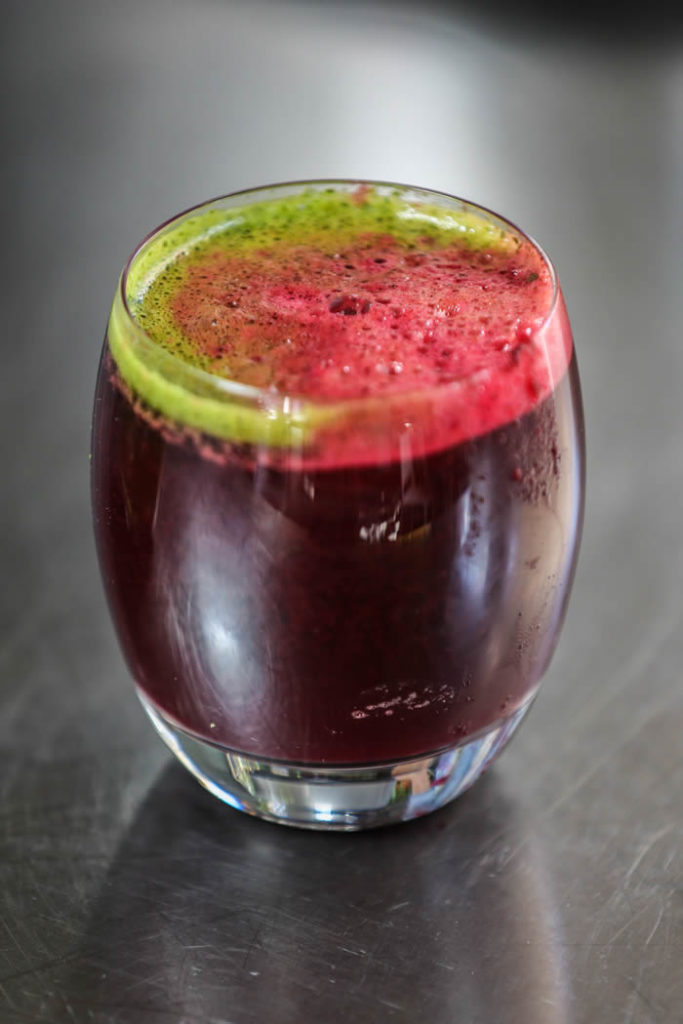 Ingredients
4 handfuls spinach
2 handfuls kale
1/2 cucumber
2 sticks of celery
1 inch ginger (more or less to taste)
2 cm turmeric (or 1 tsp powdered)
1 red capsicum
1 small beetroot
2 carrots
Filtered water to taste
Instructions
Wash and juice all ingredients!
If you're using a masticating juicer, chop the celery into chunks to prevent the string from clogging the juicer up.
You can dilute down with filtered water, coconut water, or any nut milk.
ENJOY!
Ross
PS. worried about oxalate? Click here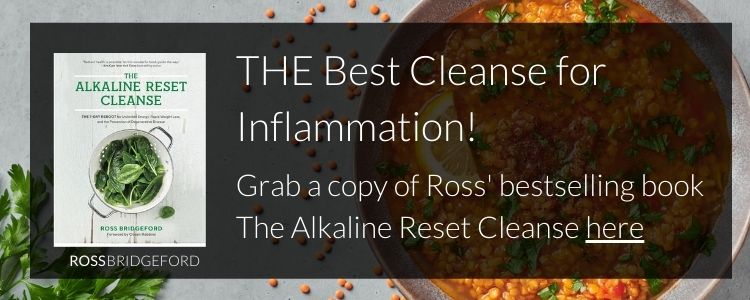 [yumprint-recipe id='111′]
---
---
Note on Juices vs Smoothies:
This question comes up most times I post a juice recipe, here's the answer:
And here's the full Juices vs Smoothies Guide