Turmeric is probably the most powerfully anti-inflammatory food on Earth – outperforming most anti-inflammatory medications in studies. Ideally, we should be consuming it every day, but it's important to note the differences between the fresh root and dried powder. This guide will reveal all…
Why Eat Turmeric? What Are the Benefits?
Turmeric is one of the most deeply researched foods on Earth because of the incredible power of the curcumin compounds it contains.
It's been researched extensively for its capacity to fight inflammation, prevent and reverse cancer, depression, Alzheimer's, oxidative stress, digestive disorders and more.
I have a full guide of the benefits and the associated medical research here.
Turmeric is just incredible.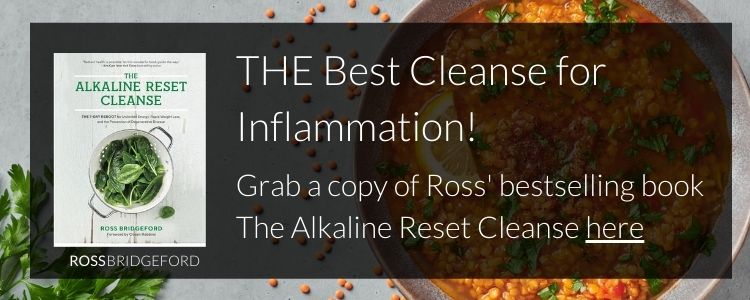 Fresh vs Dried – Which is Best?
When it comes to using turmeric in your diet, there are two options and this is one of the first questions I'm asked by my Alkaline Base Camp members when they start our Turmeric Anti-Inflammation Challenge.
Do I have to use fresh or can I use powder (dried) turmeric?
The answer is, yes, you can use both. Both have their merits and uses.
Fresh Turmeric (The Root)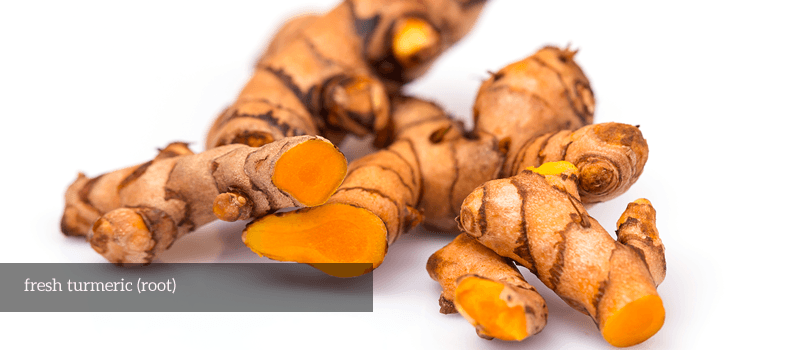 First and foremost I should point out that in studies, fresh turmeric has been shown to be more bioavailable – meaning the body is able to use it more readily and more effectively. There is less waste and the body uses more of what is consumed.
In this 2015 study published in the Journal of Functional Foods, the researchers found significant improvement in uptake of curcumin from fresh turmeric and greater pharmacokinetics (the movement of the substance throughout the body) in comparison to dried turmeric. (source)
I always say in every instance fresh is best and this is almost always true. Of course, there are times when you can't have fresh turmeric – but you should aim for it.
Fresh turmeric is a knobbly little root, a little like ginger, and can be used in a variety of ways.
It's preparation is simple, and here's a video on how to peel it easily:
The best ways to use fresh turmeric are:
Stewed to make turmeric tea
Blended into soups
Blended into smoothies
Juiced into juices
Grated into salads
Grated onto veggies before roasting
Grated into stir fries or curries
Sliced into lemon water
There are plenty of recipes, ideas, and links at the bottom of this article.
"Bulletproof" Tea
I also love to have turmeric every morning as part of my alkaline 'bulletproof' tea recipe, alongside coconut milk, coconut oil, ginger and it is just delicious. Having fresh turmeric in this tea each morning is an anti-inflammatory guarantee for the day!
The link is below this guide to get the recipe.
A Note on Heating Turmeric
It is best to eat as close to fresh and as natural as possible, but of course, you have to prepare foods from time to time! Cooking turmeric is fine, but try to limit the heating to under 20 minutes.
In this study from the Journal of Food Composition and Analysis the researchers compared the loss of bioactive principles of turmeric after pressure cooking and boiling for varying times.
The loss was an average of 27–53% with the most loss from pressure cooking and the less loss the shorter the boiling time.
Bear this in mind when preparing fresh turmeric.
For instance, when making the teas I tend to boil the turmeric for 3-5 minutes, and with soups, I blend it in fresh once the soup has already cooked.
---
Dried Turmeric (Powder)
Dried turmeric is very common and very easy to find, and so I always recommend having some for those times you can't find or run out of fresh turmeric.
Dried is actually easier and better to use in certain recipes such as my Turmeric Cauliflower Rice (see links below) and for roasted veggies.
However, I would give one very very strong recommendation: buy organic dried herbs and spices.
Non-organic spices are often treated with chemicals, contain GMOs and are irradiated. And if you're in the USA this gets worse. Virtually all conventional spices sold in the United States are fumigated with hazardous chemicals that are banned in Europe.
The irridation is a concern too. Food irradiation is the process of using radiation to kill bacteria and other contaminants. Irradiation changes the chemical composition of a spice, potentially creating toxic, carcinogenic by-products in the food and increasing our exposure to free radicals, while also destroying beneficial compounds, like the curcumin compound in the turmeric – which is what we're eating it for!
So when it comes to dried turmeric always buy organic!
Fresh vs Dried Turmeric – How Much of Each?
The easy rule of thumb when substituting between fresh and dried in recipes is to use 1cm of peeled turmeric for 1 tsp of dried turmeric.
And vice-versa.
This is the easiest way to think about it – in terms of length not weight (as 1cm is too light for most scales!). It doesn't have to be an exact science. If you're getting turmeric one way or another every day you're going to be thriving.
The Question of Black Pepper (Piperine) and Fats
There has been a lot of press over the 1998 study: "Influence of Piperine on the Pharmacokinetics of Curcumin in Animals and Human Volunteers" that found the bioavailability of curcumin increase 2000% after consumption alongside piperine (found in black pepper).
To this end, it's worth trying to always consume turmeric with black pepper (and other studies or theories suggest fats are important in ensuring maximum bioavailability too) where possible.
The jury is out as to whether this is truly as important as the study suggests, as there have not been follow-up studies since this was published nearly 20 years ago, but why not. A little black pepper isn't that hard to include and is rather tasty.
In Summary: Fresh vs Dried Turmeric – Which is Best?
Ultimately fresh is best but there are times you don't have it available, and in those times powdered is fine.
And powdered is also easier and better for a handful of recipes/uses, so it's always good to try and have both available all the time.
Just remember (important):
Don't overcook it – cook fresh turmeric for as little time as possible
Fresh is more bioavailable
Always consume with black pepper and fats (when you can)
Always buy organic powdered turmeric (and any dried herb/spice
1cm of fresh = 1tsp dried.
And as promised here are a bunch of recipes, links and other guides!
Guides
Turmeric User Guide
8 Ways to Eat Turmeric Daily
600 Reasons Turmeric Could be the World's Most Important Spice
10 Science-Backed Reasons to Eat More Turmeric
Recipes
Two Powerful Turmeric Tea Recipes (One Clear, One Creamy)
Alkaline "Bulletproof" Tea Recipe
Lemon & Turmeric Water (lemon water 2.0)
Anti-Inflammatory Smoothie
Turmeric & Lentil Soup
Roast Cauliflower & Turmeric Curry
---
---
Scientific Reference & Studies
Banafshe HR, et al. Effect of curcumin on diabetic peripheral neuropathic pain: Possible involvement of the opioid system. Eur J Pharmacol 2013; [Epub ahead of print].
Cheppudira B, et al. Curcumin: a novel therapeutic for burn pain and wound healing. Expert Opin Investig Drugs 2013; 22(10): 1295-303.
Kuncha M, et al. Curcumin potentiates the anti-arthritic effect of prednisolone in Freund's complete adjuvant-induced arthritic rats. J Pharm Pharmacol 2014; 66(1): 133-44.
Lal B, et al. Efficacy of curcumin in the management of chronic anterior uveitis. Phytother Res 1999; 13(4): 318-22.
Ng SC, et al. Therapeutic strategies for the management of ulcerative colitis. Inflamm Bowel Dis 2009; 15(6): 935-50.
Sharma C, Suhalka P, Sukhwal P, Jaiswal N, Bhatnagar M; Curcumin attenuates neurotoxicity induced by fluoride: An in vivo evidence; Pharmacogn Mag. 2014 Jan-Mar; 10(37): 61–65.
R Srivastava, et al. Effect of curcumin on platelet aggregation and vascular prostacyclin synthesis. Arzneimittelforschung 1986; 36(4): 715-7.
Sanmukhani J, et al. Efficacy and Safety of Curcumin in Major Depressive Disorder: A Randomized Controlled Trial. Phytother Res 2013; [Epub ahead of print].
Sun J, et al. Preventive effects of curcumin and dexamethasone on lung transplantation-associated lung injury in rats. Crit Care Med 2008; 36(4): 1205-13.
Taylor RA, et al. Curcumin for inflammatory bowel disease: a review of human studies. Altern Med Rev 2011; 16(2): 152-6.
Teayoun K, et al. Curcumin activates AMPK and suppresses gluconeogenic gene expression in hepatoma cells. Biochem Biophys Res Commun 2009; 388(2): 377-82.
Usharani P, et al. Effect of NCB-02, atorvastatin and placebo on endothelial function, oxidative stress and inflammatory markers in patients with type 2 diabetes mellitus: a randomized, parallel-group, placebo-controlled, 8-week study. Drugs R D. 2008; 9(4): 243-50.
Yasunari Takada, et al. Nonsteroidal anti-inflammatory agents differ in their ability to suppress NF-kappaB activation, inhibition of expression of cyclooxygenase-2 and cyclin D1, and abrogation of tumor cell proliferation. Oncogene 2004; 23(57): 9247-58.