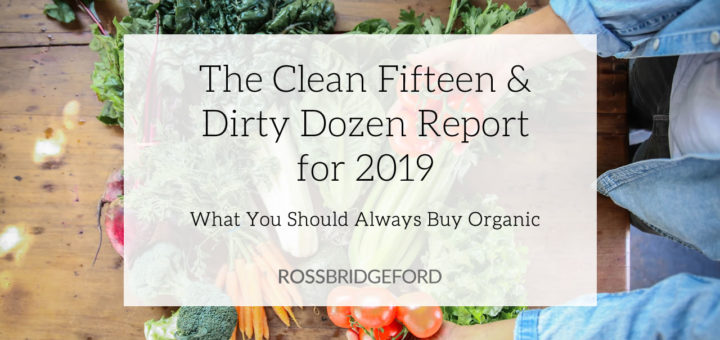 In this guide we learn what to do when you can't afford or access every fruit and vegetable as organic. We learn what the biggest risk foods are, and those that are the safest to eat non-organic. We also learn what the dangers of pesticides on our foods are so we can make an informed decision as to our best next step.
In an ideal world, everything would be produced organic…
But sadly, we still have a food system that's driven by profit, not health and frankly, it's getting worse. And it's likely only going to continue to get worse. The volume of pesticides use in the USA grew from 420 million pounds in 2007 to 564 million in 2012, and it continues to rise.
Every year the Environmental Working Group (EWG.org) publish their report on pesticide use in our fruits and vegetables, showing us the foods that – once bought, washed and peeled – still show signs of pesticide residue.
The continued (over)use of glyphosate, atrazine, metolachlor-S, dichloropropene, 2,4-D and the banned Dacthal (DCPA) (yep – it's banned but still found on 60% of kale tested) has meant the EWG found more pesticide residue on our fruits and vegetables than ever before.
The report gives us two lists: The Clean Fifteen (those that are safest to buy non-organic); and the Dirty Dozen (those with the highest vol. of pesticides still on the food once it's prepared, washed and ready to eat at home).
Of course, while it would be best to buy everything organic…I know this is cost prohibitive to most (and not accessible to most either, locally) – so this guide is an awesome way to learn where to focus your spend and effort.
The Clean Fifteen
These are the foods that you can buy non-organic. They found the least amount of pesticide contamination on these foods.
Avocados
Sweet Corn
Pineapples
Frozen Sweet Peas
Onions
Papayas
Eggplant
Asparagus
Kiwi
Cabbage
Cauliflower
Cantaloupes
Broccoli
Mushrooms
Honeydew Melon
These "Clean Fifteen" foods had almost zero traces of pesticides. Avocado and sweetcorn ranked #1 with less than 1% of samples showing traces of pesticides (although it should be noted that a lot of sweetcorn in the USA is GMO).
And then, these are the fruits and vegetables you should really try to get organic as often as possible – this is the Dirty Dozen list:
The Dirty Dozen
Strawberries
Spinach
Kale
Nectarines
Apples
Grapes
Peaches
Cherries
Pears
Tomatoes
Celery
Potatoes
Download Your Printer-Friendly Clean Fifteen & Dirty Dozen Cheat Sheet Here (to stick on your fridge)
But Please Don't Stress Out Over This!
While some of the information I am about to share below might be a little scary – it's intended to motivate you to do what you can – you shouldn't stress. The most important thing is exactly that: you do what you can and don't worry about the things you can't.
It is better to consume non-organic vegetables than to consume no vegetables at all.
Always remember that.
I know cost, accessibility mean that you can't always get organic all of the time. So do what you can and let the below info serve as your motivator to do the best you can, when you can!
The Dangers of Pesticides: Use This To Motivate!
Pesticides have been proven beyond all doubt to seriously impact human health. They are recorded as known endocrine disruptors (particularly stressful to the thyroid and adrenals), are strongly linked to infertility (in both men and women), neurotoxic (especially to children), immune-damaging and cause huge levels of oxidative stress (damaging DNA, destroying cells, causing early-ageing) and so much more.
According to a Harvard study, women who ate 2 or more serves of produce with high pesticide residues (see the Dirty Dozen) had a 26% lower risk of having a successful pregnancy compared to those who ate cleaner produce (organic, OR stuck more so to those foods in the Clean Fifteen).
Increases in global glyphosate use closely parallel increases in infertility, thyroid disorders, diabetes, liver and kidney disease, stroke and many other chronic diseases.
As noted by Claire Robinson, managing editor of GMWatch and author of the excellent book "GMO Myths and Truths," while we do have a regulatory system, that system is grossly inadequate, as it doesn't evaluate all the possible health and environmental effects of any given chemical.
A slightly more sceptical realistic perspective would be that there is too much money in it for our Government's to ban these disgusting chemicals.
Nothing is being done…and it's getting worse…
Things are not getting better.
The EWG found that the most frequently detected pesticide, found on nearly 60 percent of kale samples, was Dacthal, or DCPA – classified by the Environmental Protection Agency since 1995 as a possible human carcinogen, and prohibited for use in Europe since 2009 – yet it's still the most commonly used product.
Chlorpyrifos, which has been PROVEN to be hugely damaging to kid's brains was recently brought BACK INTO the food chain – somehow – and now is certified to be used until at least 2022.
Even though huge, respected studies such as the CHAMACOS Study have proven that organophosphates like chlorpyrifos – when consumed by pregnant women, seriously impairs the development of the unborn child.
The study showed that Chlorpyrifos exposure led to:
Shorter duration of pregnancy
Poorer neonatal reflexes
Lower IQ and poorer cognitive functioning in children
Increased risk of attention problems in children
Susan Freinkel, of The Nation magazine reported on this study and stated: "Prenatal exposure to even tiny amounts of organophosphates—in the parts per trillion range—can have significant impacts on the brain, the CHAMACOS study suggests. …From infancy on, the children of the mothers with the highest levels of organophosphates were at the greatest risk for neuro-developmental problems.
That association was present at every stage the researchers checked in on the kids. At 6 months, they were more likely to have poorer reflexes. At 2, they were at higher risk for pervasive developmental disorder, an autism-related condition, like Asperger's, in which children have trouble connecting to others.
At 5, they were more likely to be hyperactive and have trouble paying attention. At 7, they scored lower on IQ tests, by an average of seven points—the equivalent of being a half-year behind their peers."
It's frightening.
We would be here all day if I dug into ALL of the negative outcomes of pesticide use. We haven't touched really on the increased risk of cancer, Alzheimer's, thyroiditis, skin disorders, chronic fatigue and more…
But I am sure you get the picture.
Wherever possible – minimise your exposure to pesticides.
Focus first on getting as much as you can organic. Then focus on the foods on the Clean Fifteen. Then do the best you can with the rest.
Your CLEAN FIFTEEN-FRIENDLY RECIPES
To help you on your way, to put this into practice, here are three of my favourite alkaline recipes from my Alkaline Base Camp coaching program – high in 'clean fifteen' foods and with zero 'dirty dozen' foods (these are printer-friendly recipe cards)
Recipe #1: Alkaline Chickpea Cashew Curry
Recipe #2: The Fat-Melting Metabolism Boosting Green Juice
Recipe #3: Thai Quinoa Salad
Each link will open the printer-friendly recipe card in a new window.
Remember – nobody can be perfect, your body CAN detoxify and cope with a certain amount of exposure. So stay cool, keep on keeping on and doing the best you can.
Every healthy thing you do for your body is a step in the right direction. Don't sweat every detail! Stay relaxed and enjoy 🙂
Ross