My #1 priority with every single guide on this site and every training for my members is to make it as easy, enjoyable, sustainable and simple for you to make this happen and make it stick. This guide is most definitely important in helping you to get alkaline and stay alkaline for life.
Let's face it, it's way easier to eat healthily at home, when you've got time and space to make the right meal and take the right choices.
But when you're out, at work and on the go…well, things get a little more tricky.
So in this guide, we've searched far and wide to find you the easiest, most alkaline and most delicious on-the-go salad jars to take with you to work or when you're out for the day.
---

I love this thai-inspired salad from Top With Cinnamon. Full of Alkaline rich quinoa, coriander and spinach, as well as sweet potato and carrots. I like to leave out the cranberries and lemongrass for a highly alkaline lunch but a little won't hurt.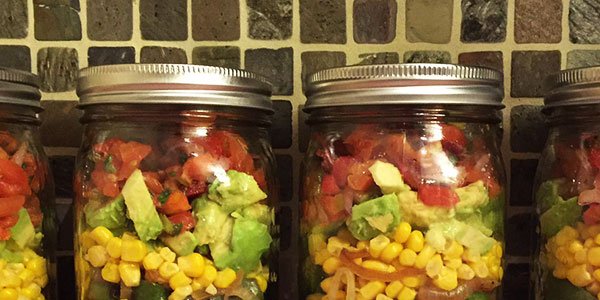 This low Alkaline burrito in a jar is great when you have cravings for Mexican, from Melanie Cooks.
This superfood packed salad will definitely impress at lunch. Highly Alkaline with addition of the berry dressing, which are some of best low alkaline fruits – plus they're loaded with wonderful antioxidants. From Fit Living Eats.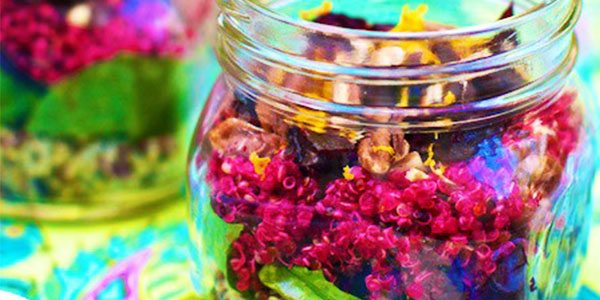 Beets? Quinoa? I love this salad packed full of nutrients and crunchy walnuts. From Marla Meridith.
Fill fuller for longer with this great salad from Pop Sugar, with only a small amount of fruit this salad can still fit within my 80/20 outlook.
Full of deliciously Alkaline ingredients like almonds, lettuce and broccoli sprouts, this salad from Inspired Edibles is a winner for lunch.
I love the addition of crunchy kelp noodles in this raw pad thai salad from Fit Living Eats. Yum!

Vibrant, green and DELICIOUS. From Happy Life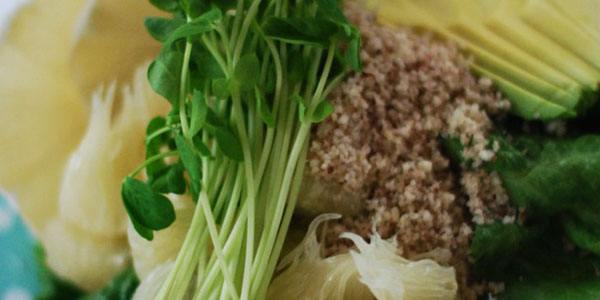 This fully Alkaline salad from the Alkaline Sisters can be made ahead of time in mason jars, just build in the jar, starting with the wet ingredients and work your way up!
I love this zoodle recipe in a jar, simply forgo the optional olives and feta (or replace with a dairy-free variety) for a wonderfully easy, and highly Alkaline lunch. From Sugar Free Mom.
You'll love how easy, and enjoyable, this raw kale salad is from Blissful Basil. Instead of mixing it all together I like to layer it a mason jar, start with dressing and build up. Don't forget to massage your kale first!
This salad from Wholefully is packed full of healthy cucumber, sprouted lentils and sunflower seeds, seriously delicious.