The acid/alkaline approach to health and wellbeing is fairly simple on the surface.
Everyone knows that there is, of course, science behind this approach – but as the lists of acid and alkaline foods break down neatly into what we already know (eat lots of veggies & cut out the crap) – we (well, certainly I) tend to gloss over the real nitty gritty of the science of it all.
So here I am going to give you a bit of an introduction/overview and a discussion of the controversies behind it. And all whilst not indulging myself one bit 😉
The Very Beginnings – Antoine Bechamp & Louis Pasteur
The theory upon which the alkaline diet was build came along well before Dr Young, Tony Robbins or Christopher Vasey came onto the scene. In fact, the foundations of this approach can be traced back to the 1840s when Bechamp and Pasteur were busily occupying their position as the biggest rivals in science. Through their groundbreaking and prolific research they were recognised as being at the forefront of their scientific fields, with the outcome of their early work effectively going on to define our understanding of mainstream health and medicine today.
After years and years of research it was ultimately, Pasteur's theory that went on to become widely accepted (and Bechamp's to be largely forgotten) and is what we now know as 'germ theory'.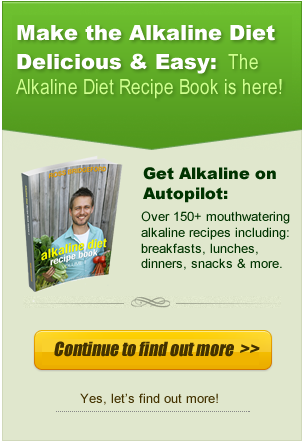 Germ Theory
According to germ theory, all living beings exist in a hostile environment where disease is always apparent and consistently attempting to invade our bodies (in the form of harmful bacteria).
To protect ourselves from these aggressive bacteria we wait until symptoms appear and then treat them. To put simply, if we experience a temperature and excess mucus we will seek out a remedy to nullify these symptoms.
As you are probably aware, this approach has shaped modern medicine and pharmacology.
Bechamp's Theory
Bechamp, on the other hand held the opposite view. He believed that a completely healthy body would be immune to harmful bacteria and that only when the body became a welcome host for this bacteria (i.e. when our cells become weak and our immune system becomes compromised) would the bacteria have a destructive effect on the body.
In essence, Pasteur taught that disease came from outside the body in the form of bacteria – whereas – Bechamp taught that disease came from inside the body.
Pasteur = to fight illness you have to treat the symptoms
Bechamps = to fight illness you have to create a healthy body in which disease cannot develop
Both theories are important, and both appear valid. Of course we are constantly exposed to harmful bacteria and germs that invade our bodies and are capable of making us sick – but equally – of course, the healthier we are and the stronger our immune system, lymph and cells the more likely it is that our bodies will be able to fight the harmful bacteria.
Unfortunately, medicine became big business and Bechamp's theory was conveniently forgotten. In fact, pharmaceutical companies all over the world give thanks to Pasteur every single day.
Why Does This Matter?
This matters a great deal. It matters to the point of how we consider, treat, prevent and cure illness and disease today in every essence.
For over a century now the focus in health and medicine has been almost 100% focused upon treating symptoms rather than prevention. With this mindset, millions of people will happily smoke, overeat, do no exercise and lead an utterly destructive lifestyle in the knowledge that there is probably a drug out there if anything goes wrong.
Those people who consciously live healthy lifestyles are still very much part of a minority group and it is only recently that it is entering our collective consciousness that we are responsible for our health through the way we live (for instance, the publicity surrounding obesity, Prince Charles backing alternative medicines & Government initiatives to encourage healthy eating).
And now, after years of neglect, the approach of prevention rather than the treatment of symptoms is making a lot more sense to a lot more people.
What is the point of treating the symptoms of an illness only to let the cause of the illness carry on doing its thing?
Unfortunately, the two main authorities that people look to for opinions do not think so – pharmaceutical companies (who make money by selling cures rather than treating the cause) and Doctors (who make money by prescribing the cures). So I guess we have got a little way to go yet.
The fit with alkalising
I'm sure by now you can see where I am coming from and how this fits in with the alkaline approach to health. Alkalising is built upon Bechamps' principle that by eating, drinking and exercising well we give ourselves much more control over whether we become sick or not.
It just makes so much more sense to look after yourself and prevent illness rather than sit back, let it happen and then try and treat the symptoms.
By following an alkalising diet & keeping fit you are doing more for your immune system than any drug known to man.
The alkaline diet is an approach to health which emphasises eating nutrient-rich, (usually) raw, high water content, green, life giving foods and drinks and eliminating the known, obvious unhealthy choices (the usual suspects, ciggies, beer, trans-fats, saturated fats, sugars, yeasts, chemicals, processed foods, dairy, fatty meats etc.).
Yet, similarly to Bechamp, this approach to health is given a thoroughly bad press in
some quarters despite the fact that everyone who gives it a go feels great, looks great and becomes fit, healthy and full of energy.
However, as a collective, we are becoming more conscious of our health, responsible for our health and less trusting of companies who are trying to push their own agenda (particularly food manufacturers, meat and dairy groups, Government and pharmaceutical companies)…and this is a big step in the right direction.
So while the alkaline approach to health still stays largely unknown within the masses, we are now starting to accept that maybe Bechamp was right all along…