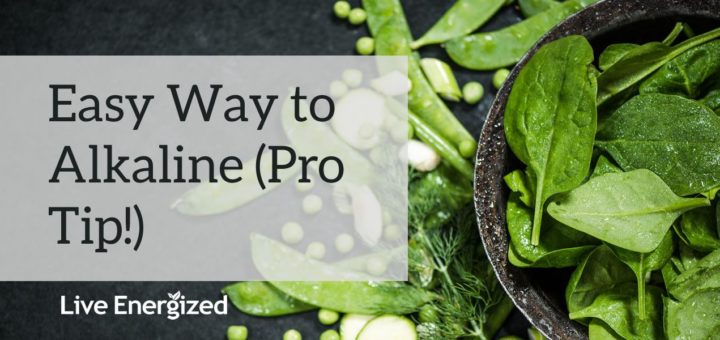 Getting alkaline and having the health, energy, vitality and body of your dreams is easier than you've been led to believe.
If you're anything like I was, for years you might have been been stuck in a health limbo. Overwhelmed with information overload…
Overwhelmed by what looks like a mountain to climb if you ever want to have that dream body, all-day natural energy, relief from digestive issues, skin conditions, fatigue and so on…
For some reason we've been led to believe that being healthy means giving up your life…but that's just not the case.
My goal and passion is to prove to you that the fastest way to abundant health is to get alkaline…and that getting alkaline can be easy, achievable, fun and enjoyable.
Nourishing your body for your best ever health can be SO simple and so enjoyable – IF you focus on the things that matter.
I've talked a lot in the past about the 80/20 rule (whereby 20% of the input can result in 80% of the benefit/change) and the Minimum Effective Dose (the minimum amount of input needed to create the maximum amount of change) and today I am going to share with you another of the tools in the 20% that helps make 80% of the difference.
Doing just this could easily add 3-5 serves of raw, fresh, alkaline, nourishing foods to your day…
Without you having to put in ANY real effort.
PLUS the bonus is – you will be secretly alkalising and nourishing your partner, kids (or flatties!) without them even knowing.
Don't you just LOVE that!
How to Add 3-5 Serves of Alkalinity and THRIVE…Without Breaking Sweat: The Secret Sauce!
Having delicious sauces and dressings available is the insider's tip, the secret trick to making the alkaline diet easy and delicious.
Just imagine – you are eating all of your normal, favourite meals, without having to give it a second's though…yet you're still getting alkaline.
This is what ALKALINE SAUCES & DRESSINGS do for your life!
You can use them to dress foods, as a pasta sauce, a curry sauce, in lasagne, in soups, on salads, with meats…anywhere!
This is what today's video teaches you – how to make delicious alkaline dressings and sauces, in a flash, that will make your 'normal' meals a LOT more alkaline:
Watch this video for THREE new alkaline recipes:
Make Alkaline Sauces a Part of Your Life and THRIVE!
The core idea here is to continue eating your regular meals you'd normally eat – but make them sneakily more alkaline.
The mistake most people make is that they think "Hey I'm going to go alkaline. Now, what can I eat – let's start from scratch".
This makes it very hard.
A much easier approach is to take your existing meals and think of ways to make them more alkaline and less acid forming.
Let's look at an example of a family favourite: the Spaghetti Bolognese.
Traditionally this is:
– white spaghetti
– mince
– tomato sauce (usually shop bought)
– onion and garlic
Why not:
1) swap the white pasta for wholemeal or spelt pasta
2) you can still serve the mince to your non-alkaline eaters, but make your serve a little smaller
3) make a FAST simple tomato sauce (raw, but warmed) by quickly throwing tomatoes, garlic, red onion, cucumber, capsicum (pepper), tomato paste, spinach and basil in a blender
This way you're getting around 3-4 serves of fresh, raw (but warm – warm is still raw), alkaline, nourishing veggies with your meal…
And you can still have a little of the mince if you have to…
And the pasta is now not the white stuff that's going to mess with your digestion, mess with your blood sugar and fill you with gluten.
Easy right?
So…with every meal, think:
Could I dress this with something alkaline? Could I swap something acidic for something alkaline (or just something lessacidic? Could I make my own, quick alkaline sauce…
Thinking this through will make it SO much easier to get the goodness in with NO extra effort, no giving everything up, no cravings and feelings that you're being deprived of your favourite foods……..and NO stress!
How to Put This Into Action
To kick you off I've created three simple recipes for you.
You can watch how they're made in the video above, or just use these written instructions.
Recipe One: Coriander Mint & Chilli Dressing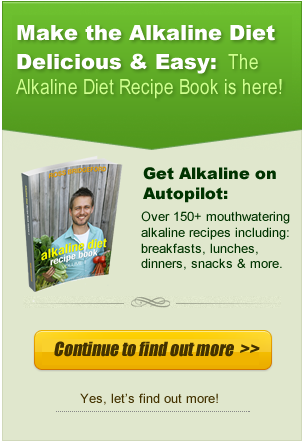 This one is fantastic for stirring through salads or noodles, and is also great as a dip.
It's thick, so it coats leaves and gives a really different taste and texture compared to your usual oil and lemon type 'thin' dressings.
Ingredients
1/2 Red Onion
1 Small Handful of Mint
1 Small Handful of Coriander
1/2 Chilli (deseeded if you don't like it hot!)
100ml Coconut or Soy Yoghurt (coconut is best)
Drizzle of Coconut or Olive Oil
Method
Blend all ingredients, adjusting the yoghurt to adjust the thickness of the texture. If you want it much thinner you can also add some coconut milk or cream.
Recipe Two: Asian Alkaline Salad Dressing
This is a little 'thinner' compared to the coconut dressing above, but it's just as fresh and super-alkaline. Using similar herbs, but with citrus as the liquid, it works great on leaves (in a salad) or on a stir fry. I like to make this in bulk and keep it in the fridge because it's SO usable, so often.
Ingredients
1 Tbsp of Chopped Coriander (Cilantro)
1 Tbsp of Chopped Mint
1 Tbsp of Minced Garlic (or grated)
1 Tbsp of Minced Ginger (or grated)
1 Tbsp of Bragg Liquid Amino
1 Tbsp of Freshly Squeezed Lemon Juice
4 Tbsp of Oil (Olive, Sesame, Flax or a mix)
1 Tsp of Sesame Seeds
Method:
Blend or whisk these ingredients together and enjoy!
Recipe Three: Alkaline 'Caesar Dressing'
The perfect replacement to the most popular dressing in the world – this looks, feels and tastes just like regular Caesar dressing, but without the calories, dairy, acidity and preservatives. It is delicious. And oh, so quick and easy to make!
Ingredients:
1 Dessert Spoon of Tahini
1 Dessert Spoon of Dijon Mustard
1/4 Cup of Water
1 Clove of Minced Garlic
Method:
Blend or whisk all ingredients together and refrigerate.
Make It Happen!
Having delicious dressings and sauces available is an easy way to make it super-simple and enjoyable to get more alkalinity in. Imagine how easy it would be to have a side serve of salad, or a serve of extra vegetables if you had a delicious, already-made dressing to go on top.
These dressings not only make it easier to have fresh alkaline foods in your daily diet, but these dressings are raw and highly alkaline too! Brilliant!
Plus you can just as easily make up your own! Experiment, and have fun.
One of the simplest is to straight-up just infuse your favorite oil (I recommend flax) with your favourite herbs and spices: rosemary & garlic, mint & chilli, basil, thyme & lemon for example. There you go – that's four more dressings right there!
This is such an easy way to get more alkalinity into your life without having to 'change everything'.
I hope you like it!
Please do share this on Facebook or Twitter if you do and if you want more from me (I answer questions and post heaps of alkaline resources at my Facebook Page here) then just hit LIKE on my page.
Until next time, stay alkaline!
Ross