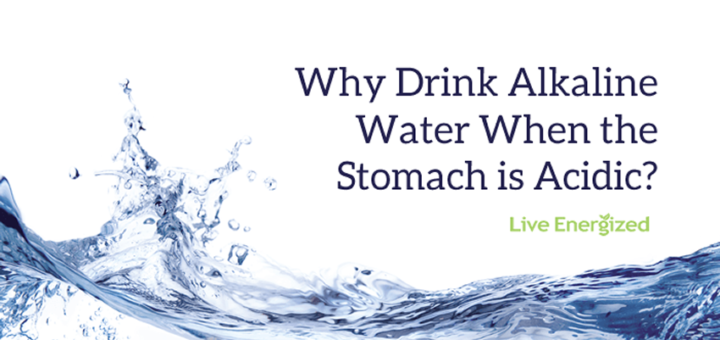 After my most recent alkaline diet guide came out, a few questions came up more than others.
So over the next few days I'm going to post these for you here, separated out, so you have the answers in a handy reference guide!
The biggest, most asked question about alkaline water, by far, was:
Ross, why drink alkaline water when the stomach is acid? Won't it just neutralize it?
A lot of people have this question, and I can understand why.
Firstly, because we all see our stomach as this pit of acid waiting for foods and drinks to drop in and fizz away. This is true, but only half true…
But then secondly, to muddy the waters, you have a whole industry of people selling alternative filters to the ionizers and alkaline water filters in general like to perpetuate this myth that drinking alkaline water is pointless…again, based on the logic that the stomach produces hydrochloric acid, so whats the point?
It seems intuitive if you take a face-value look at body biology that the stomach needs to be acid, and it produces acid, so putting something alkaline in there could upset this OR that the stomach is acid and so why eat & drink alkaline as it makes no difference?
Well, at a high level – if that were the case then eating green foods, salads, and vegetables would be bad for your stomach too, right? They're alkaline, so they'd upset that acidic stomach?
Well, not really, no.
The biology of the body is rarely as simple and straightforward as that.
The first thing to note is this: the stomach is not just a big pouch of acid, sloshing around waiting for food and drink to drop in.
The stomach produces hydrochloric acid (HCl) on demand, and when it does so, it also creates sodium bicarbonate.
These two – HCl and sodium bicarbonate are produced based upon what you eat or drink. The pH of the stomach is always 4 so it is based around this.
When you drink alkaline water, the pH of the stomach goes up, and the body produces more HCl in response (and this extra acid is a good thing – read on) – as the pH of the stomach has to remain at around pH 4.
Even though HCl is a very strong acid, it's a beneficial acid with a very key role; but it's an acidic role that is limited to the stomach.
And the more alkaline water you drink, the more HCl produced. Again this is a good thing.
Yep – the more alkaline water the more acid is made. BUT, this extra acid, in this specific role, is not a bad thing. It's actually a very good thing.
Remember, when the body produces HCl it also creates sodium bicarbonate. The HCl stays in the stomach and this sodium bicarbonate is sent into the blood stream to be delivered to other digestive organs such as the liver and pancreas.
The liver produces bile, and the pancreas produce pancreatic juice, which contains enzymes and sodium bicarbonate.
Again, the more HCl that is produced, the more bicarbonate is produced.
(Keep in mind also that the alkaline, ionized water is also neutralizing any excess HCl in the stomach, so it's not building up – this is why ionized water is so beneficial for people with reflux.)
The fact that more bicarbonate is being produced is important.
Sodium (as well as potassium) bicarbonate acts as an acid buffer in the body.
After the food in the stomach is digested, it travels to the small intestine. At this point IF YOU HAVE NOT CONSUMED ENOUGH ALKALINE FOODS OR WATER AND THERE IS NOT ENOUGH SODIUM BICARBONATE IT WILL IRRITATE AND DAMAGE YOUR INTESTINAL WALL.
So in simple terms: eat acidic foods, you don't get the sodium bicarbonate production, there is no alkaline buffer and the next stage of digestion after the stomach NEEDS this alkaline pH.
It goes:
Drink Alkaline Water (or eat alkaline foods) > Lots of HCl produced for the digestive role in the stomach > Lots of sodium bicarbonate ALSO produced for the digestive role after the stomach.
Without enough alkalinity there is a huge knock on effect to the rest of the body.
This is why alkaline forming foods are HEALTHY foods like vegetables, leafy greens, salads, low-sugar fruits, nuts, seeds, healthy oils, oily fish and so on…
And acidic foods are UNHEALTHY foods like sugar, trans-fats, fast foods, refined foods, cakes, biscuits, chocolate, pizza, chips and so on.
Put it this way: if drinking alkaline water was bad for digestion, then someone eating alkaline foods all day would get pretty sick right? But show me someone eating loads of greens, salads, veggies, fish, oils and no sugar, refined foods and so on who has digestive troubles…
In short(!) – an acidic diet directly causes low levels of hcl in the stomach – not the other way around 🙂
I hope this helps clear that up for you.
So go ahead and eat, drink and live alkaline with wild abandon, knowing you're doing your stomach a huge favour 🙂
Ross
P.S. Take a look at the Alkaline Recipe System. With hundreds of easy-to-prepare Alkaline recipes PLUS 7 goal-based meal plans each with itemized shopping lists (for goals including weight loss, more energy, better digestion, clearer skin and more) – it makes reaching your health goals SO easy!
+ Make sure to sign up for our free newsletter to get our latest alkaline recipes delivered weekly (it's free).