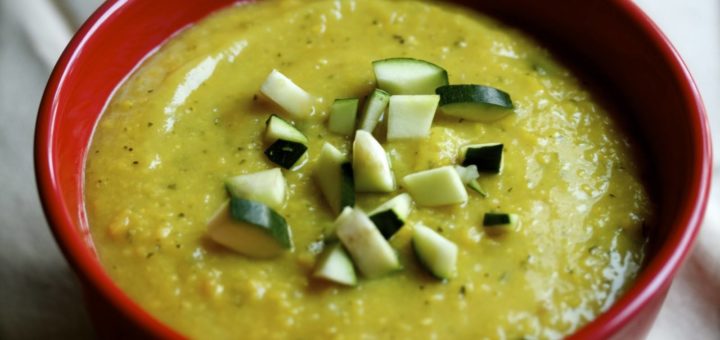 This courgette and split pea soup, which is highly nutritious and alkaline, is a hearty soup and the perfect dish after coming home from a long walk in the cold winter months.
This soup has lovely flavours with a slight hint of spice and will fill and warm you up nicely.
The main ingredients are courgettes and split peas which are both alkaline and packed with a range of nutrients. Courgettes in particular are low in calories and contain good amounts of potassium, Vitamin A, folate and manganese. Split peas are also low in calories, are a great source of protein and contain some of the highest amounts of fiber.
I hope you enjoy this mouthwatering, healthy and alkaline soup!
Courgette and Split Pea Soup
Serves 4
Ingredients
1 onion, finely chopped
2 medium courgettes, finely diced
180g/1 cup yellow split peas
1 tsb extra virgin olive oil or rapeseed oil
900ml yeast-free vegetable stock
1/2 tsp ground turmeric
Himalayan crystal salt or celtic sea salt
Freshly ground black pepper
Instructions
Put the split peas in a bowl, cover with cold water and leave to soak for a few hours or overnight. Drain, rinse in cold water and drain again.
Heat the oil and gently fry the onion in a large covered pot, shaking it occasionally until they are soft. Keep a handful of the diced courgettes by the side and add the rest to the pot. Cook for about 3 minutes whilst stirring.
Add the vegetable stock and turmeric and bring to the boil. Reduce the heat, cover with a lid and simmer for about 35 minutes, or until the split peas are tender. Season with salt and pepper to taste.
Just before the soup is ready bring a large pot of water to the boil, add the reserved courgettes and cook for about 1 minute. Drain them and add them to the soup.
Enjoy!
[yumprint-recipe id='49']