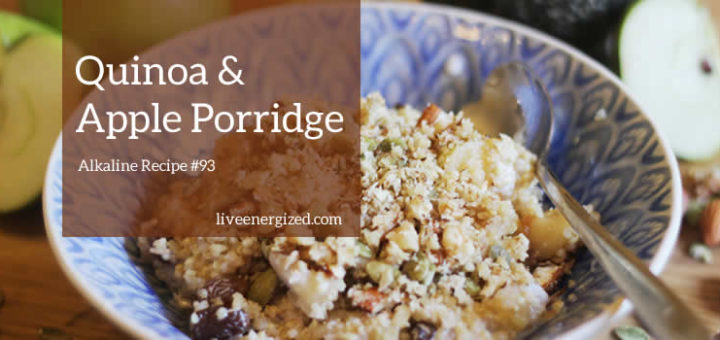 As winter really kicks in this transitional alkaline diet breakfast is warming, filling and absolutely packed with nutrients.
I absolutely LOVE quinoa. It is a complete protein, containing the full amino acid range and is rich in the alkaline minerals manganese, magnesium and iron whilst containing heaps of vitamin b2 and fibre.
It is quick and easy to cook, rather tasty (very subtle flavour) and gives you a great energetic start to the day. And rather brilliantly, the combination of complex carbs, fibre and protein means that quinoa will leave you with heaps of sustained energy and you will feel full right up until lunch.
Quinoa & Apple Breakfast Warmer
Serves 2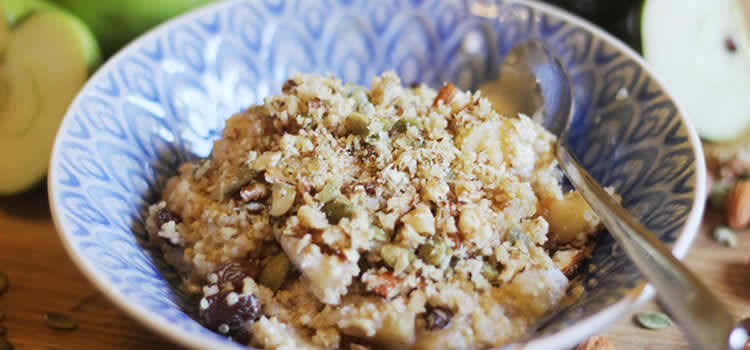 Ingredients
½ cup of quinoa
1 apple
½ lemon
Cinnamon
1tbsp coconut oil
Optional: dried cranberries, nuts, seeds
Instructions
Cook the quinoa according to the packet instructions, but this is generally to rinse the quinoa in a sieve and then add 50% more water than quinoa i.e. for 1 cup of quinoa you'd add 1.5 cups of water. Then bring to the boil and simmer for 15 minutes.
As you're reaching the end of the 15 minutes, grate the apple in and cook for a further 30 seconds, grate in the zest of the lemon and squeeze a little lemon in to taste. Stir through the coconut oil and serve in bowls with a sprinkle of cinnamon and voila! Delicious and warming.
Note: if you want to add the dried cranberries (and I only recommend this while transitioning) then throw them in just before you grate in the apple. Other options to top with are nuts, seeds and coconut yoghurt.
P.S. Take a look at the Alkaline Recipe System. With hundreds of easy-to-prepare Alkaline recipes PLUS 7 goal-based meal plans each with itemized shopping lists (for goals including weight loss, more energy, better digestion, clearer skin and more) – it makes reaching your health goals SO easy!