Spicy Alkaline Summer Soup!
Another fantastic soup to be enjoyed chilled, or just slightly warmed. Perfect for summer! I love this soup because of the tangy spice it gives, making it a bit different from the other alkaline soups!
Ingredients
Serves 2
1 1/2 Cucumbers
7 Tomatoes
3 large handfuls of spinach
1 Avocado
1.5 Inch chunk of fresh ginger
1 red chilli
250ml vegetable stock (cooled)
1/2 lime or lemon juice
2 tablespoons of olive oil, avocado oil or Udo's Choice
Salt & Pepper to taste
Directions
Chop up the cucumbers, tomatoes, avocado, ginger and chilli. Now place all of the ingredients in a blender and blend until smooth! If you want to have this soup warm, just warm it gently. It should never be so hot that you couldn't put your finger in it – so never boil!
Enjoy!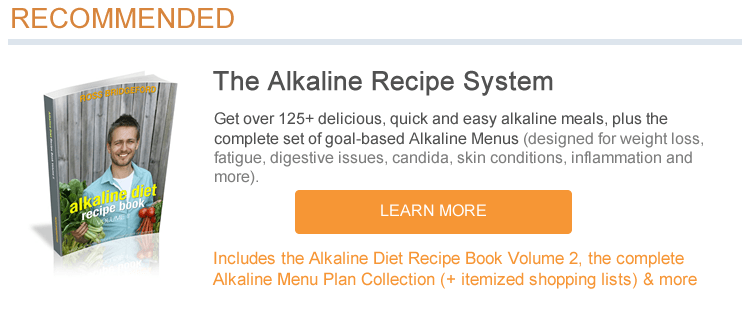 Do You Want to Turn Your Health Around in Just 7 Days for Just $1.99?
If you love the look of this guide and the benefits it will bring, check out my book The Alkaline Reset Cleanse. It's a gentle, enjoyable seven-day Cleanse that will completely transform your health and life. Abundant energy, dramatic weight loss, digestion healed, inflammation gone...these are all results my students have experienced from doing their Alkaline Reset Cleanse...
LIMITED TIME OFFER: The Alkaline Reset Cleanse Book is Just $1.99 (Kindle/eReader) -- Click to order now and get over $120+ of extra alkaline training from me!
Real Results from the Alkaline Reset Cleanse Book:

---