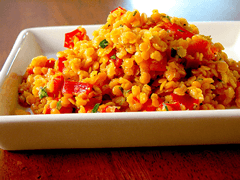 This is one of my favourite dishes, as it is very wholesome, delicious and alkaline at the same time.
Lentils are not only delicious but are also packed with high levels of proteins and contain dietary fiber, folate, Vitamin B1, and minerals. Apart from that they are also one of the best vegetable sources of iron.
This dish makes a great main course or accompaniment with healthy fish like salmon.
Just try it and enjoy!
Red Lentils with peppers
Serves 2 as a main course
Serves 4 as an accompaniment
Ingredients
2 onions
2 garlic cloves
350g red or yellow peppers
2 tbsp olive oil
250g dried red lentils (precooked according to pack instructions)
1 tsp dried thyme
400ml vegetable stock
4 spring onions
sea salt or himalayan crystal salt
fresh grounded pepper
1-1 1/2 tbsp fresh lemon juice
Instructions
Remove the skin of the onions and cut them into small pieces. Peel the garlic cloves and cut it into slices. Halve the peppers, remove the seeds, wash the pepper halves and cut into slices.
Heat the olive oil in a pot. Gently fry the onions and garlic slices. Add the lentils, peppers, thyme and vegetable stock. Bring everything to the boil and cook everything at low heat for about 8 minutes with the lid on.
Remove the root ends and the dark green bits of the spring onions, wash them and cut them into rings. Add them to the dish and cook for a further 3 mins with the lid on.
Season with salt, pepper and fresh lemon juice to your taste.
Enjoy!