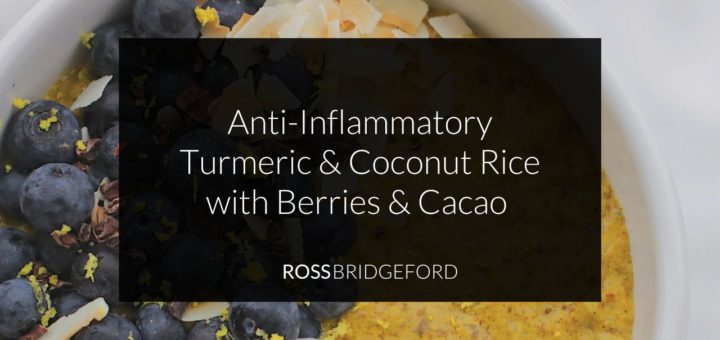 Anti-Inflammatory Rice (Sweet Dessert or Breakfast Recipe that's Alkaline!)
Do you want a simple, quick, one-pot sweet recipe that is anti-inflammatory, brain-boosting, alkaline and DELICIOUS? This is one of our newest hits in our house, and we're all hooked.
It takes just 35-40 minutes to make, and is very simple. There's only one pot to wash up and it tastes amazing.
What more could you want in a sweet treat of a recipe?
Oh, how about this:
Turmeric: a natural anti-inflammatory that has been shown to improve brain function. Turmeric is also proven to help prevent and treat several cancers, and also aids digestion and boosts the immune system (it's why I eat it daily).
Coconut: a good source of healthy fats that help to promote weight loss and improve cholesterol levels. Coconut is also anti-viral, anti-bacterial and anti-fungal, and another essential nutrient to fight inflammation and support brain health.
Cacao: a superfood that is high in antioxidants and has been shown to improve brain function. Cacao also helps to lower blood pressure and is good for your heart. Cacao also contains the minerals magnesium, iron, zinc, and calcium.
Seeds: I used a mix of pumpkin, sunflower, and flax seeds in this recipe, but you could use any seeds you like or have on hand. These seeds are a good source of protein, fiber, and essential fatty acids, and they are also anti-inflammatory.
Ginger: a well-known anti-inflammatory that is also effective in treating nausea, pain, and indigestion. Ginger is also a brain-booster and has been shown to improve cognitive function.
Blueberries: also known as BRAINberries because of their high levels of anthocyanins, which are powerful antioxidants that have been shown to improve brain function. Blueberries are also a good source of fiber, vitamins C and K, and manganese.
This recipe is packed with inflammation-fighting ingredients that are also good for your brain.
And it tastes amazing!  Let's get into it…
Anti-Inflammatory Turmeric-Coconut Rice with Cacao & Seeds
Serves 2
Ingredients
200 ml full-fat coconut milk (canned variety, not milk alternative type)
100g jasmine rice
40ml rice malt syrup
1 teaspoon ground cinnamon
¼ teaspoon ground turmeric
¼ teaspoon ground ginger
1 pinch Himalayan salt
1 tablespoon coconut oil or MCT oil
1 tbsp raw cacao nibs
1 tbsp sunflower seeds
1 tbsp pumpkin seeds
1 tbsp coconut flakes,
2 handful of fresh (or frozen) blueberries
Coconut yoghurt to serve
Instructions
Pour the coconut milk into a saucepan along with 125ml of filtered water and then stir in the rice and bring to a boil.
Once boiling, reduce to a simmer and let gently cook away for 20 minutes.
Now add the rice malt syrup, turmeric, ginger, cinnamon, salt and coconut oil and stir this all through.
Simmer for another couple of minutes or until the rice is tender, and then add the cacao, seeds and coconut flakes.
Serve into bowls and top with the berries and coconut yoghurt.
This is absolutely DELICIOUS and take such little effort!  Give it a go and let me know in the comments below how you go with it!