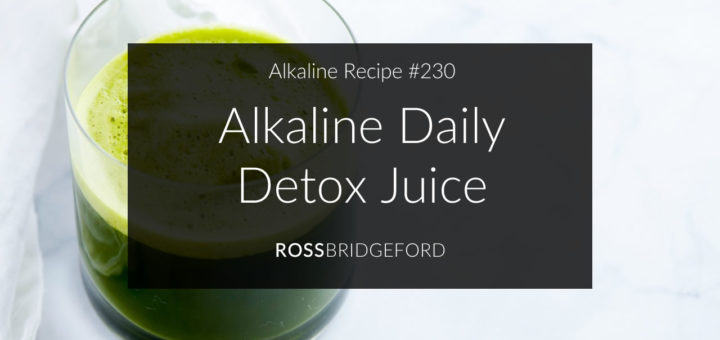 Alkaline Detox Juice
This is my Alkaline Detox Juice recipe that has quickly become one of my faves. It is a pure vegetable juice (no fruit) and it is delicious.
It's created to give you a big alkaline nourishment hit, but also with the nutrients that will support your detoxification organs of the liver and kidneys. It is also powerfully anti-inflammatory, helps to rebalance digestion and it tastes sensational.
You can adjust the water/coconut water to taste, and if you're missing any of the herbs or the kale you can substitute for other leafy greens. It will still be great to help detoxify your system.
It supports all three phases of the detoxification process via the liver, and also contains nutrients that specifically ease the burden on the kidneys' role in detoxification too. The greens also support new red blood cell formation, and the ginger gives an antioxidant, anti-inflammatory, anti-cancer kick too!
The Recipe: The Detox Juice
Serves TWO
Ingredients
2 large handfuls of baby spinach leaves
Handful parsley leaves and stems
Half a bunch of coriander (cilantro)
Half a bunch of kale (any variety)
1 large cucumber
2 sticks of celery
1-inch length piece fresh ginger
1 medium lemon
Filtered water or coconut water to taste
Instructions
1) remove the stems from the kale (these are quite bitter, you can leave them on if you don't mind the taste)
2) juice the vegetables (not the lemon) and run the water or coconut water through the juicer (this gets every last bit of veggie juice out AND helps the cleaning process!)
3) squeeze in the lemon (or lime) juice
4) serve!
This is the Alkaline Detox Juice and it is so powerful and delicious. You can have it as often as you like! It is amazing as part of an alkaline cleanse (again, find out more about the free workshop below), or just as a daily bump to your alkaline diet. And as with any green juice, it will lift your energy and mental clarity like nothing else.
This juice recipe will keep in the fridge for 24 hours so definitely feel free to make more than you need and store another serve for tomorrow. The simple rules to this are:
1) Keep it in an airtight container
2) Keep it in the fridge
3) Keep it for no longer than 24 hours
Vegetable juices, particularly green juices, lose nutrients to air, light and heat. They also start to taste weird when they've been kept longer than 24 hours. Stick with these three rules and you're golden.
Related Recipes & Resources:
The Ultimate Liver Cleanse Juice
The Most Cleansing Alkaline Foods
Seven Foods to Naturally Cleanse & Detox Your Liver