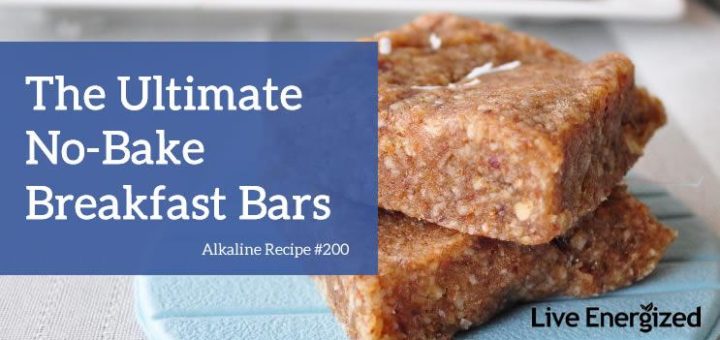 THESE ARE RIDICULOUSLY EASY AND DELICIOUS! I love them so much. They're great to make in bulk and have stored, and are so fast.
They are also tasty, have the anti-inflammatory properties from the ginger, protein and fibre from the oats, healthy fats from the coconut oil and if you use the flaxmeal, omega 3 from here too!
Give these a try they're so flippin easy!
No-Bake Alkaline Breakfast Bars
Ingredients:
5 cups uncooked oatmeal (quick oats)
320g almond butter
1 cup coconut cream
3 tbsp rice malt syrup (brown rice syrup)
1 inch ginger (or 2 tsp ground ginger)
2 tbsp coconut oil
Optional: swap 1 cup of oatmeal for 1 cup flaxmeal
Directions
Put the coconut cream, coconut oil and rice malt syrup into a large mixing bowl and whisk until everything is combined
Now add the almond butter and grate in the ginger and whisk until it's all combined. The almond butter – depending on the temperature of your room may stay a little in a clump/lump – but don't worry about this because…
Now that you add the oats (and flax) you can mix with a spoon to smooth it all out. If it's still lumpy you can use your hands (which is lots of fun) to mix together.
Now take a flat baking dish, lined with baking/parchment paper and flatten the mixture out into the dish
Refigerate for a minimum of 2 hours, or overnight and then cut into bars. These will stay good for at least a week in the fridge
Do You Want to Turn Your Health Around in Just 7 Days?
If you love the look of this guide and the benefits it will bring, check out my book The Alkaline Reset Cleanse. It's a gentle, enjoyable seven-day Cleanse that will completely transform your health and life. Abundant energy, dramatic weight loss, digestion healed, inflammation gone...these are all results my students have experienced from doing their Alkaline Reset Cleanse...
Click here to order now and get over $120+ of extra alkaline training from me!
Real Results from the Alkaline Reset Cleanse Book:

---