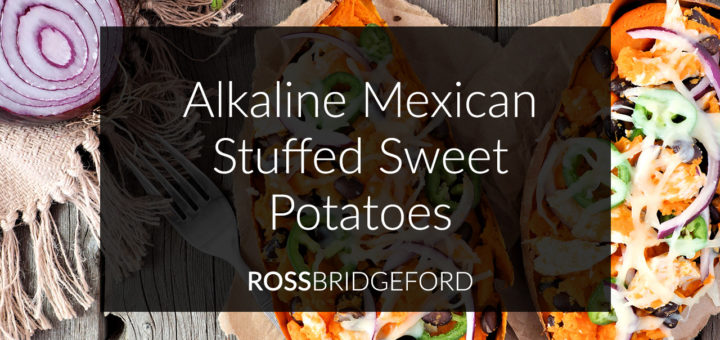 New Alkaline Recipe: Mexican Stuffed Sweet Potatoes
This is a cracker for the weekend – makes a perfect Saturday teatime (I think that's a very English thing), but also a brilliant recipe to take to a casual gathering, picnic, BBQ, etc.
It is filling, easy, delicious, healthy, and alkaline (of course!)
The black beans are a great addition. They are such a unique nutritional powerhouse, as an amazing source of fibre, zinc, potassium, manganese and more. The fiber in black beans is also largely what is known as resistant starch. This means, that even though black beans are reasonably high in net carbs (total carbs minus fiber) because most of this fiber is resistant starch, this means it is not broken down in the upper digestive tract (it resists it!) and so black beans do not raise insulin.
And when they do actually reach the large intestine, they get broken down by bacteria and provides an extra fuel supply for the cells inside our large intestine of super-important short-chain fatty acids – leading to a reduced risk of colorectal cancer.
Black beans (I could talk all day about these little beauties) are also a fantastic source of a range of really interesting antioxidants.
Myricetin, quercetin, and kaempferol plus the acids hydroxycinnamic acid, ferulic acid, sinapic acid, and chlorogenic acid mean that black beans are fantastic for brain health, fighting cancer, and fighting cardiovascular disease.
They also provide a great source of protein too.
Mexican Sweet Potato Recipe
Serves 2
Ingredients
4 small sweet potatoes
1 tbsp coconut oil
1 large brown onion, finely sliced
1 clove garlic, minced
1 tsp ground cumin
1 tsp paprika
1/2 tsp dried oregano
1/4 tsp ground coriander
1 x 400 g can black beans, drained
1 cup sweet cherry tomatoes
1/2 small red onion
Himalayan salt and black pepper
2 avocados, mashed
Juice of 2 limes
Optional: Fresh coriander and sliced chili to serve
Also optional: my Cashew Dressing to drizzle over
Instructions
1) Pre-heat fan-forced oven to 180'C. and while it is heating, start on the potatoes by washing, drying, coating with a little coconut oil, and then baking in the oven for around 30 minutes.
2) Next move on to the filling and toppings. Heat coconut oil in a pan and gently saute the onions, garlic, and spices. After 3-4 minutes add the black beans, and saute for 2-3 more minutes. Set this aside.
3) Next make the guacamole by mashing and mixing the avocado, 1/4 red onion, lime, cumin, and salt.
4) Now make the salsa by combining the cherry tomatoes (halved), 1/4 red onion, lime, and salt & pepper.
5) Once sweet potatoes are cooked through cut lengthways to create an opening and spoon filling into each sweet potato and top with salsa and guac. Finish off with some fresh coriander (cilantro).
ENJOY!
Ross