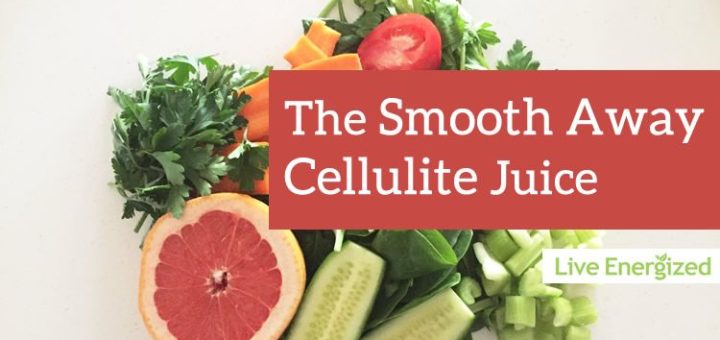 Whenever I talk to people about their body, what they love and what they dislike, cellulite is always right up there at the top.
The thing that always surprises me is how powerless people feel when it comes to the cellulite on their body.
There is SO MUCH you can do to remove this stuff!
And today I'm sharing a simple, delicious juice with you that contains all of the best, most alkaline foods known to help smooth away cellulite and help the body to slim down.
The types of foods you want need to have one of three important properties:
Skin Strengthening Foods
Foods that Boost Blood Flow
And Diuretics that Ward Off Cellulite
If you can regularly consume meals that tick all of those boxes, you're laughing. And guess what?
This delicious cellulite removing juice contains:
Skin Strengthening Foods:
Grapefruit
Spinach
Tomato
Carrot
MCT (see note on this below)
Blood Flow Boosting Foods:
Ginger
Cayenne Pepper
Diuretic Foods:
Cucumber
Celery
And it tastes AMAZING!
Smooth Away Cellulite Juice
Serves 2
Ingredients
1/2 Big Red Grapefruit (peel removed)
2 Large Handfuls of Spinach
2 Tomatoes
1 Carrot
2 Tablespoons MCT (see note on this below)
1 Cucumber
2 Sticks of Celery
1/2 Inch of Fresh Root Ginger
Pinch of Cayenne Pepper Per Person
Optional: coconut water or plain, filtered water to dilute to taste
Instructions
First, in a (preferably masticating, slow, cold press juicer) juice the peeled grapefruit, spinach, carrot, tomatoes, cucumber, celery and ginger
Pour the coconut or filtered water through the juicer to add the water and wash through any remaining juice in the juicer at the same time
Stir this to mix the flavours, and then stir in the cayenne pepper
For the MCT oils, this is basically a medium-chain triglyceride oil (saturated fat) – and I have included some notes on this below. If you have got an MCT supplement, such as Bulletproof's Brain Octane Oil, just stir it in. If you don't have this, either add in a tablespoon of melted coconut oil per person, or have a tablespoon of coconut oil off the spoon, washing it down with the juice!
This juice hits the cellulite in those three specific places, but is also highly alkaline, deeply rich in antioxidants and highly anti-inflammatory – so will rapidly assist in weight loss and the removal of unwanted stored fats.
Plus it tastes yum.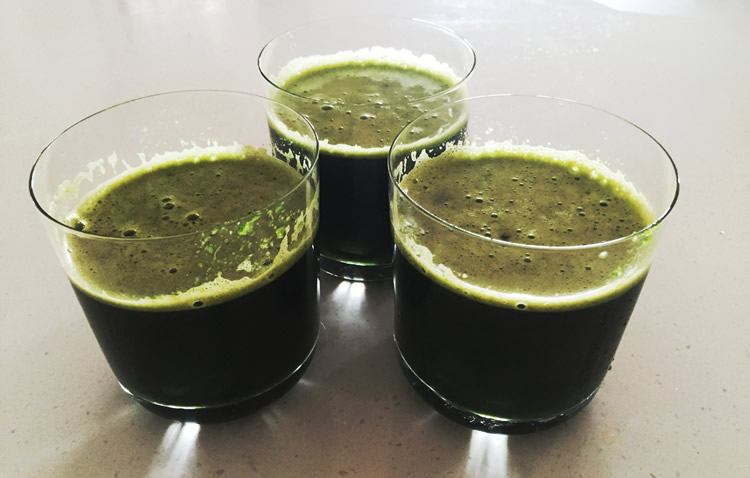 Enjoy and let me know how it works for you!
Ross
PS. here's the skinny on the saturated fat (MCT oil) I referred to above. Basically saturated fats have been proven to increase the metabolism, lower blood pressure, lower bad cholesterol (while raising good cholesterol), while at the same time strengthening the skin, reducing skin inflammation and giving the skin a soft, supple feel.
I have gone into lots of detail and included the scientific references on why saturated fats are GOOD not bad here.
But the short version is that the myth that saturated fats cause heart conditions has been disproven so impressively thoroughly. Not only are they NOT bad for you but they're actually GREAT for you and so many of us are now chronically deficient.
Start getting in your omega 3s and your saturated fats (I personally believe coconut oil should be the basis of this) and you'll really see and feel a difference.
[yumprint-recipe id='73']
PS. if you're interested in looking more into the pros and cons of coconut oil, saturated fats and MCTs then check out both my article on saturated fat here, and Kris Gunnar's article here