The Alkaline Diet WORKS – and here's why…
When you're first starting out on the alkaline diet, it's logical that your first thought might be whether the alkaline diet works and :
'Is this really going to work for me…?'
I don't blame you. In the health world, there are so many crazy claims and unbelievable promises. It leaves us all a bit jaded and suspicious at times. And that's me included.
I always want to validate every new claim or 'hot new superfood' I hear about as much as possible. Generally speaking, I need the proof, I need the cold, hard facts and scientific research.
And when it comes to the alkaline diet, and the question whether the alkaline diet works, the answer is YES, and let me explain WHY it works, because let's be clear…
The Alkaline Diet Works Like Crazy
What is it about the alkaline diet that makes it work so well?
What is it that got me hooked over a decade ago, not only on 'going alkaline' myself, but learning more and more about it, researching it and making it my life's work to teach others how to do it to get the health of their dreams by following it?
In this short guide I'll explain to you the five reasons why the alkaline diet works, and why it works so incredibly well.
You'll learn not only why it works, but the specifics about it that make it so effective – and I'll show you how to apply JUST those specifics to get you off to a flying start!
Note: this guide refers specifically to the way I teach the alkaline diet. I'm not saying I am going to be telling you anything that I've patented or that is exclusive to me, and maybe there are others teaching like this too. But be aware, there are a lot of people teaching the alkaline diet in a different, much more hardcore, black & white way (as well as folks just teaching it badly). It's not to say my way is better or worse, but I have gotten great results for folks and there are a lot of nuances to my philosophy and way of teaching.
The Five Reasons Why the Alkaline Diet Works Like Crazy
REASON #1: It Gives the Body The Tools It Needs to Thrive
OK, focus on the next line – it's a surprising thing for me to say, but it is very, very important to your understanding of the alkaline diet – this is KEY:
The premise of the alkaline diet is NOT to change your body's pH
Let me repeat – you're not trying to make your pH more alkaline.
This is the reason why 99% of critics of the alkaline diet choose to criticize it. They say you can't change your pH so it's baloney. Probably while eating baloney and patting themselves on the back.
This is not the point of the alkaline diet. We are not trying to change your pH.
Your body will maintain the pH of your blood and other extracellular fluids at pH 7.365 no matter what you do. It will sacrifice everything and anything to do this.
You can drink cola all day long, while smoking, and eating pizza and chips and your pH will stay at 7.365.
It is the maintenance of this pH that causes stress to the body.
If you constantly throw sugar-laden, chemically processed, inflammatory, acidic foods, and drinks into your body, the stress caused by the body in holding your pH solid at 7.365 is what causes the damage.
It's the stress of maintaining your pH that causes damage to your body.
By eating more alkaline foods, you not only remove this stress but you also give your body the tools it needs to thrive. This is the absolute foundation of the alkaline diet.
Alkaline foods are alkaline because of their nutrient content. They are fresh, natural, vitamin and mineral-rich, chlorophyll-rich, antioxidant-rich, anti-inflammatory delicious foods.
Acidic foods are all processed, unhealthy foods you already know are not good for you.
I bet if I asked you right now to name the most acidic foods off the top of your head your list would look something like:
– sugar
– takeaways
– chips
– pizza
– cakes
– pastries
– processed meats
– chocolates
– alcohol
– trans fats
– and so on…
And if you name the alkaline ones, what would they be?
– vegetables
– leafy greens
– salads
– nuts & seeds
– healthy oils
– low sugar fruits
– and so on…
The alkaline diet works because it gives your body the tools it needs to thrive while removing the foods and drinks that cause the body stress, inflammation and oxidation.
And when you fuel your body with these foods, your body will shine for you.
So many 'diets' leave you feeling like you're against your body…ME and MY DIET VS MY BODY…like it's a battle…
"Why do my stupid legs look like that"…"Why does my body crave bread so much…"
When you work in unison with your body and simply give it what it needs, nourish it, love it – the results will (and do) happen incredibly quickly.
It's wonderful and feels amazing.
Key Takeaway: you're not trying to CHANGE the way your body works. This causes stress. The alkaline diet is about being relaxed, stress-free, and working together WITH your body. So chill. Just focus on getting the good foods in for the first few weeks – don't worry about cutting too much out – just focus on getting in the good. The more good you eat, the more this will naturally crowd out the bad stuff. Relax, enjoy your food, have fun and stay focused on what you want.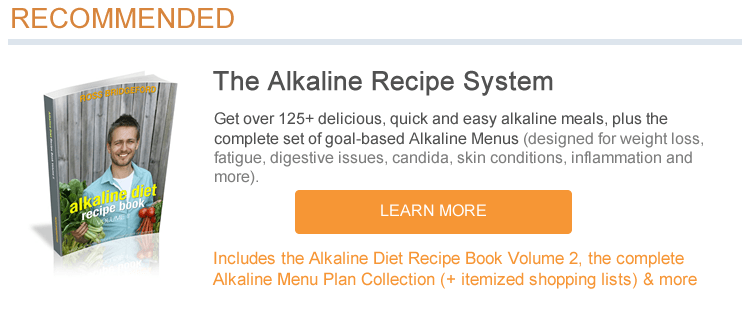 ---
Reason #2: The Alkaline Diet Addresses the Three Primary Causes of Sickness & Disease
In my over a decade of work in this area, I've seen in the scientific literature over and over and over again that the vast majority of illnesses, conditions and diseases (including obesity) are linked to one, two or all of the combination of:
Acidity
Inflammation
Oxidation
The alkaline diet addresses all three of these simultaneously. In a really simple way.
You don't have to think about it or specifically eat certain things on certain days in a certain order or combined in a certain way.
Alkaline foods, such as kale, spinach, tomatoes, celery, quinoa, watercress, capsicum, almonds, flax, avocados, broccoli, cauliflower, lettuce, peas, lentils, ginger, garlic, turmeric, lemons, cabbages, coconuts and so on are naturally alkaline, anti-inflammatory and packed with anti-oxidants.
It's easy – eat 70-80% alkaline and you will address all three of those factors.
Key Takeaway: by eating the most alkaline foods, you'll create a naturally anti-inflammatory, antioxidant-rich, alkaline diet, that creates the perfect state of equilibrium in your body – the balance your body craves. Before long you will start to see incredible results while enjoying the journey!
---
Reason #3: It's Nutritionally Solid & Rooted In Science Fact (It's Proven to Work)
Another myth (alongside the 'trying to change your pH' myth we've already busted) is that the alkaline diet doesn't have any scientific proof.
People (journalists and doctors like Christian Jessen of Embarrassing Bodies fame) lazily, and frankly embarrassingly try to discredit the alkaline diet with that one 'you can't change your pH' without actually knowing anything about it at all.
How I'd love to spend 15 minutes in a room with them to undo all of their 'first answer off the top of their head' beliefs about natural health and the alkaline diet.
BUT ANYWAY… 🙂
Here's just a handful of the research that has been recently published showing that the alkaline diet works – for a number of reasons:
Study: Alkaline Diet Prevents Chronic, Degenerative Disease

"The evidence appears to be strong that an alkaline diet high in antioxidants (fruits and vegetables) would help prevent chronic degenerative disease and cancer, and lead to a better quality of life"
Title: The Role of Mitochondria in Cancer and Other Chronic Diseases
Journal: Journal of Orthomolecular Medicine, 2014
---
Study: Alkaline Diet Works to Prevent Gout & Hyperuricemia
"We conclude that alkalization of urine by eating nutritionally well-designed alkaline -prone food is effective for removing uric acid from the body"
Title: Effect of urine pH changed by dietary intervention on uric acid clearance mechanism of pH-dependent excretion of urinary uric acid
Journal: Nutrition Journal, January 2012
---
Study: Eating Alkaline Preserves Muscle Mass

"Alkaline diets favor lean tissue mass in older adults.  Metabolic acidosis promotes muscle wasting, and the net acid load from diets that are rich in net acid-producing protein and cereal grains relative to their content of net alkali–producing fruit and vegetables may, therefore, contribute to a reduction in lean tissue mass in older adults"
Title: Alkaline diets favor lean tissue mass in older adults
Journal: American Journal of Clinical Nutrition, May 2008
---
Study: Alkaline Diet Creates Better Sports Performance

"An alkaline promoting (low-PRAL) diet increases anaerobic exercise performance, as evidenced by greater time-to-exhaustion during high-intensity treadmill running."

Title: Effects of Dietary Acid Load on Exercise Metabolism and Anaerobic Exercise Performance
Journal: Journal of Sports Science & Medicine, June 2015
---
Study: Eating Alkaline Reduces Risk of Diabetes and Coronary Disease

"This thesis appears to be consistent with previous epidemiological reports correlating high potassium consumption, or a high intake of alkaline fruits and vegetables, with reduced risk for diabetes and coronary disease. "
Title: Acid–base balance may influence risk for insulin resistance syndrome by modulating cortisol output
Journal: Medical Hypothesis, 2005
---
And it's of course not just the scientific proof that is important, but the proof in the real world, with normal folks who have started eating alkaline, following my recipes and meal plans, getting alkaline, loving it and seeing huge benefits.
I am going to pull together a big document of all of the amazing feedback I've received recently when I get the chance, but if you click on that link above you'll see a few of them, with huge weight loss, digestive issues clearing, arthritis improving and disappearing, blood pressure easing, energy increasing, mobility returning, skin looking great…
When you allow your body to find that balance and equilibrium by fuelling it and nourishing it with the foods it needs – you'll see the results flow incredibly quickly.
Key Takeaway: the alkaline diet is scientifically proven to support the body, help it to run optimally, and prevent disease.
It Meets All of Your Nutritional Requirements
If you're eating alkaline foods 70-80% of the time, it's easy enough to assume that , of course, you're getting all of your nutritional needs met.
But I want to show you the facts. I need the facts, so I can only assume you might too 🙂
Here's just a selection of the nutrient content of a serve of some of the alkaline foods you'll be eating:

Spinach:
Vitamin K – 1110% RDA
Vitamin A – 337.3% RDA
Manganese – 84% RDA
Folate – 65.7% RDA
Magnesium – 38% RDA
Iron – 35% RDA
Vitamin C – 31% RDA
Vitamin B2 – 27% RDA
Calcium – 25% RDA
Potassium – 23% RDA
Vitamin E – 21% RDA
Fiber – 19% RDA
Kale
Vitamin K: 1327% RDA
Vitamin A: 354% RDA
Vitamin C: 88.8% RDA
Manganese: 27% RDA
Fiber: 12% RDA
Calcium: 11% RDA
Magnesium: 11% RDA
Iron: 9% RDA
Omega 3: 7% RDA
Broccoli

Vitamin C: 135%
Vitamin K: 115%
Folate: 16%
Vitamin A: 14%
Manganese: 10%
Dietary Fiber: 10%
Potassium: 8%
Vitamin B6: 8%
Vitamin B2: 7%
Avocado
Dietary Fiber: 40%
Vitamin K: 38%
Folate: 30%
Vitamin C: 24%
Vitamin B5: 20%
Potassium: 20%
Almonds
Protein 20%
Fiber: 46%
Calcium: 25%
Iron: 25%
On a typical day of eating alkaline, you will EASILY reach all of your nutritional requirements
This is a typical day of eating alkaline foods (taken from my Alkaline Recipe System – click here to learn more about this):
Breakfast: Chai Infused Quinoa Porridge
Mid-Morning Snack: Alkaline Powerhouse Juice
Lunch: Soothing Gut Healing Soup
Afternoon Snack: Superfood Balls
Dinner: Chickpea Cashew Curry
Your daily nutrient intake would include (note not an exhaustive list):
Nutrient —–> Daily Value / RDI %
Fiber –> 346%
Protein –> 185%
Calcium –> 97%
Phosphorus –> 198%
Potassium –> 173%
Zinc –> 111%
Manganese –> 522%
Thiamin –> 158%
Riboflavin –> 135%
Niacin –> 104%
B6 –> 234%
Folate –> 512%
Magnesium –> 217%
Vitamin E –> 115%
Iron –> 176%
Vitamin A –> 1580%
Vitamin C –> 669%
Vitamin K –> 4432%
This is just a snapshot, and of course, is only indicative (although pretty accurate) – as you might vary the ingredients slightly, maybe you will still add a little high-quality meat (totally fine – keep it organic and high quality though), or some fish and so on.
But you can see from this, there is a wide range of essential nutrients all covered off, and let's face it, it's FAR better than the typical western diet.
Key Takeaway: by eating alkaline, which as we've shown – scientifically – the alkaline diet works – it's proven to be highly beneficial, you will be hitting ALL of your nutritional needs. Just think how this would compare to the crappy standard Western diet of some of your friends and family (who might just poke fun at your new way of eating…)
Again, it's important to note here that you can stay relaxed. As I have eluded to above, you can still eat meat and fish if you like. You can increase some of the stuff you like, and decrease the things you don't love. You can have cheat meals, heck you can have cheat days or cheat-entire-holidays! As long as you keep coming back to the core fundamentals, you'll keep getting results
It's Common Sense, Has Room to Have Fun & Isn't About Giving Everything Up
This is where I believe my style and methods of teaching you to get alkaline really gives you a huge benefit.
The alkaline diet, the way I teach it, is all about making it easy to get started, easy to stick to, delicious, enjoyable, fun and relaxed.
It's my belief that unless it is all these things then it's simply too hard for most people.
The way I teach involves: No stress, no cravings, no beating yourself up over little mistakes or moments-of-weakness, no giving everything up…life is meant to be fun and food is meant to be enjoyable.
Here's why the Alkaline Diet works:
Easy to Start: as you've seen in your beginner's 'Get Started Guide and Alkaline Food Charts' I have you focus on just the core, most important things that will make the biggest difference. To begin with, this is all you need to worry about. Get started, get momentum, and feel the benefits. Once you've got that sorted, you can move onto the next thing…
Easy to Stick To: if you start with my 'crowd out the bad' philosophy (which if you haven't seen yet, I'll email you about shortly), and focus on just getting the good stuff in for now without worrying about giving stuff up, you'll find this SO easy to stick to.
Delicious: OF COURSE! My recipes are always created with enjoyment in mind. Food, to me, is a pleasure. And I believe food can both be fuel and delicious at the same time. My recipes have to tick both of those boxes or I don't post them!
You've gotten your Ten Starter Recipes when you started with me.
But if you'd like more recipes, plus my menu plans for weight loss, inflammation, skin conditions, fatigue and more – check out my Alkaline Recipe System here.
It makes things even easier 🙂
Enjoyable, Fun & Relaxed: of course it has to be all of these things. With the way I teach the alkaline diet, you never have to give up everything, you can still have meals and nights out with friends, you can still have cheat meals, cheat days and cheat holidays.
You can still relax and have fun.
I make it easy for you to integrate the core, most important stuff into your daily habits, so it puts it on autopilot.
This is another reason why the alkaline diet works and works so well – you barely even notice you're doing it!
It just becomes second nature.
But you feel and look AMAZING!
So Why Does The Alkaline Diet Work So Well? How Could it NOT?
It's nutrient-dense, anti-inflammatory, antioxidant-rich, easy to stick to, scientifically proven, gives you room to have fun and relax, gives your body everything it needs to thrive, is nutritionally balanced and most of all…
…it's DELICIOUS!
With this knowledge, reassurance, and confidence in the diet in mind – let's go forth and make your biggest, BIGGEST health goals a reality for you.
I'd love to hear your goals – so post below in the comments what you want to achieve with the alkaline diet. Who knows I might even be able to give you a few pointers right away 🙂
Ross
More Reading from Ross:
The TRUTH About the Alkaline Diet & Cancer
RECIPE: The Alkaline POWERHOUSE Juice
Study: The Alkaline Diet & Type 2 Diabetes