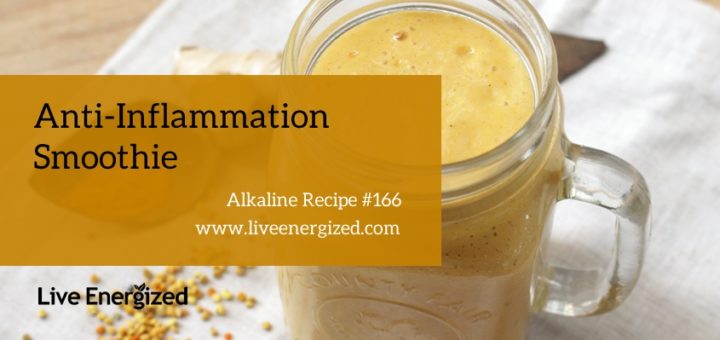 One Simple Smoothie That's an Anti-Inflammatory POWERHOUSE!
After I posted my Anti-Inflammation Diet Guide yesterday I have been overwhelmed with the response! 130,000+ people read the post in 24 hours and it spread like wildfire over Facebook!
And the biggest question in my inbox was this:
—> Send me some Anti-Inflammation Recipes, Ross!
Well, ask and ye shall receive!
These natural ingredients WORK!
This is a delicious, alkaline-rich, incredibly anti-inflammatory smoothie that will knock your socks off.
No special ingredients or funky kit – it's simple food used for it's raw, delicious power.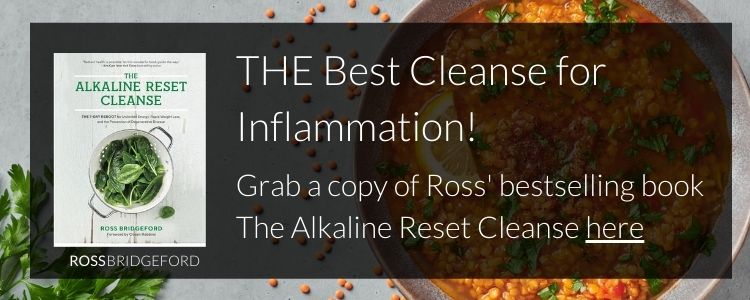 Many studies have shown natural foods, especially ginger and turmeric to be MORE effective than prescription drugs (especially NSAIDs) in fighting inflammation!
This research from the Journal of Phytotherapy Research in 2012 found that when comparing turmeric to the NSAID diclofenac:
Interestingly, the curcumin group showed the highest percentage of improvement and these scores were significantly better than the patients in the diclofenac sodium group.

More importantly, curcumin treatment was found to be safe and did not relate to any adverse events. Our study provides the first evidence for the safety and superiority of curcumin treatment in patients with active RA and highlights the need for future large-scale trials to validate these findings in patients with RA and other arthritic conditions.
Other research in the journal Surgical Neurology International found that:
Although nonsteroidal medications can be effective, herbs and dietary supplements may offer a safer, and often an effective, alternative treatment for pain relief, especially for long-term use.
There is a lot of conclusive evidence that turmeric, ginger and the other foods discussed in my guide earlier in the week are all safe and effective at supporting inflammation with none of the side effects commonly associated with NSAIDs.
The Anti-Inflammation Smoothie!
Preparation Time: 5 minutes
Serves: 2
Ingredients
1 inch of fresh ginger, grated
1 inch of fresh turmeric, grated
A handful of baby spinach
A handful of watercress (or rocket/arugula)
1 small avocado
1/2 bell pepper
A big handful of flat-leaf parsley and/ or coriander
1 cup coconut water (or filtered water)
Big pinch of cayenne
Pinch of salt
Instructions
Grate the roots into the blender and add the avocado and coconut water
Blend this to form a base
Next add the remaining ingredients and blend until smooth
I hope you love this!
I try to have these ingredients as much as possible anyway, but this is a perfect way to get all of these incredible anti-inflammatory ingredients in one delicious smoothie!
If you do have any inflammation, try having this juice daily along with your regular diet for a few weeks – you might get a whole lot more energy too!