The Anti-Inflammation Diet: Could one simple, and easy-to-fix problem be at the root-cause of almost all of your health challenges?
First Published on the 4th June 2014; Updated 27th April 2022
If you have a health challenge or goal right now – whether it's weight or fatigue, digestion or hormonal, diabetes, your liver, kidneys, cognitive or even cardiovascular – you HAVE to get the inflammation OUT of your body.
I cannot emphasize this strongly enough: inflammation is at the root cause of practically every degenerative disease and health challenges we know of.
And in this guide, I'm going to set you on the path of removing it, with simple, daily steps, forever.
How Chronic Inflammation Could Be Ruining Your Health & How You Might Have It And Not Even Know…
Millions of us are walking around with our bodies on 'high alert' every day and we don't even realize it.
Symptoms can include fatigue, fibromyalgia, IBS, reflux, poor digestion, constipation, headaches/migraines, low libido, skin conditions, premature aging, weight gain, being too thin, low energy, and poor sleep, allergies, food intolerances, joint pain…
Right through to degenerative conditions such as type 2 diabetes, cardiovascular disease and more…
We absolutely HAVE to make it a priority to get this inflammation out of our bodies. It can come from stress (elevated cortisol leads to inflammation), diet (sugar, gluten, processed foods, and so on), or environmental toxins (most potently from pesticides on food and chemicals in home cleaning products, body care, laundry, etc.)
We're exposed to hundreds of sources of inflammation every day – and we can't avoid them all…BUT we can do so much to reduce this and help our body to remove it.
Today you are going to learn how.
The Anti-Inflammation Plan
Today I will share with you:
What the most anti-inflammatory foods are to add IN
The most PRO-inflammatory foods to AVOID
The Three 'Get the Inflammation OUT' Supplements
And your 'get started' plan to start your journey today.
And the perfect place to start is with the seven most anti-inflammatory foods to focus on…
How Denise Reversed Her Autoimmune Condition
The Seven Most Powerful Anti-Inflammatory Foods
Quiz: can you notice anything that all of the anti-inflammation foods have in common…and something all of the pro-inflammatory foods has in common too?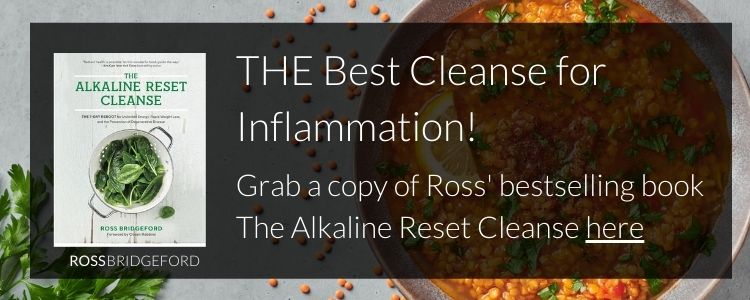 1. Avocado
Avocados are possibly one of the very best anti-inflammation foods. I really recommend having an avo every day!
There are FIVE nutrients in avocados that makes them such an anti-inflammation powerhouse:
Phytosterols: including beta-sitosterol, stigmasterol, and campesterol
Carotenoid antioxidants: including lutein, neoxanthin, neochrome, chrysanthemaxanthin, beta-cryptoxanthin, zeaxanthin, violaxanthin, beta-carotene and alpha-carotene
The non-carotenoid antioxidants: including the flavonoids epicatechin and epigallocatechin 3-0-gallate, vitamins C and E, and the minerals manganese, selenium, and zinc
Omega-3 fatty acids: in the form of alpha-linolenic acid (approximately 160 milligrams per cup of sliced avocado)
And Polyhydroxylated fatty alcohols (PSA)s
All five of these nutrients have been strongly linked to preventing inflammation, especially arthritis.
2. Ginger
Ginger contains ultra-potent anti-inflammation compounds called gingerols (cool name), which are the substances that many researchers believe are responsible for the reduction in inflammation people experience when they start taking ginger supplements regularly.
Gingerols have been heavily researched and proven to be linked to the relief of pain from inflammatory conditions, osteoarthritis, or rheumatoid arthritis.
In two clinical studies involving patients who responded to conventional drugs and those who didn't, physicians found that 75% of arthritis patients and 100% of patients with muscular discomfort experienced relief of pain and/or swelling.
Ginger is delicious, easily used in cooking, juices, and smoothies and I recommend you fall in love with it!
3. Turmeric
Research shows that turmeric has powerful anti-inflammatory, anti-tumor, and antioxidant properties.
Turmeric contains a pigment called curcumin, and this pigment not only gives turmeric its very yellow color but is also the active ingredient behind many of its proven health benefits.
One recent study found that osteoarthritis patients who added 200 mg of curcumin a day to their treatment plan experienced reduced pain and increased mobility, whereas the control group, which received no curcumin, experienced no significant improvements.
Other research also found that a turmeric extract composed of curcuminoids (plant-based nutrients that contain powerful antioxidant properties) blocked inflammatory pathways, effectively preventing the launch of a protein that triggers swelling and pain.
Clinical studies have also found that curcumin also has very powerful antioxidant effects. Due to this, it is able to neutralize free radicals and dramatically reduce joint inflammation and pain.
Definitely worth including in your daily diet, but don't get it on your clothes. I learned that lesson (on dozens of occasions) the hard way!
4. Garlic
Delicious, smelly, and darn good for you.
Garlic has huge anti-inflammation properties that have been linked to cardiovascular health, preventing obesity (related to sulfur-containing compounds found in garlic), and helping and preventing arthritis.
Two additional compounds in garlic (vinyldithin and thiacremonone) are found to inhibit the activity of inflammatory messenger molecules while also providing an anti-oxidative stress benefit.
The most researched compound in garlic, allicin, has been linked to many anti-inflammation benefits, and this food should definitely be eaten multiple times daily.
5. Beetroot
As with many other high-antioxidant foods, beetroot has been shown to have fantastic anti-inflammatory benefits.
The phytonutrients betanin, isobetanin, and violaxanthin that are found in beetroot have been the subject of huge amounts of research with regards to heart health (a symptom of chronic inflammation).
Alongside the anti-inflammatory benefits that betanin has, it is also proven to have anti-fungal properties and aid in detoxification.
6. Asparagus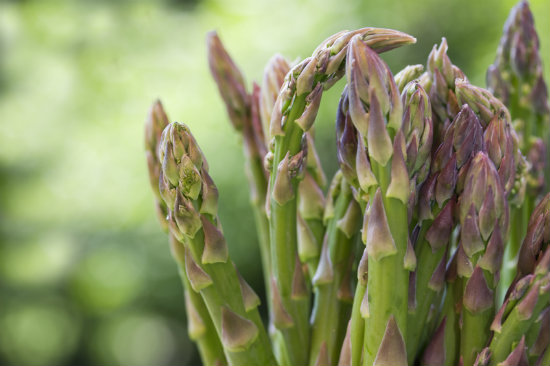 Asparagus is a super-anti-inflammation because of its unique combination of anti-inflammation nutrients including asparanin A, sarsasapogenin, protodioscin, diosgenin, quercetin, rutin, kaempferol, and isorhamnetin.
You don't need to be able to pronounce those nor do you need to remember them – just know that asparagus has possibly more anti-inflammation compounds in it than any other food!
(Plus asparagus also contains antioxidant nutrients including vitamin C, beta-carotene, vitamin E, and the minerals zinc, manganese, and selenium.)
7. Omega 3
Omega 3 is crucially important to fight inflammation.
The primary omega-3 fatty acid in flaxseeds—alpha-linolenic acid, or ALA— is fantastic for the cardiovascular system in and of itself.
It also acts as a building block for other molecules that help prevent excessive inflammation and protects the blood vessels from inflammatory damage.
But the antioxidant and anti-inflammation benefits of flaxseed don't stop with the cardiovascular system.
Studies have shown that omega 3 consumption can be linked to the prevention of the following inflammation-based conditions: high cholesterol, high blood pressure, heart disease, diabetes, rheumatoid arthritis, osteoporosis, depression, inflammatory bowel disease, asthma, and more.
PLUS Honorable Mentions Must Also Go To Cucumber, Cinnamon, Celery, Quinoa, Cloves and Cauliflower which are all excellent at fighting inflammation too!
The Seven Most Inflammation-Causing Foods to Avoid!
And on the flip-side, here are the foods to avoid.
I'm not suggesting giving up everything at once. You need to be a bit kinder to yourself than that.
To help you out I have a short guide to how to transition below (plus the answer to that quiz!).
1. Sugar
Refined sugar and other foods with high glycemic values hike up insulin levels and put the immune system on high alert.
Reports in the American Journal of Clinical Nutrition reported that processed sugars and other high-glycemic starches increase inflammation, which causes pain, overheating, redness and swelling.
High amounts of sugar in the diet increase advanced glycation end-products, or AGEs, a protein bound to a glucose molecule, resulting in damaged, cross-linked proteins. As the body tries to break these AGEs apart, immune cells secrete inflammatory messengers called cytokines. Depending on where the AGEs occur and your genetic predisposition, they could eventually result in arthritis, cataracts, heart disease, poor memory, or wrinkled skin.
Plus of course, sugar is the most acid-forming food you can consume and messes with every area of your body.
Best avoided when possible!
2. Red Meat
High intake of red meat has been repeatedly linked to inflammation across many studies.
Quality of meat can be a factor, in that mass-produced, low-quality meat can contain dangerous chemicals which are added to the meat supply through feed and medicines and these contribute to inflammation.
Red meat also contains high levels of omega-6 fatty acids that produce inflammation. This arachidonic acid produces inflammation that can attack anywhere in the body from your heart and arteries to your joints.
3. Caffeine
According to Mark Hyman, MD the caffeine in coffee increases catecholamines, your stress hormones. The stress response elicits cortisol and increases insulin. Insulin increases inflammation and this makes you feel lousy.
The acidity of coffee is associated with digestive discomfort, indigestion, heartburn, GERD, and dysbiosis (imbalances in your gut flora).
There are also numerous studies that show coffee increases inflammation. One particular study looked at coffee consumption on inflammation marker concentrations were in 3,042 randomly selected men and women.
In all inflammatory markers, the consumption of coffee, as little as one cup a day, was associated with an increase in inflammatory markers.
4. Dairy
Common allergens like casein and gluten (proteins found in dairy and wheat) are quick to spark the inflammatory cascade.
And it has been estimated that as much as 60% of the world's population cannot digest milk!
In fact, researchers think that being able to digest milk beyond infancy is abnormal, rather than the other way round. Milk is also a common allergen that can trigger inflammatory responses, such as stomach distress, constipation, diarrhea, skin rashes, acne, hives, and breathing difficulties in susceptible people.
5. Refined Grains
A lot of the grains we eat nowadays are refined.
They are devoid of fiber and vitamin B compared to unpolished and unrefined grains that still have the bran, germ, and aleurone layer intact.
This makes refined grains as good as refined sugars, which are practically empty calories, devoid of nutrients.
And like refined sugars, refined grains have a higher glycemic index than unprocessed grains and when they are consistently consumed, can cause inflammation throughout the body when consumed.
Just skip them.
6. Trans-Fats (and excessive omega 6 with no omega 3)
As we've discussed, you want to be increasing your intake of omega 3s.
These are the anti-inflammation fats that lubricate your circulation, your joints, and your brain.
Sadly, the vast majority of people get almost no omega 3 on a daily basis and a LOT of omega 6s.
These are the polyunsaturated fats including corn oil, safflower, sunflower, and soybean oil.
How much is too much? The ratio of Omega 3 fatty acids to Omega 6's in the diets of most Americans is 1:20. Our ancestors were healthy in a diet with a 1:1 ratio. Whoops.
In the ratio they occur in the typical Western diet, these oils create inflammation, pain, and cellular damage.
Trans fats are even worse.
Trans and partially hydrogenated fats are a huge contributor to inflammation and should be avoided whenever possible.
7. Processed/Packaged/Prepared Foods
Quite simply because they contain a lot of the above, and have had all of the beneficial foods processed right out of them.
If you are eating a lot of prepared/packaged/processed foods do try to move away from these. I know they're convenient but they're not worth the hassle.
The "Get the Inflammation OUT" Supplements"
These three supplements will dramatically increase the speed that the inflammation is soothed and removed from your body. The brands I recommend are tried and tested and I most definitely approve.
There is a lot of hype in the supplement world, and the anti-inflammation movement has gone bonkers in the past few years so there are a LOT of awful, cheap products out there being marketed as the best thing since sliced gluten-free bread.
So feel free to do your homework too, but if you want the shortcut then these products will be fantastic for you.
Anti-Inflammatory Supplement #1: Curcumin Phytosome
Curcumin is the anti-inflammatory compound in turmeric, and it is one of the most researched natural healing foods on Earth. There have been over 4000+ studies published involving the health benefits of curcumin, with most focused on it's powerful anti-inflammatory benefits for cancer, autoimmune, anti-viral, anti-bacterial, chemoprotective, immune-boosting, blood-cleaning, cardioprotective benefits.
It's a massive all-round superfood – and much of that stems from it's anti-inflammatory power.
This is a supplement I STRONGLY recommend.
Ross' Product Suggestion: Thorne Research – Meriva
Thorne Research products are by FAR the most well-researched supplements out there. They are an incredibly impressive company.
Anti-Inflammatory Supplement #2: Sulforaphane
Sulforaphane (SFR) is 'coming of age' in the scientific community. It has been known forever and a day, but only recently have we begun to understand the mechanisms by which it integrates with the various pathways in the body that make it so powerful.
Previously, a lot of the research has focused on its chemoprotective properties, but recent studies have revealed just how incredibly effective it is as an anti-viral, anti-microbial, detoxification tool (in combination with inducing autophagy), anti-diabetic, skin protective, healing tool.
And it is incredibly, powerfully anti-inflammatory.
I have written a whole guide on sulforaphane. It's that important. And if you want to remove inflammation, I recommend you get a strong sulforaphane supplement – from the best, natural source: broccoli sprouts.
Ross' Product Suggestion: Thorne Research – Crucera SGS
Anti-Inflammatory Supplement #3: Omega 3
This one goes without saying. A high-quality omega 3 (and you get what you pay for with oils) is essential across the board. But if oyu want to remove inflammation, it will be incredibly difficult unless you have a proper omega 3 to omega 3 & 9 ratio…and getting enough omega 3 in your diet consistently is incredibly hard.
So you need to supplement.
For inflammatory conditions that involve the endocrine system (which is most of them – they all have some basis or outcome involving hormone imbalance) I recommend you use both regular omega 3, AND omega 3 in a phospholipid form. Phospholipids are able to cross the blood-brain barrier far more efficiently than other forms of omega 3 – so I recommend having this in your supplement mix too.
In general, and this is a little vague because 'dosage' varies by product to product, I recommend you have 2/3 of your regular volume of omega 3, and then 1/2 of the recommended amount of the phospholipid product.
For instance, with the two Nordic Naturals products recommended below, I would take (daily) 2x of the main omega 3 capsules, and 1x of the phospholipids.
And here is…
Ross' Product Suggestion: Nordic Naturals Ultimate Omega & Nordic Naturals Phospholipids
So Here's The Plan…
If you're anything like me you hate it when you get all juiced up by the promise of amazing benefits and then get told that the plan basically equates to giving up everything, being perfect forevermore, never going out with your friends again or to dinner, and living off just salads for the rest of time…
It. Never. Works.
Well actually, in about 1% of cases it does because some people are just super-human.
But for the other 99% of us (I included for sure), I need it to be simple, manageable, achievable, and leave me feeling stress and guilt every time I have a treat!
(We all need treats, right?)
So the plan goes something like this…
Work out ways to SNEAK these anti-inflammation foods IN
It would be easy to say: "just eat vegetables, low-sugar fruits, and healthy fats from now on and you'll be fine".
But like I say, that won't stick for more than about 3 hours.
So we need to have a way to sneak an abundance of these foods in and that's where I come in with my sneaky strategies:
Sneak These Foods Into Your Existing Meals!
This is going to make life so much easier for you because it requires almost zero change.
You don't have to do anything different. You just need to add these ingredients to your current meals!
Idea 1: If You're Making a Juice
You can add a heap of beetroot to a juice, some celery, some turmeric…
Idea 2:…Or Smoothie
Add chia seeds for more omega 3, a spoon of flax oil, a pinch of turmeric, some grated ginger and of course, avocado makes every smoothie super creamy without changing the taste all that much.
Idea 3: If You're Making a Sauce
If you are making a sauce for pasta, or pesto, or anything like that you can always add a pinch of turmeric and an extra clove of garlic.
For a lot of sauces where you'd normally call for olive oil, you could also make it 50% flaxseed oil and 50% olive oil for a much more omega-3 based sauce.
Idea 4: If You're Making (or Having a Shop Bought) Soup
It's so easy to double the nutrient content of soups! Adding quinoa to the soup is a great call. Makes it more filling, more protein, more fiber, more omega 3's, and of course it makes it more anti-inflammatory.
You can also add celery, beetroot, ginger, turmeric, cauliflower, and asparagus to practically any soup and this will only make it all the more delicious.
In fact, you could make an anti-inflammatory soup out of all of the ingredients in this guide plus some veggie stock!
Idea 5: If You're Having a Salad
Salads are also easy to make into an anti-inflammation superstar. Grate beetroot (or use a spiralizer), add lots of grated ginger, quinoa, grilled asparagus, avocado…you can see where I'm going here.
Idea 6: …and then for your Salad Dressing…
Mincing garlic into salad dressings is great, and you can make any salad dressing creamy my mashing in or blending in avocado (that's a cool trick).
Plus for any oils in dressings, you can change these to omega-3 based oils like flax oil, and you're adding whole-lotta anti-inflammatory ingredients to your salad!
Idea 7: And Even If you're Eating a PIZZA!
Or any other foods you'd never consider healthy…but you're having them (we all do, and need to at some point) – always ask this question:
What can I add to make this meal much more healthy, without a lot of effort or changing the taste too much?
For instance, if you were having a pizza (cooked in the oven at home, or takeaway) to make it more anti-inflammatory you could:
Drizzle with flax oil for an omega 3 hit
Sprinkle with chia seeds for a tasteless extra bit of omega 3 and fiber and digestive cleansing!
Top with a pinch of turmeric (would not change the taste at all)
Add extra garlic (sliced or minced) to make it more delicious and anti-inflammatory
Add asparagus to make it more veggie-fied and anti-inflammation rich
Serve with an avocado & tomato side salad (dressed in flax oil and lemon juice) for an alkaline, anti-inflammation super-hit.
Idea 8: Get Into Anti-Inflammation Spices!
Cloves
Ginger
Turmeric
Galangal
Cinnamon
Rosemary
Oregano
Sage
Thyme
Marjoram
Use any of these at any time on any recipe and add an anti-inflammation kick to your meal!
These are just a few examples and you can do this kind of thing with ANY meal.
You just have to be conscious of your need to include these foods and let your brain do the rest!
It's all about being creative and just to give you another idea, here's me with quick ginger, turmeric, garlic & lemon tea I just knocked up in under 3 minutes!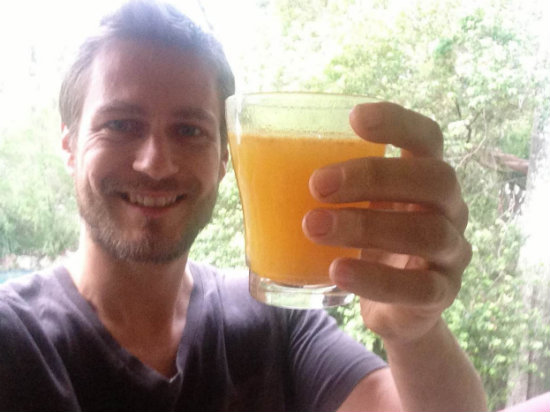 Anyone can do it!
And Now Step Two: work out a manageable plan to transition away from the pro-inflammatory foods and to an anti-inflammation diet…step-by-step…
Just as I insist you make it easy for yourself to ADD these foods, I also want it to be easy for you to deal with the bad foods.
And to do this don't try going cold turkey.
The moment you tell your brain you can't have something, the moment it craves it.
The trick is to work out a manageable transition plan, food by food, one at a time. And you only move onto the next food when you feel you've got the first one completely under control.
It has to be a step-by-step process.
For instance, if you want to work on caffeine first:
Take a look at your coffee right now: is it lots of coffees per day, do you have a large coffee, does it have sugar, does it have syrups…think about all of the variables
Now, pick one variable such as the frequency, and work out a plan to get from where you are now to where you want to be – and let's say 2 weeks
If you have 3 coffees per day right now, then for the next week, have only 2 per day. Keep your coffee exactly as it is, but just cut out the 3rd cup
Now after seven days, just make it 1 per day, but REALLY savor that cup, make it worth it to have just one
Now move onto the next variable, let's say size.
If you're having a large right now, change it to a small…then after a few days, maybe a ¾ full small (less milk)…then after a few days move from dairy to non-dairy milk
Of course, you could always go for a coffee alternative too.
I broke my caffeine habit using Redbush tea years ago, but nowadays you can get awesome coffee alternatives (that are alkaline) like this one.
You can see where this is going and it can work like this for anything.
Personally, if you really have to, I wouldn't begrudge you a coffee each day, as long as you get super hydrated before and after.
I think a better balance would be more like having one only on weekends, but that's your call.
— and this is it!
I hope you've loved this guide and it's given you a great place to get started. Of course, there are LOADS of anti-inflammatory recipes on my site here, and lots to get you started in this guide.
Ross
Quiz Answer: all of the anti-inflammation foods are ALKALINE and all of the pro-inflammation foods are, of course, acidic! Eat alkaline folks!
Anti-Inflammation Sources & Scientific References:
Ban JO, Oh JH, Kim TM et al. Anti-inflammation and arthritic effects of thiacremonone, a novel sulfur compound isolated from garlic via inhibition of NF-kB. Arthritis Res Ther. 2009; 11(5): R145. Epub 2009 Sep 30. 2009. – Link to Article
Bahadori B, Uitz E, Thonhofer R, et al. Omega-3 Fatty acids infusions as adjuvant therapy in rheumatoid arthritis. JPEN J Parenter Enteral Nutr. 2010; 34(2):151-5. – Link to Article
Chedraui, P., & Perez-Lopez, F. R. (2013). Nutrition and health during mid-life: searching for solutions and meeting challenges for the aging population. Climacteric, 16(S1), 85-95. – Link to Article
Elbandy MA and Abdelfadeil MG. Stability of betalain pigments from red beetroot (Beta vulgaris). Poster Session Presentation. The First International Conference of Food Industries and Biotechnology & Associated Fair. Al-Baath University, North Sinai, Egypt. – Link to Article
Fredrickson, B. L., Grewen, K. M., Coffey, K. A., Algoe, S. B., Firestine, A. M., Arevalo, J. M. G., et al. (2013). A functional genomic perspective on human well-being. Proceedings of the National Academy of Sciences, 110(33), 13684-13689. – Link to Article
Ippoushi K, Azuma K, Ito H, Horie H, Higashio H. [6]-Gingerol inhibits nitric oxide synthesis in activated J774.1 mouse macrophages and prevents peroxynitrite-induced oxidation and nitration reactions. Life Sci. 2003 Nov 14;73(26):3427-37. – Link to Article
Iriti, M., Vitalini, S., Fico, G., & Faoro, F. (2010). Neuroprotective Herbs and Foods from Different Traditional Medicines and Diets. Molecules, 15(5), 3517-3555. – Link to Article
Lashinger, L. M., Ford, N. A., & Hursting, S. D. (2014). Interacting Inflammatory and Growth Factor Signals Underlie the Obesity-Cancer Link. The Journal of Nutrition, 144(2), 109-113. – Link to Article
Licinio, J., & Wong, M. L. (1999). The role of inflammatory mediators in the biology of major depression: central nervous system cytokines modulate the biological substrate of depressive symptoms, regulate stress-responsive systems, and contribute to neurotoxicity and neuroprotection. Mol Psychiatry, 4(4), 317-327. – Link to Article
Maroon JC, Bost JW. (2006) Omega-3 fatty acids (fish oil) as an anti-inflammation: an alternative to nonsteroidal anti-inflammation drugs for discogenic pain. Surg Neurol. 2006 Apr;65(4):326-31. – Link to Article
What to Read Next: Three Steps to Heal Adrenal Fatigue