Holy moly this tea is a WINNER. I've been working on this one for a while and the addition of a very special ingredient has taken it from an 8 out of 10 to an off the charts out of 10!
I love every flavour in this tea – it's smooth, soothing and delicious.
And of course, it's packed FULL of nourishing nutrients from the coconut oil, cacao, maca, chili, cardamon, cinnamon, ginger and that special ingredient…
It's basically an outrageously delicious hot chocolate, but healthy, alkaline and energizing.
See Also: Get Over 125+ Delicious & Easy-to-Make Alkaline Recipes Here
Alkaline Chilli Chai Hot Chocolate
Serves 2
Ingredients
450ml coconut or almond milk
1 tbsp almond butter (note this is the secret ingredient, makes it SO creamy!)
2 tbsp organic cacao powder
1 inch of root ginger sliced
1 tsp cardamon powder
1 tsp cinnamon powder
1 red chilli (adjust to preference of heat)
1 tbsp coconut oil or MCT oil
Instructions
Start by slicing the ginger, and then add the ginger, milk, cacao, almond butter, spices and oil to a saucepan
Simmer for 5-10 minutes and then transfer to a blender and blend on high speed until smooth and a froth has formed
Sprinkle with cinnamon, serve and enjoy!
This is a fantastic one in the colder months…but can also be enjoyed on ice in summer too!
Ross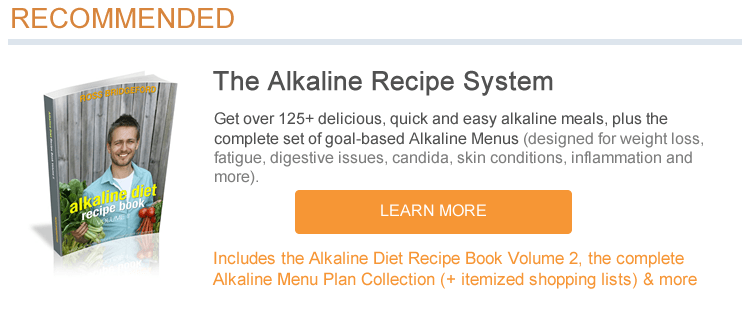 Do You Want to Turn Your Health Around in Just 7 Days for Just $1.99?
If you love the look of this guide and the benefits it will bring, check out my book The Alkaline Reset Cleanse. It's a gentle, enjoyable seven-day Cleanse that will completely transform your health and life. Abundant energy, dramatic weight loss, digestion healed, inflammation gone...these are all results my students have experienced from doing their Alkaline Reset Cleanse...
LIMITED TIME OFFER: The Alkaline Reset Cleanse Book is Just $1.99 (Kindle/eReader) -- Click to order now and get over $120+ of extra alkaline training from me!
Real Results from the Alkaline Reset Cleanse Book:

---