Wahoo, it feels GREAT to be back. Actually, it feels outstanding. After a short holiday we're back, back, back and feeling alkaline, feeling fresh and ready to blow you away with our biggest, best bunch of beautiful alkaline resources ever.
And where better to start than with a fresh, new alkaline recipe of the week!
Alkaline Diet Recipe #147: Mexican Tortilla Soup
Serves Four
Ingredients
500ml of filtered water
2 teaspoons of vegetable bouillon or 1 yeast-free vegetable stock cube
1 ripe avocado
1/2 red capsicum (pepper)
1 tomato
1/2 bunch of coriander (cilantro)
2 large handfuls of spinach
2 cloves of garlic
1 lime
1 corn on the cob (about 4 inches long)
1 chilli/jalapeno (to your taste)
Pinch of cayenne pepper
Pinch of black pepper and Himalayan (or Celtic Sea) Salt
1 sprouted tortilla wrap
Instructions
This is a fantastic alkaline diet recipe that takes no time at all to prepare and is great as a warmer in winter or in summer as a refresher.
Firstly, get your tortilla ready by slicing into 1cm wide and 5cm long strips and lightly toasting under the grill.
Now prepare the base by simply boiling the alkaline water in a large pan and dissolve the stock cubes/bouillon to make a vegetable broth as a base.
Next, get the veggies ready by dicing the capsicum and tomato and roughly chopping the coriander. Now peel and dice the avocado and finely dice or mince the garlic. Next, slice up the chilli/jalepeno to your hotness preference and put to one side. Wash and roughly chop your delicious super-alkaline spinach and dry with a tea towel.
Now finally prepare the corn by slicing the kernels from the cob with a sharp knife (see dull but decent video tip here).
All that is left is to combine everything into the broth – so simply throw it all together and heat through. You may choose to keep the tomato and chilli to one side and throw in right at the end so that it stays quite raw – that's just how I do it 🙂
This is really easy, a great way to alkalise and perfect all year around.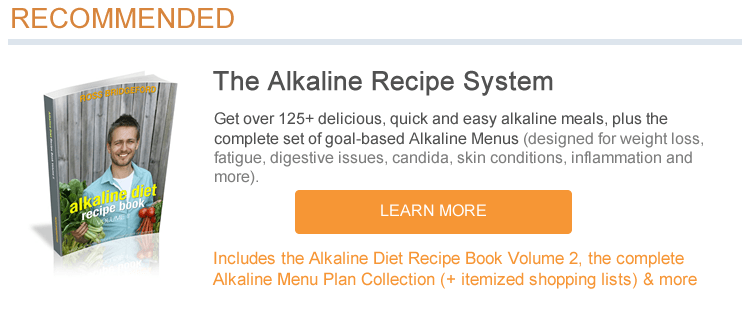 [yumprint-recipe id='17']