The 7 Most Alkaline Rich Foods: But What Does a "Serve" of Each ACTUALLY Look Like?
Ever since I released my Definitive Acid / Alkaline Food Chart and then followed this up with my now, officially, 'wildly popular' 7 Most Alkaline Rich Foods guide I've been inundated with questions from you lovely people asking me more questions about how to start the alkaline diet, and how to live alkaline.
This is brilliant.
It's why I'm here. It's why I spend hours and hours every week writing for you and answering your questions!
My whole approach to getting healthy, getting alkaline, and STAYING alkaline is based on three key things:
DON'T try to be perfect – it's unrealistic, unreasonable and doomed for failure. Take it day-by-day, step-by-step and still enjoy treats here and there. If you aim for perfection you'll find it too hard. Go easy on yourself, still enjoy a night out with your friends, still enjoy life, and enjoy food – and transition gently. Unhealthy food (sugar, simple carbs, yeast, trans fats, additives, caffeine, alcohol, etc) ARE beyond doubt addictive. You will not make this a lifetime
Put IN Before You Take OUT – if you try to start your healthy lifestyle by restricting and depriving yourself, you will fail. Simple as that. When you first start out take ALL of that horrible pressure off yourself by focusing solely on ADDING GOOD STUFF IN before you even think about taking the bad stuff out. If you focus on adding the good stuff (this article will show you how easy that is) then you will find yourself feeling better and better, more and more energetic, more and more vitality, smoother skin, less fatigued, better sleep, better moods, WAY less fat, WAY more muscle, brighter eyes and a sensational feeling of achievement and accomplishment. And guess what, the more you feel like this, the less you'll crave the bad stuff and the less you'll want the bad stuff.Simple as that.
Work SMART Not HARD – This is based on the 'Minimum Effective Dose' principle Tim Ferriss teaches, and influenced by Pareto's 80/20 rule.

I believe that you will get 80% of the benefit from 20% of your activities.
This again comes back to not trying to be perfect. Using 20% of the effort you can get 80% of the benefit. Of course, this is not 100% of the benefit, but it would take the extra 80% of effort to get that remaining 20% of benefit! Make sense?!Now, once you've mastered the core stuff to get you that 80% of benefit you can fine tune and step-by-step add and improve, but for now just focus on mastering the core principles.
Alkaline Food Serves: The Background
>We all know we have to eat more fresh vegetables (especially the leafy ones) but it seems daunting and intimidating to try and eat (at least) five serves per day.
Or so you thought!
I have used the globally accepted measure of 80g of food as being officially ONE serve and measured out what 80g of each of my 7 Most Alkaline Rich Foods looks like.
By the end of this guide, you'll realize just how easy this makes the alkaline diet.
Alkaline Rich Food: What Does 1 Serve of The 7 Most Alkaline Foods LOOK Like?
If you remember in my Seven Most Alkaline Foods article I listed:
1. Spinach
2. Kale
3. Cucumber
4. Celery
5. Broccoli
6. Avocado
7. Capsicum/Bell Pepper
Below you will find all of these photographed as the amount required to be classified as 'ONE SERVE' in the global 5-a-Day campaign (in Australia it is 2+5 with 2 fruit too).
1. Spinach – One Serve
This is all it takes to have a serve of spinach! Spinach is an incredibly alkaline food – packed full of Vitamin K, Vitamin A, Manganese, Calcium, Iron, Protein, Fiber – it's a true superfood.
As I always advise, if you include a side salad with every meal, and use this small amount of spinach, this will mean you'll have 2-3 serves of this incredible food every single day. Awesome. You'll feel amazing!
IMPORTANT: HOW TO CHEAT AT SPINACH!
I went the extra mile and lightly steamed some spinach to show you how it is even easier to eat a HUGE amount of spinach by simply steaming it for a couple of minutes. The picture below is the above "1-A-DAY" serve of spinach, shrunk down by steaming: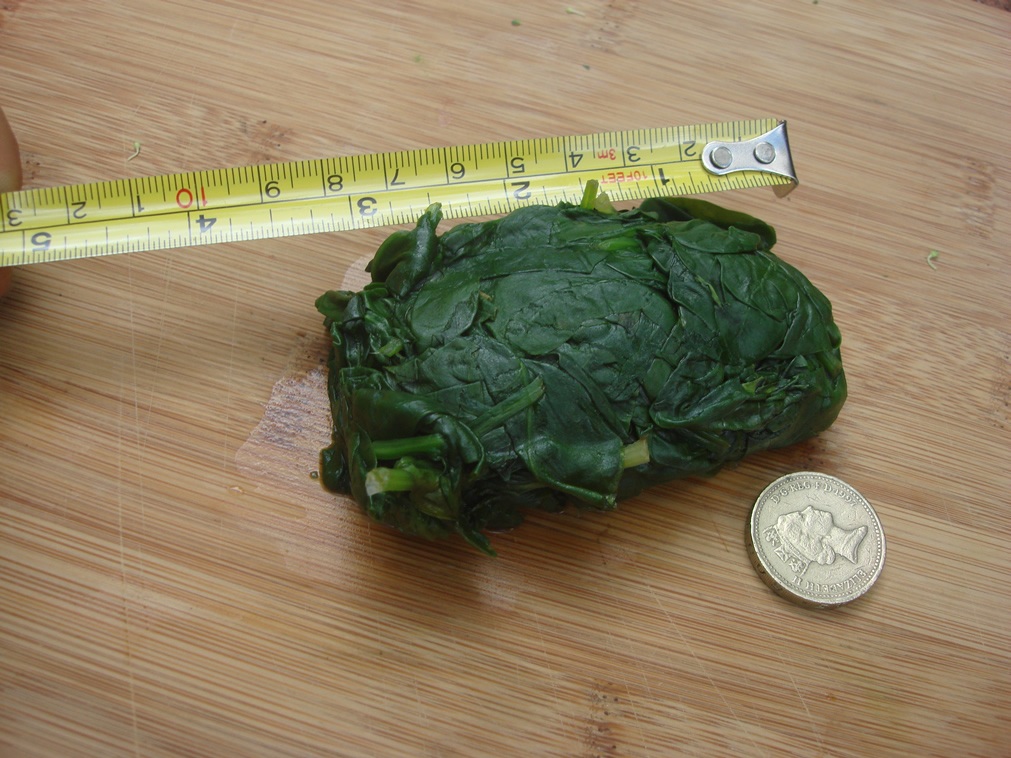 Ross' Alkaline Recipe Containing Spinach
Warm Red Pepper & Spinach Salad
Spinach, Garlic & Tofu Burgers
Alkaline Avo Power Smoothie

Alkaline Raw Soup
2. Celery – One Serve
Isn't it shocking – that's all the celery you need to call it one of your five-a-day. It's so small! You could munch down on this as a snack without even knowing you'd done it!
Can you start to see how getting your rich source of alkaline foods each day is just a case of some simple habits?
I often have celery with almond butter as a nutritious, alkaline, healthy fat-laden snack and it's amazingly deliciously awesome.
It's alkaline, has super-high water content, and if you are on a weight loss journey, you'll also be happy to hear that this alkaline staple contains plenty of potassium and sodium and so is a diuretic – meaning it helps rid the body of excess fluids.
Ross' Alkaline Recipes Containing Celery:

Vegetable Bean Soup
3. Cucumber – One Serve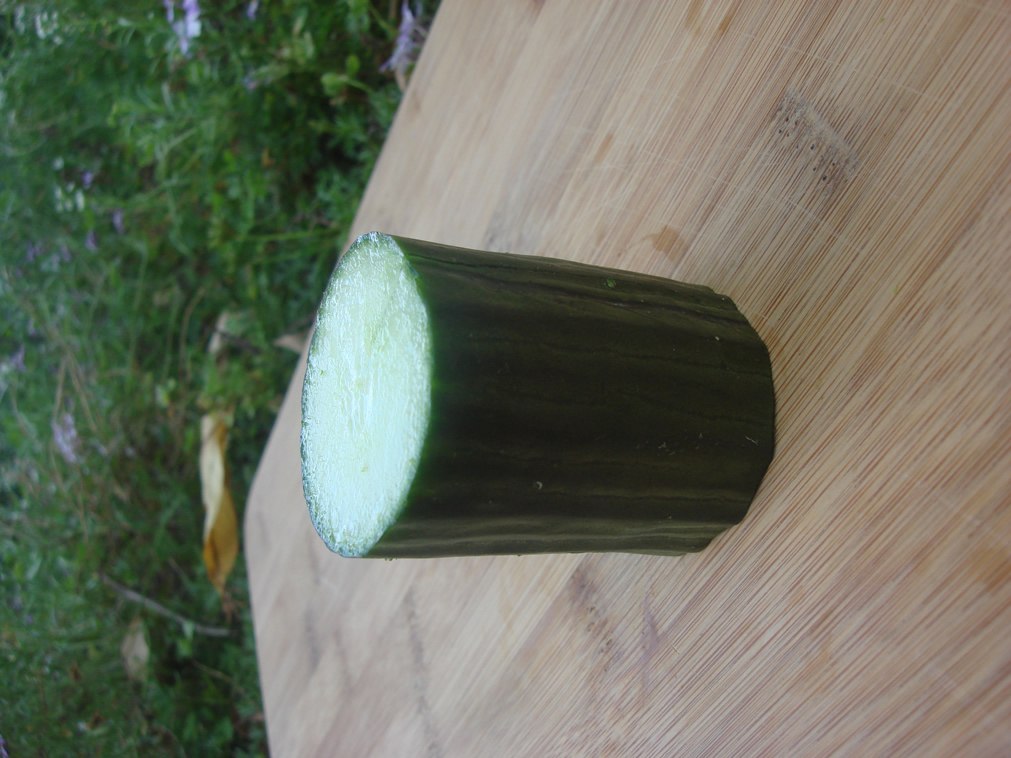 This is the most awesome of them all – how small is that?! You'd think that it would take a whole cucumber to make a serve, but no! This is all it is! This is absolutely one of your five-per-day.
I hope the more you read and see the easier you're seeing this is and more motivated you're feeling?
Ross' Recipes Containing Cucumber:

Alkaline Cucumber & Watercress Soup
4. Avocado – One Serve
Man alive, it's getting easier as I go, isn't it? This is half an avocado and then a tiny slither extra. In truth, the avocado I bought was pretty small, so for an average avocado it would be half or so. OK, so imagine using a 1/4 in one of your daily salads and a 1/4 as a snack. Easy. You put 1/2 an avocado into ONE green smoothie.
It's so easy to eat this much delicious avocado!
In my Alkaline Diet Recipe System I have a great recipe as a snack which involves scooping out the flesh from half an avocado, mixing with chopped tomato and red onion, sprinkling in some sesame seeds, drizzling with olive or flax oil and eating from the avocado shell! Delicious and, again, your one serve of vegetables.
Ross' Alkaline Recipes Containing Avocado:

Alkaline Avocado Power Shake
5. Broccoli – One Serve
Broccoli is one of, if not THE, most important foods in the whole wide world. It's amazing and I BEG for you to eat it daily. Steamed, stir-fried, juiced, mixed in a soup or smoothie, eaten raw (you get used to it!) – just eat it. A nice trick I thought of a while back is to grate the florets into salads – so you barely notice it! I love sneaking nutrition into food – especially for people who claim not to like it 😉
Ross' Alkaline Recipes Containing Broccoli:

Broccoli & Vegetable Coconut Curry
6. Bell Pepper/Capsicum – One Serve
Capsicum (Bell Pepper) was a big surprise for me but it is extremely beneficial.
Bell peppers have shown up in research relating to decreasing the risk of cardiovascular disease, type II diabetes, macular degeneration, cancer, inflammation, and more.
Alongside these lesser-known or more complex-named antioxidants, bell pepper is one of, if not the best food source of the more common antioxidants: vitamin C, vitamin A, and vitamin E.
They're sweet, tasty, and delicious!
Ross' Alkaline Recipes Containing Bell Pepper:
Without Kale I Thought You'd Need An Alkaline Bonus…
So, I thought it might be fun to measure out the foods I'd include in a basic alkaline green drink to see:
1. the vast quantity of fresh vegetables and leafy greens you get in ONE drink
2. to measure the actual 'serves per day' in ONE green drink
It's awesome.
Below you will see the separate images of each of the ingredients in a basic alkaline green drink measured. It's so interesting to note how this would be a salad that would be WAY too big for me to eat….but juiced – it's an easy, delicious, refreshing super juice!
Alkaline Green Drink Foods Measured
Above are photos of the ingredients I'd use in a basic green drink:
1. Spinach (not above, but right up above at the top)
2. Cucumber
3. Celery
4. Lettuce
5. Broccoli, including stalk
6. Carrot
7. Bell Pepper
I cut and sliced the amounts I'd use on a normal day and then measured to see how it rates on the 5-A-Day Scale.
As you can see (just about) from the pictures above, the total weight in grams of this green drink (which serves 2) is a total of 1,162g of vegetables.
This equates to 14.552 serves of fresh vegetables!
And looked like this:
As this juice would serve 2, this is 7.25 serves of fresh vegetables.
HAVE THIS JUICE EVERY DAY IN THE MORNING AND TELL ME HOW YOUR LIFE HAS CHANGED!
"Most people are overfed, and they're undernourished…Freshly extracted juice is the 15-minute nutrient express to health" Jason Vale.
I hope you've loved this blog post as much as my 7 Most Alkaline Foods article!
I loved making it – and it's invigorated, motivated, and inspired me too!
Getting alkaline, staying alkaline, and enjoying the process has never been easier!
Ross