Easy Hummous Recipes to Make Any Snack Delicious!
Having access to easy, delicious snacks is often the difference between success and failure for a lot of people. When you're hungry – you need something quick to grab…and when there is nothing to grab – you need something quick to MAKE that is filling and delicious. Hummous fits that bill perfectly.
I absolutely LOVE hummous, and I make it at least once a week for my kids…but even I get a little bored of the regular-style hummous (here's my alkaline hummous recipe).
These eight recipes have become some of my go-to's. I often adapt and adjust, but straight out of the box they are all delicious.
Enjoy – and feel free to let me know your own delicious & easy hummous recipe in the comments below!
Ross
---
Eight Easy Hummous Recipes
1. Avocado hummus & crudités


Get all five of your 5-a-day with this healthy, low-calorie, vegan recipe that works as lunch or a starter. Enjoy deliciously creamy hummus made with avocado.
2. Red pepper hummus with crisp bread snaps

Naturally low in fat, this red pepper hummus also supplies vitamin C to help boost your defences. The crispbreads are protein and omega-3 rich, combining to make a healthy, nutritious snack.

Roast pumpkin with plenty of garlic then blitz into a Moroccan-style dip with spicy harissa and sesame paste

An excellent hummus, the only one I make anymore. You really need a blender or food processor to get the consistency right.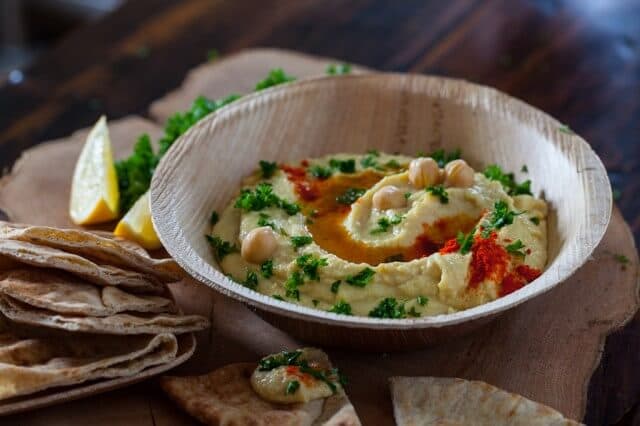 Instead of tahini, I used plain yogurt to lighten up the recipe. Make sure you drain, rinse and re-drain the chickpeas. The water in the can of chickpeas is cloudy and starchy. You'll want to discard that. Use a good quality extra virgin olive oil!

This is a great appetizer or snack to serve during all of your holiday feasts and parties in the coming months. It's about as quick and easy as you can get. You could whip up a batch of this hummus in less than 10 minutes! That's my kind of party recipe.
7. Beet Hummus

Beet hummus is gorgeous and delicious. It is a great alternative for the regular hummus and just need to add pre-cooked beet pieces along with the normal ingredients. Put it in top of salad; add it in to a sandwich or in side with crunchy snacks or simply with kuboos.
8. Baba Ghanoush Eggplant Hummus
This dish is the perfect combo of the two delicious, healthy dips. You get both the chickpeas and the eggplant and all of the amazing spices that generally overlap in the two, anyway.
Just don't go too overboard on the pita, okay?