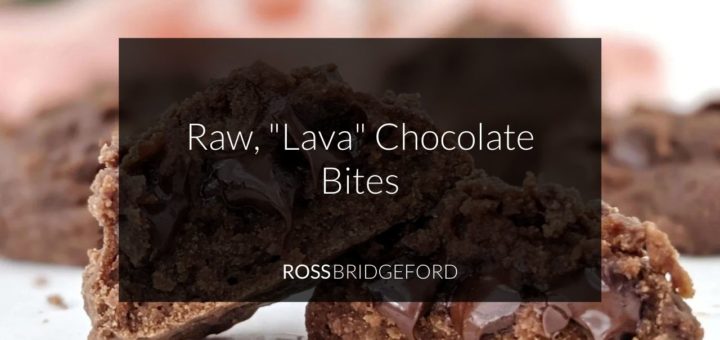 Raw, Vegan, "Lava Chocolate Bites"
These are absolutely phenomenal, a real treat!  They're not super-alkaline, of course, but they're also not particularly acid-forming, as some of the sugars are most certainly offset by the alkaline minerals in the cacao and the healthy fats from the nuts and coconut oil.
They don't take a huge amount of time to make, but are VERY impressive 🙂
Let's get into them!
Ingredients
For the bites:
1/3 cup oats
1/3 cup walnuts
2tbsp chia seeds
4 medium-sized dates, chopped
1/4 cup cacao powder
For the 'lava'
1/3 cup  coconut oil
1/3 cup rice malt syrup
1/3 cup dates, chopped
1/3 cup cacao powder
Pinch of cinnamon
Pinch of Himalayan sea salt
Coconut or almond milk, to use as needed (see notes below)
Instructions:
Start by putting the oats, chia, walnuts and cacao into your food processor or blender, and pulse until it's all ground down into a kind of rough flour.
Now add the 4 chopped dates, one at a time until it becomes a bit more sticky.
Take around 2/3 of the mixture and in a cupcake tin, line the edges to create sides and a bottom and then refrigerate and create the tops by pressing out the remaining 1/3 of the mix into tops that are approx the size of your bases.  Put these in the refrigerator too.
To make the 'lava' blend all of the ingredients together, adding the nut milk a little at a time to reach the right consistency.  You want it to be quite thick.
Now pour the lava into your set moulds and then add the 'lids' while still in the cupcake tray.  Lift each one out carefully and place on your serving plate.
Serve with coconut yoghurt or as they are!