Let's Make a Breakfast a BREEZE
This is for you.
If you are in one of these groups:
You usually skip breakfast
You normally have toast, cereal, dairy, fried foods, coffee, jam, breads, pastries – any combination of the above
You used to have that and now don't know what to have
It's random because you're SO busy in the morning
This is for you…
Breakfast IS the most important meal of the day…but wait…
Why…?
For all the reasons you already know, but also:
I believe that when you start the day right, you are SO MUCH MORE likely to continue the day right. You're more likely to stay motivated to make the right healthy choices, say no to the mid morning cookie, have a healthy lunch, go for a run, drink lots of water, keep it to just the one coffee 😉
And when you start the day wrong, you're tired, flat and SO MUCH MORE LIKELY to think 'oh well, may as well try again tomorrow and call today a write-off'.
Sound true?
But It Has to Be EASY and TASTY!
My whole philosophy of teaching and coaching (you'll especially see this with my Alkaline Base Camp Mentoring Group) – is all about making it as easy, fun, enjoyable and REALISTIC as possible. Removing the stress, hard work, anxiety and putting you in a mindset of working with your body, as a team, instead of fighting it.
I believe your body already has all of the energy, vitality, health and strength you could ever need inside of it right now. Our job is simply to give it the tools it needs to thrive.
And that's what these breakfasts are all about:
Ease & speed
Taste (so the whole family will eat them, kids included
Nourishment to leave you light and energized
So let's get into it!
9 Breakfast Recipes for a Quick, Delicious & Energizing Start to the Day!
I've broken these down into starter, intermediate and advanced (also translated as 60/70/80+ percent alkaline), feel free to pick and dip into each bucket to mix it up.
All of these recipes are alkaline, anti-inflammatory, paleo friendly, gluten free and delicious:
60% Alkaline Starter Breakfasts
1. Simple GF Oats: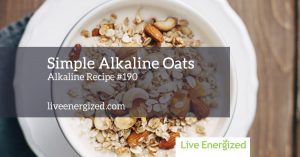 This is such a simple way to start the day in a filling, warming, energizing way. It's Ross's GF Simple Oats!
With just a few simple tweaks you can take this simple dish and make it a lot more alkalizing, while keeping it just as delicious and satisfying.
I'm all about making the alkaline diet as easy, stress-free, quick and simple as possible (and delicious, of course) and this recipe fits that bill nicely.
A lot of people are concerned that oats contain gluten, but here's the thing…
Oats by nature do not contain gluten but they cannot be listed as gluten free unless they are milled in a facility that is certified gluten free. If they are milled in a facility that also mills wheat etc. then there can be small traces of gluten in the product. If you are diagnosed as celiac or with high gluten sensitivity, then you should seek out a certified GF oat product.
Click here to get the Simple GF Oats Recipe
2. Chai Infused Quinoa Porridge:
This is a great variation on the above that I absolutely love. I LOVE the chai flavours, so this is mouthwatering to me! Just thinking about it is getting me going!
It's also a rich source of vegan protein, antioxidants, anti-inflammatory flavonoids, healthy omega 3s, minerals and more from the quinoa; anti-clotting and anti-microbial compounds in the cinnamon; antibacterial, heart healthy nutmeg; more anti-inflammatory action and more anti-inflammatory benefits from the cloves AND lots of fibre all round!
What a start to the day, while also being filling, yummy and warming!
Click here to get the Chai Infused Quinoa Porridge
3. Alkaline Salsa Baked Bean Brekkie: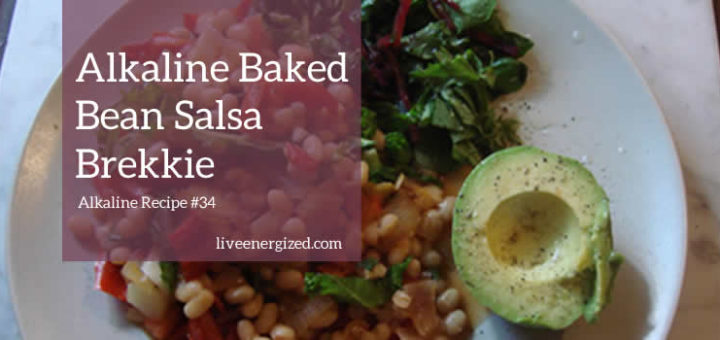 This is a nice, warming, 'cooked breakfast' you can try and modify a little if you are still transitioning or are happy to eat/add eggs.
It's super protein rich, green-rich, fibre-ful and delicious:
Click here for the Baked Bean Salsa Brekkie
70-80% Alkaline Intermediate Level Breakfasts
4. Chia Cream Pots: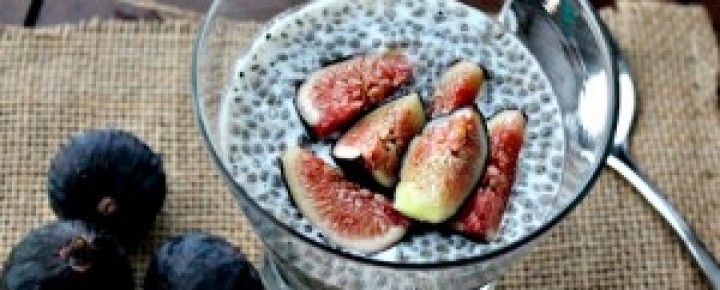 This is an absolute WINNER. So delicious I serve it both as breakfast AND dessert!
My Coconut Chia Cream Pot has been tested on some of my most happily unhealthy friends (heh) and they LOVED it. My most healthy friends? They loved it too!
It's a delicious dessert you can serve to the family, at a dinner party, you can take it to work in your packed lunch…OR serve as a nutrient-rich breakfast!
And it packs a whole lotta omega 3, fibre, minerals, vitamins, antioxidants…it's amazing.
Get the Coconut, Creamy Chia Pots here
5. Absurdly Delicious Gluten Free Paleo Granola:
This is a life-saver for breakfast, I LOVE IT!
It's highly nourishing, GF, paleo-friendly and delicious.
Packing heaps of omega 3, MCT oils, fibre, and protein it's filling, good for your digestive system, your brain, your metabolism and more.
And again…it's delicious!
There's a little bit of prep to it, but once it's done it will store in an airtight container (and pref in the fridge) for over a week or two and you can dip into it for snacks as well as serving at brekkie!
6. Vegan, GF Buckwheat Pancakes
This is one from Oh She Glows – one of my favourite sites! It's an almost alkaline version of pancakes. Definitely not one to see as a blow out at all!
These vegan pancakes are made with raw buckwheat flour, rice flour, and arrowroot flour – making them naturally gluten-free – and chopped bananas are folded into the batter to provide a fluffy, pillow-like texture.

You can enjoy them plain (they are seriously really good without anything added!), or you can get fancy and serve them with some coconut whipped cream, fresh berries, vegan butter, and/or maple syrup.

The sky is the limit, pancake lovers. They are also fantastic with some finely chopped chocolate thrown into the batter or blueberries! You can tell I've made this recipe a lot!
Get the GF Vegan Buckwheat Pancakes Here
Fully Alkaline Breakfasts!
7. Big Bad Green Drink
This is THE definitive Green Drink that I have been making as a staple in my life for over 14 years and it rocks! Look how young I look in that picture!
Packed full of veggies, this nutrient-dense green juice will nourish your entire body from top to bottom!
It is my basic-green drink, but really, you don't need to get any more complex than this – it is a phenomenal hit of greens, minerals, vitamins, antioxidants and alkalinity!
Get the Big Bad Green Drink here
8. Fill You Up Til Lunch Smoothie
Having a green smoothie for breakfast is just awesome. It's packed with nourishing goodies, and it makes you feel great – BUT – it doesn't always last until lunch and you can easily fall into the mid-morning snack trap…
Not anymore!
This hugely nourishing, super-filling smoothie ticks all of the boxes: nutrients, flavour AND satiety (i.e. you feel fuller for longer).
Combining the nourishment from the greens, fibre, protein and fats it's the perfect combination to keep your happy and hunger-free from breakfast until lunch – meaning this is the ultimate 5-minute breakfast to fit into your busy schedule.
Get the Full-Til-Lunch Smoothie Here
9. Super Nutrient Breakfast Bowl
This is an amazing breakfast to wrap up this collection. It takes a bit more time to cook than some of the others, but I've been fine-tuning it to get the 'time-to-plate' down as low as possible.
I know as much as anyone how busy it can get in the morning (Leo's new kindy doesn't provide food, so that extra step each day has squeezed my busy morning even more! Plus side is I'm now in total control of his food intake ?)
As I keep saying, having a healthy breakfast is probably the biggest influence on whether you have a good, healthy, nutritious day.
Get brekkie right and you're WAY more likely to continue that trend throughout your day. It's like it gives your willpower muscle an extra boost.
Start the day wrong and it's SO much easier to be tempted at morning tea, or when someone offers you a cookie at work, or when you get a snack attack…
This breakfast bowl is a brilliant way to start the day right.
Click Here to get the Super Nutrient Breakfast Bowl Now
And that's a wrap!
These recipes are designed to be easy, quick, delicious and highly highly nutrient dense. You can also mix and match a bunch of these to be your breakfast and morning snack, and a lot of these will keep.
For instance:
– juices: keep in the fridge in an airtight container for 48 hours
– smoothies: can be frozen or kept like a juice
– granola: keeps in an airtight container for 10-14 days
– chia pots: keeps for 48 hours
So you can make a batch of these and have over a few days or so. It's all about trying to do the simple things that make a big impact to make a) your energy and health soar and b) to make it as easy as possible to stick to.
I hope these recipes do exactly that for you 🙂
Enjoy
Ross