This is the Perfect Breakfast Formula.  Getting breakfast right is probably the most abundantly effective and wonderfully efficient thing you can do to get to your biggest health goals – no matter what they are. It changes everything.
For the amount of your time and energy needed the benefit is just amazing.
The gain far outweighs the effort. By miles and miles.
When you get breakfast right – as I am about to teach you in just moment (it's really easy when you do it right) – you will benefit from:
Naturally balanced hormones
Elevated metabolism
The perfect alkaline pH
Healed, soothed digestion
Optimal detoxification
When these systems are nourished first thing in the morning this effortlessly leads to:
An abundance of energy
Automatic fat loss when and where it is needed (not if you don't need it*)
More focus and mental alertness
A connectedness with your body
More strength and endurance
An ability to handle stress and stressful situations
And so much more…
In another guide, on another day I will go into lots of depth on each of these systems and WHY breakfast is so important (particularly with regards to your hormones and their knock-on effect to your pH, your weight and your digestive system) but for now, you just need to know:
Simply getting breakfast right will change your life – even if that's all you do.
Introducing the Perfect Breakfast Formula (PBF)
Hundreds of studies have proven that there is a direct correlation between an insufficient breakfast and the quality of your health – including your energy, excess weight and ageing.
You have to get breakfast right.
The challenge for most people is that ALL of the most common breakfast ingredients are acid-forming, inflammatory and down-right wrong.
Bread, bagels, pastries, bacon, fried foods, sugar, dairy, jams, spreads, margarine, gluten-containing grains, sugary cereals…or…nothing!
All of these options, especially the option of skipping breakfast, put you and every system in your body on the back foot and struggling from the start of the day. And the body never recovers.
For instance, the spike of insulin, resulting in the spike in cortisol that comes from a sugary breakfast cannot be recovered until you go to sleep that night.
It stuffs you up all day.
The knock-on effect of elevated cortisol also lowers your pH and messes with your 'weight hormones': leptin and ghrelin, meaning that you always feel hungry and then when you eat – you never feel full.
Not good.
You Need to Find the RIGHT Breakfast Recipes that Work for You & Your Fam
And this is where the Perfect Breakfast Formula™ (PBF) comes in.
It's simple, but it will help you to get everything right and in place to WIN, rather than starting your day on a slippery downward slope.
It comprises four simple rules:
The Perfect Breakfast Formula
RULE ONE: eat within an hour of rising: this gets the metabolism firing early-doors.
RULE TWO: include at least 20g of protein: promotes balanced cortisol & insulin levels upon rising, critical for the rest of the day
RULE THREE: include healthy fats and fibre: to move the digestive system and support the liver & kidneys
RULE FOUR: include vegetables as much as possible! To encourage pH balance, sooth inflammation & provide essential antioxidants
These four rules will balance your body like nothing else, especially if you can include many alkaline, antioxidant-rich and anti-inflammatory foods with your morning routine.
Breakfast Foods to Eat & Avoid
These rules in the PBF are your structure, now you just need to fill it in with foods that will energise, nourish and heal and remove the foods that will clog, acidify, inflame and fatigue your body.
Great Alkaline, Anti-Inflammatory, Antioxidant-Rich Breakfast Foods
☐ Vegetable-Based Juices & Smoothies
☐ Gluten-Free Grains & Grasses
☐ Oats
☐ Chia
☐ Quinoa
☐ Healthy Oils (coconut, flax, olive, avocado, sesame etc)
☐ Gluten-Free Cereals
☐ Herbal Tea
☐ Turmeric & Ginger Teas
☐ Green Foods (cucumber, spinach, kale, broccoli etc)
☐ Nut Milks
☐ Optional for Non-Vegans: oily, wild-caught fish (salmon, tuna)
And the Foods to Avoid at Breakfast
☐ Processed meats (bacon, sausages etc.)
☐ Dairy
☐ Caffeine
☐ Gluten-Containing Grains (wheat, rye, spelt, barley)
☐ Breads
☐ Pastries
☐ Margarine
☐ Processed, Hydrogenated Oils
☐ Jams & Preserves
☐ Sugary Cereals & Muesli
☐ Fruit Juices
☐ Dried Fruits
☐ Fruit-Based Smoothies
This Might Look Scary
Worry not. There are thousands of delicious 'normal' breakfasts you can make from those suggested ingredients, while avoiding the 'bad' list entirely.
I am going to kick start you with five delicious, easy breakfasts below to get you started. But rest-assured you can easily make a myriad delicious breakfasts that are alkaline and in line with the PBF from the types of ingredients above.
I'm Sure There Are Lots of Questions…
Such as – why not wheat, fat is GOOD(?!), no dairy – what about calcium, where will I get enough protein from, greens at breakfast…and so on.
And I will answer these over the next few weeks (if you have any other questions please do leave them below in the comments).
But for now: THE MOST IMPORTANT THING…!
The most important thing – not only with breakfast, but particularly so – is having DELICIOUS, EASY RECIPES that the whole family will love, that you can make without needing expensive ingredients that are impossible to find, and that you can make over and over without getting bored of them.
This is why my Alkaline Base Camp Membership (where you get new meal plans & recipes every month) and my Alkaline Recipe Book System have been so popular for so long – they give you hundreds and hundreds of easy recipes to use from day one.
THAT makes the alkaline diet – in fact any natural approach to health – almost impossibly easy.
If the food is easy, quick, and basically 'normal' – nothing weird or super-fancy – it puts the alkaline diet and getting to your biggest health goals on autopilot.
So let's get you started with…
Five PBF-Approved Alkaline Breakfast Recipes
Important: I am giving you five recipes so you can try them Monday-Friday and put the PBF to the test for yourself.
Power-Booster Tip: start each day with a big glass of water and one of these turmeric teas for a crazy awesome boost of anti-inflammatories.
These recipes are all LOVED by the members in my Alkaline Base Camp community. I am not one for tooting my own horn, but I do have a bit of a skill for taking regular family favourite meals and turning them super-alkaline. I hope you love them too:
Perfect Alkaline Breakfast #1: GF Paleo Granola
Print
Gluten-Free Paleo Granola Recipe
Author:
Prep Time:

15

Cook Time:

45

Total Time:

1 hour
2 cups

raw walnuts

2 cup

raw cashews

1 cup

raw pumpkin seeds

1 cup

unsweetened shredded coconut

1/2 cup

dried cranberries/goji/currants – your choice or a mix

2 tablespoons

water

3 tablespoons

coconut oil

1/3 cup

rice malt syrup

1 teaspoon

vanilla extract

½ teaspoon

ground cinnamon

½ teaspoon

Himalayan salt
Instructions
Preheat the oven to 300 degrees F (150 celcius) and line a baking tray with baking paper (parchment)
Roughly blend the walnuts, cashews and pumpkin seeds with a quick pulse to chop them roughly. Don't blend them into a paste!
In a large mixing bowl, whisk together the water and coconut oil along with the rice malt syrup, vanilla, cinammon and salt.
Pour the chopped nut mixture into the bowl, along with the dried cranberries and shredded coconut and mix together to coat it all.
Spread this out onto the baking paper on the baking sheet and put into the preheated oven for 20 minutes or until it looks deliciously golden. You might need to 'stir'/shuffle it about after 10 minutes or so if it's cooking unevenly.
Now remove from the oven and let it sit for 10 minutes without touching it!
Once you've waited the 10 minutes, use a spatula to get under the granola and release the large clusters and then cool, store and eat when you are hungry!
---
Perfect Alkaline Breakfast #2: Simple Alkaline Breakfast Bowl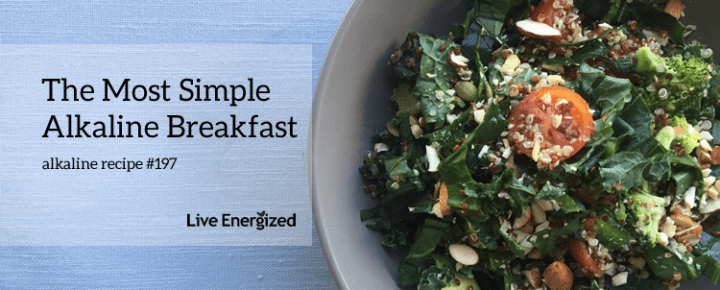 Print
Simple Alkaline Breakfast
A perfectly balanced, simple alkaline breakfast including 25g protein and all of your daily vitamin C, A, K, manganese, magnesium and potassium plus an abundance of antioxidants, anti-inflammatory foods, healthy fats and of course alkalinity!
Author:
Prep Time:

7

Cook Time:

3

Total Time:

10
50g

uncooked quinoa

1

big handful of spinach leaves

1

big handful of kale leaves (removed from stem)

12

cherry tomatoes or

2

large tomatoes

1/2

capsicum

1

handful of broccoli florets

1

avocado
Flax oil
Juice of

1/2

lemon
Himalayan salt
Black pepper
Instructions
Start by getting the quinoa cooking. To do this, simply rinse it in a sieve under cold water and then add to a saucepan in the ratio of 1:1.5 (so approx half a cup of quinoa and 3/4 cup of water – BUT – I'd recommend cooking 1 cup of quinoa (and thus 1.5 cups of water) so you have some left over for later to put in a salad etc.).
Bring this to a boil and then turn down to the lowest simmer and cover. Leave this for 8-10 minutes but keep checking back. You know it is done when the quinoa gets their little curly tail and the water is gone.
Once it's done, let it rest for another few minutes.
While the quinoa is cooking get the broccoli onto a super light steam just for 4-5 minutes so it's still crunchy, but is giving the meal a little extra warmth.
Now slice up the avocado into cubes, thinly slice the spinach and kale, halve the cherry tomatoes, slice the capsicum and if you're using nuts (such as almonds, cashews etc.) bash these with the flat side of a knife, or slice up roughly.
Once the quinoa and broccoli are done, simply put everything in a large bowl and drizzle with olive/flax oil and the lemon juice. Season and enjoy!
Notes
Optional ingredients are to top with chopped/smashed up nuts and seeds. If you find the taste of flax too much to begin with use half olive oil and half flax.
---
Perfect Alkaline Breakfast #3: Chai Infused Quinoa Porridge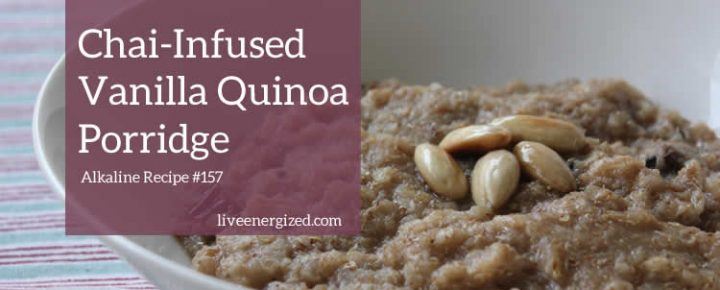 Print
Alkaline Diet Recipe #157: Chai-Infused Vanilla Quinoa Porridge
Author:
Cook Time:

8

Total Time:

8 minutes
1 cup

of dry quinoa (pref organic)

2 cups

of water (pref alkaline)

1

stick of cinnamon (or

1/2 teaspoon

)

1 1/2 teaspoons

ground ginger or

1

inch piece of fresh root ginger finely grated

1/2 teaspoon

ground nutmeg (pref fresh grated)

1/2 cup

of coconut cream or milk (depending on how creamy you want it)

1/2

lemon skin grated (or lime)

1

vanilla bean pod or vanilla essence
Sprinkle (half a handful) of assorted nuts and seeds to your liking
Optional: coconut yoghurt
Optional: cloves, ground
Optional: 1 grated apple (if transitioning)
Instructions
First prepare the quinoa to the packet instructions OR follow the excellent advice on cooking light fluffy quinoa here at TheKitchn
Once the quinoa is cooked and drained, add it back to the saucepan and stir in the chai spices (cinnamon, ginger, nutmeg and cloves if you've done them in a pestle and mortar) and add the coconut cream or milk and throw in the scraped out vanilla pod (or add the drop or two of vanilla essence).
You can pick either the milk or cream depending on how creamy and thick you want it.
When it's ready, grate in the apple if you're using it – right at the end.
Warm through and then serve in a big bowl. To serve, add the lemon rind grated onto the top and sprinkle with extra ground cinnamon. Finally throw on the seeds and nuts (I recommend sesame seeds with this especially).
As an indulgent extra, you can also serve with a dollop of coconut yoghurt, which is alkaline and JUST DELICIOUS!
---
Perfect Alkaline Breakfast #4: Coconut Chia Pots
Print
Coconut Chia Cream Pot
1 cup

of (organic) coconut milk

1/4 cup

of chia seeds

1

date

1 cup

of coconut yoghurt

1 tablespoon

of flax seeds, ground, or

1 tablespoon

of flax meal

1 tsp

of sesame seeds

1/2 teaspoon

of vanilla extract
Instructions
Firstly, sweeten the coconut milk by blending with the date. This little touch of sweetness and flavour from the date makes a huge difference!
Next combine the coconut milk in a large bowl with chia seeds, vanilla, flaxmeal (ground flax) and sesame seeds.
Put into the fridge for 20-30 minutes until the chia has expanded.
To serve, fill a small glass with a layer of coconut yoghurt, followed by the chia mix, then a little extra layer of coconut yoghurt.
Top with your choice of toppings!
---
Perfect Alkaline Breakfast #5: Simple Alkaline Oats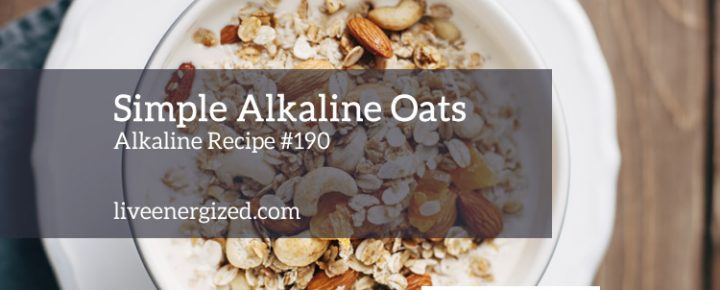 Print
Simple Alkaline Oats
Author:
Prep Time:

5

Cook Time:

5

Total Time:

10 minutes
Oats
Chia seeds (1 dessert spoon per person)
Coconut oil (1 dessert spoon per person)
Water
Nut Milk
Coconut/non-dairy yoghurt
Cinnamon (1 tsp per person)
Handful of mixed nuts/seeds
Optional: berries of your choice
Instructions
Basically cook your regular amount of oats in WATER. Not milk. WATER.
So add the oats and water to a pan and bring to a simmer and then add the chia seeds. Cook until it's a touch too dry for your liking and then stir in a splash or two of the nut milk (I love coconut milk, but any other non-dairy milk is fine).
Remove from the heat and then stir in the coconut oil, cinnamon and a dollop of the non-dairy yoghurt. Top with the nuts and seeds and then finish with blueberries or strawberries if this is part of your fruit for the day (I recommend keeping your fructose intake down so 1-2 serves of in-season fruit per day).
Notes
Just swapping the 250ml of milk per person, taking out the sugar/honey, and adding in chia (omega 3 and extra fibre to support digestion, brain function, metabolism, heart health), coconut oil (MCT oils for metabolism, lowering bad cholesterol and brain function) and cinnamon (speeded metabolism, lower blood sugar levels, reduce heart disease risk factors) – you're turning a 'regular' breakfast into a SUPER ALKALINE BREAKFAST.
---
I can't wait for you to get started with these! If you add in the hydration and turmeric tea you will be FLYING five days from now.
I truly believe in this being one of the biggest and most powerful things you can do for your body, it nourishes it from the outset, and for the amount of effort you need to put in, the payoff is amazing.
Let's do this –
Ross