Getting breakfast right is probably the most abundantly effective and wonderfully efficient thing you can do to get to your biggest health goals – no matter what they are. It changes everything.
For the amount of your time and energy needed the benefit is just amazing.
The gain far outweighs the effort. By miles and miles.
When you get breakfast right – as I am about to teach you in just moment (it's really easy when you do it right) – you will benefit from:
Naturally balanced hormones
Elevated metabolism
The perfect alkaline pH
Healed, soothed digestion
Optimal detoxification
When these systems are nourished first thing in the morning this effortlessly leads to:
An abundance of energy
Automatic fat loss when and where it is needed (not if you don't need it*)
More focus and mental alertness
A connectedness with your body
More strength and endurance
An ability to handle stress and stressful situations
And so much more…
In another guide, on another day I will go into lots of depth on each of these systems and WHY breakfast is so important (particularly with regards to your hormones and it's knock on effect to your pH, your weight and your digestive system) but for now, you just need to know:
Simply getting breakfast right will change your life – even if that's all you do.
Introducing the Perfect Breakfast Formula (PBF)
Hundreds of studies have proven that there is a direct correlation between an insufficient breakfast and the quality of your health – including your energy, excess weight and ageing.
You have to get breakfast right.
The challenge for most people is that ALL of the most common breakfast ingredients are acid-forming, inflammatory and down-right wrong.
Breads, bagels, pastries, bacon, fried foods, sugar, dairy, jams, spreads, margarine, gluten-containing grains, sugary cereals…or…nothing!
All of these options, especially the option of skipping breakfast, put you and every system in your body on the back foot and struggling from the start of the day. And the body never recovers.
For instance, the spike of insulin, resulting in the spike in cortisol that comes from a sugary breakfast cannot be recovered from until you go to sleep that night.
It stuffs you up all day.
The knock on effect of elevated cortisol also lowers your pH and messes with your 'weight hormones': leptin and ghrelin, meaning that you always feel hungry and then when you eat – you never feel full.
Not good.
You Need to Find the RIGHT Breakfast Recipes that Work for You & Your Fam
And this is where the Perfect Breakfast Formula™ (PBF) comes in.
It's simple, but it will help you to get everything right and in place to WIN, rather than starting your day on a slippery downward slope.
It comprises four simple rules:
The Perfect Breakfast Formula
RULE ONE: eat within an hour of rising: this gets the metabolism firing early-doors.
RULE TWO: include at least 20g of protein: promotes balanced cortisol & insulin levels upon rising, critical for the rest of the day
RULE THREE: include healthy fats and fibre: to move the digestive system and support the liver & kidneys
RULE FOUR: include vegetables as much as possible! To encourage pH balance, sooth inflammation & provide essential antioxidants
These four rules will balance your body like nothing else, especially if you can include many alkaline, antioxidant-rich and anti-inflammatory foods with your morning routine.
Breakfast Foods to Eat & Avoid
These rules in the PBF are your structure, now you just need to fill it in with foods that will energise, nourish and heal and remove the foods that will clog, acidify, inflame and fatigue your body.
Great Alkaline, Anti-Inflammatory, Antioxidant-Rich Breakfast Foods
☐ Vegetable-Based Juices & Smoothies
☐ Gluten-Free Grains & Grasses
☐ Oats
☐ Chia
☐ Quinoa
☐ Healthy Oils (coconut, flax, olive, avocado, sesame etc)
☐ Gluten-Free Cereals
☐ Herbal Tea
☐ Turmeric & Ginger Teas
☐ Green Foods (cucumber, spinach, kale, broccoli etc)
☐ Nut Milks
☐ Optional for Non-Vegans: oily, wild-caught fish (salmon, tuna)
And the Foods to Avoid at Breakfast
☐ Processed meats (bacon, sausages etc.)
☐ Dairy
☐ Caffeine
☐ Gluten-Containing Grains (wheat, rye, spelt, barley)
☐ Breads
☐ Pastries
☐ Margarine
☐ Processed, Hydrogenated Oils
☐ Jams & Preserves
☐ Sugary Cereals & Muesli
☐ Fruit Juices
☐ Dried Fruits
☐ Fruit-Based Smoothies
This Might Look Scary
Worry not. There are thousands of delicious 'normal' breakfasts you can make from those suggested ingredients, while avoiding the 'bad' list entirely.
I am going to kick start you with five delicious, easy breakfasts below to get you started. But rest-assured you can easily make a myriad delicious breakfasts that are alkaline and in line with the PBF from the types of ingredients above.
I'm Sure There Are Lots of Questions…
Such as – why not wheat, fat is GOOD(?!), no dairy – what about calcium, where will I get enough protein from, greens at breakfast…and so on.
And I will answer these over the next few weeks (if you have any other questions please do leave them below in the comments).
But for now: THE MOST IMPORTANT THING…!
The most important thing – not only with breakfast, but particularly so – is having DELICIOUS, EASY RECIPES that the whole family will love, that you can make without needing expensive ingredients that are impossible to find, and that you can make over and over without getting bored of them.
This is why my Alkaline Base Camp Membership (where you get new meal plans & recipes every month) and my Alkaline Recipe Book System have been so popular for so long – they give you hundreds and hundreds of easy recipes to use from day one.
THAT makes the alkaline diet – in fact any natural approach to health – almost impossibly easy.
If the food is easy, quick, and basically 'normal' – nothing weird or super-fancy – it puts the alkaline diet and getting to your biggest health goals on autopilot.
So let's get you started with…
Five PBF-Approved Alkaline Breakfast Recipes
Important: I am giving you five recipes so you can try them Monday-Friday and put the PBF to the test for yourself.
Power-Booster Tip: start each day with a big glass of water and one of these turmeric teas for a crazy awesome boost of anti-inflammatories.
These recipes are all LOVED by the members in my Alkaline Base Camp community. I am not one for tooting my own horn, but I do have a bit of a skill for taking regular family favourite meals and turning them super-alkaline. I hope you love them too:
Perfect Alkaline Breakfast #1: GF Paleo Granola
[yumprint-recipe id='99']
---
Perfect Alkaline Breakfast #2: Simple Alkaline Breakfast Bowl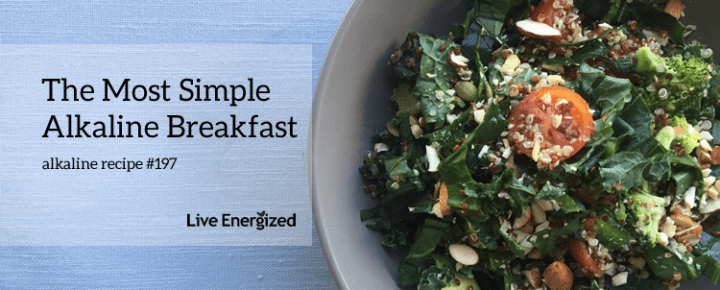 [yumprint-recipe id='82']
---
Perfect Alkaline Breakfast #3: Chai Infused Quinoa Porridge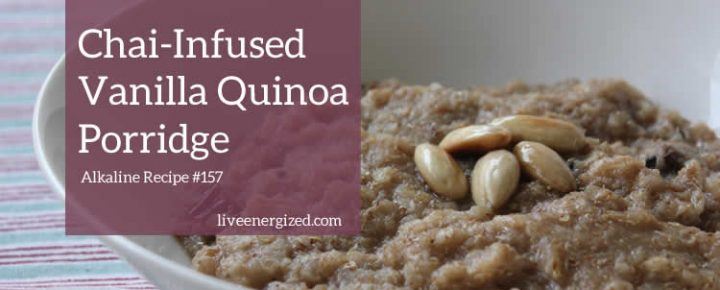 [yumprint-recipe id='72']
---
Perfect Alkaline Breakfast #4: Coconut Chia Pots
[yumprint-recipe id='6′]
---
Perfect Alkaline Breakfast #5: Simple Alkaline Oats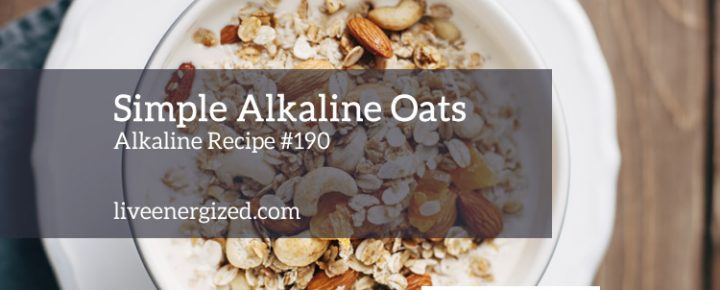 [yumprint-recipe id='100′]
---
I can't wait for you to get started with these! If you add in the hydration and turmeric tea you will be FLYING five days from now.
I truly believe in this being one of the biggest and most powerful things you can do for your body, it nourishes it from the outset, and for the amount of effort you need to put in, the payoff is amazing.
Let's do this –
Ross