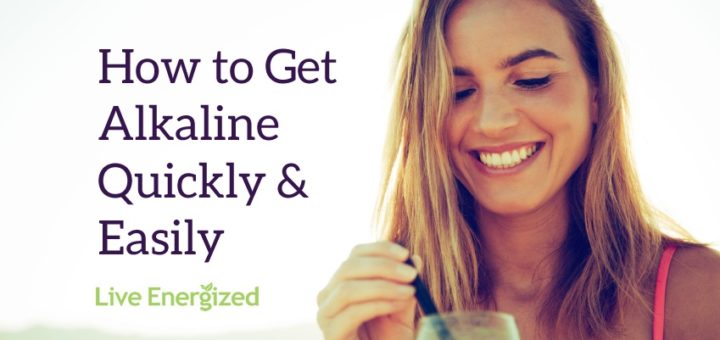 How to Get Alkaline Quickly & Easily
When people first ready my "Most Alkaline Foods" guide they get an understanding of which foods are alkaline, but are then left wondering:
"HOW can I get alkaline quickly?"
In this follow-up post to that "Alkaline Foods" I wanted to show you my five quick-start actions for getting green into your diet and giving you an alkaline kickstart as easily and quickly as possible.
How to Get Alkaline Quickly & Easily
My approach to coaching the alkaline diet is based around a few key principles:
Trying to be perfect from the start leads to failure in 90% of cases – go easy on yourself!
For the first month, focus on the 20% of actions that make 80% of the difference
Take it slowly, baby-steps, day-by-day and celebrate each success
Give yourself a cheat day, or relax every now and then – treat yourself!
If you have a bad day, don't give up – take time to think what happened and start again right this minute!
If you want to get alkaline, see it as a longer-term shift, rather than a quick diet fix. If you can take it slow and start to incorporate these tips into your daily lifestyle, it becomes a habit and second nature, rather than feeling like work every day.
Step One: Getting Alkaline Means Going Green
Going green is so important because it gets a huge amount of chlorophyll into your body. I recommend reading my Health Benefits of Liquid Chlorophyll article in full, but to give you a short version:
Chlorophyll has the power to regenerate our bodies at the molecular and cellular level and is known to help cleanse the body, fight infection, help heal wounds, and promote the health of the circulatory, digestive, immune, and detoxification systems.
Chlorophyll consumption increases the number of red blood cells and, therefore, increase oxygen utilization by the body. Chlorophyll also reduces the binding of carcinogens to DNA in the liver and other organs.
It also breaks down calcium oxalate stones for elimination, which are created by the body for the purpose of neutralizing and disposing of excess acid.
So getting a big injection of chlorophyll into your diet is hugely important to help you get alkaline!
As per point two, above in my five priciples – you have to focus on the small, simple stuff that has the most impact and in my opinion, getting green foods in is the single most powerful thing you can do to dramatically change your health, energy and vitality.
You have to get greens in and while this may seem daunting – here are a few suggestions to make it a LOT easier and less intimidating:
Have a salad with every meal: carry on eating what you'd normally have eaten, but just add a side salad (no unhealthy dressings though!). This TOTALLY takes the pressure off but the cumulative effect of having several salads a day will have a big impact.
Disguise green foods: you can shave broccoli heads with a knife over foods or into pasta sauce giving you heaps of broccoli, but you can't see, taste or smell it. OR wilt spinach down with a little butter, salt and pepper – this gives you a HUGE amount of spinach in just a couple of mouthfuls. OR make pasta sauce by blending tomatoes with steamed pumpkin, broccoli, spinach, watercress etc. When it's all blended down it still tastes very rich and tomato-ey, but you've got a heap of green foods in there too!
Get into Sprouts: sounds weird but it's SO worth it – sprouts are sprouted seeds of plants such as broccoli which, when harvested at the sprout stage, contain all (or more) of the nutritional content of the fully grown plant – this means you can easily eat one handful and get a HUGE hit of nutrients. I've blogged heaps about sprouts (and have a guide coming) so click here to read all about sprouts.
Making sure you up your green food consumption from 0-1 times per day to 3-5 times per day is easy and it will blow your mind the difference it makes. Your body will thank you, I can absolutely assure you.
Step Two: Getting Oiled Up
This is another really easy fix and is something 90% of people are not currently doing:
You HAVE to get at LEAST 2 tablespoons of Omega 3 EVERY day
Eating more oily fish is great for the health benefits this can bring, but you'd have to eat a really silly amount to get enough omega 3 – and this goes twofold for eating nuts and seeds to get enough omega 3.
Omega 3 deficiency was named in a Harvard Medical School research paper as being the 6th Biggest Killer in the USA – yes it's that important. It's critical for our health, energy, metabolism, cardiovascular system, eyes, hair, skin, digestive system…everything – yet around 90% of people in the Western world are chronically deficient.
If you change nothing else but add 2 tablespoons (30ml) of omega 3 to your diet you will really see a massive difference in your body.
I really recommend a supplement to ensure you get enough and Udo's Choice is my personal favourite.
If you want to learn more about Fats & Oils I really recommend Udo's website here and also check this article I wrote on oils back in April 2011: Why Essential Fatty Acids are So Essential
This is another 80/20 suggestion – it is SO easy to just have 30ml of omega 3 every day (even if you just buy straight flax oil and use this in salads) but it will make a HUGE difference.
Note: Omega 6 and 9 are also important but we tend to get enough of those through consumption of olive oils, vegetable oils etc.
Step Three: Instant Hits When You Need It
This is a quick step, but a brilliant one – because being able to give yourself a concentrated hit of green goodness is SUCH a powerful tool. I HIGHLY recommend you look into buying a liquid chlorophyll supplement.
Now at Live Energized we always say that if you can get it from whole foods then this is best, but being able to get ALL of your nutrient needs EVERY day from foods alone is a huge challenge. It is almost impossible in this day and age.
PLUS if you want (or need) to get alkaline quickly having a concentrated shot of liquid chlorophyll each day will give your body a massive boost. It really is awesome. Now if you can juice your own fresh wheatgrass into a shot each day that's even better – but if not then I really heartily recommend a chlorophyll shot every day.
If you use supplements like chlorophyll smartly and choose the right ones (for you) then they are an absolutely potent weapon in the fight against acids, fatigue and illness. I firmly believe this.
Nature's Sunshine is my fave – no fillers, no crap, totally natural and no added sweeteners (you have to be wary of those).
It tastes great and makes you feel vibrant and ALIVE!
Step Four: Hydration is the EASIEST Way to Alkalise
So far in this lazyman's guide to quickly getting alkaline(!) I've given you three big steps (and lots of mini-steps) that are all easy, take up almost no time, require hardly any changes to your lifestyle – but get you big-kahuna-changes to your alkalinity, energy, health and vitality.
But I saved the best for now.
The vast majority of people are chronically dehydrated, somehow barely getting through the day on less than 800ml of water. This dramatically effects mental clarity, digestion, the immune system, weight, energy, skin…just a 5% drop in body fluids will cause a 25-30% loss of energy in most people. It is a HUGE problem and SO easy to fix.
Please just start drinking at least 2-3 litres of water every day. This will have as much impact on you than all of the other points in this article combined – it's that important.
Ideally you'd be drinking 3-4 litres, but if you can even get to 2.5 per day for a week you'll never look back.
In fact, right now, make the promise to yourself that you are going to drink at LEAST 2.5 litres per day. Write it down. Set a reminder in your phone!
The problems/questions most people have when it comes to hydration
In my experience as a hydration junkie, I find that most people have the same few questions when they first start to get hydrated:
– what type of water to drink (tap, bottled, reverse osmosis, ionized, lemon squeezed in etc)
– how much to drink
– …but I keep needing to pee!
– won't it wash all of my minerals out of my body?
– I can't remember to drink enough – I always forget!
Thankfully, I have created a very in-depth guide to hydration here for you to download totally for free.
It will answer every question you might have about getting alkaline with water – it's very very good.
So please do download the Alkaline Water guide, follow the steps to choosing the best water for you and read my Guide on How to Remember to Drink Enough!
So getting greens in several times per day + getting enough omega oils + getting shots of chlorophyll + getting hydrated = incredible vibrant health very easily and quickly…so what could step five be?
Step Five: 5 Minutes Per Day to 24-Hours of Alkalinity
IF you read my last guide (The 7 Most Alkaline Foods) you'll already know the answer to this, but it's SO super easy, quick and powerful that I just HAVE to say it again:
***DRINK A GREEN VEGETABLE JUICE EVERY DAY***
You've just gotta. It's 5 minutes and it will change your life forever. Honestly, it's so quick and easy to knock together a juice – it really does take under five minutes from getting the food out of the fridge, to washing, to juicing, to cleaning the juicer to drinking. And there is no faster way to get alkaline.
This five minutes a day give your body a waterfall of easily absorbed nutrients that will instantly boost your energy, flood you with antioxidants, rapidly strengthen your immune system and dramatically alkalise you all day long.
Remember – the best thing about this is, it means you've already exceeded your five-a-day serves of vegetables before 9am!
And if you want to know what to juice here are some recipes for ya:
Blood Building Vegetable Juice
…and of course – The Big Bad Green Drink 🙂
…and The Live Energized Guide to Juicing
So let's all go get green and alkaline!
I really hope you've enjoyed this quick, five-step guide to instant alkalinity.
Leave me your comments below – I'd love to hear from you!
Until then
Ross
Do you have a way to get alkaline every day? Let me know below – I'd love to hear your tips!
Related Posts on Getting Started with the Alkaline Diet
– The Most Powerful Alkaline Thing You Can Do
– How to Get Started on the Alkaline Diet
– THIS is Why the Alkaline Diet Works