If you're eating a Standard Western Diet you are at high risk of having hormonal imbalance…
It is affecting almost every one of us in one way or another…
Do You Ever Experience Any of These Common Symptoms?
Weight gain (and an inability to lose weight no matter what you do)
Fatigue
Inability to get up in the morning
Depression
Insomnia
Low libido
Infertility
Allergies
Muscle weakness
Inflammation
Aches and pains
Cravings for carbs, sweets & salty foods
Feelings of overwhelm…
ALL of the above can be the direct result of hormonal imbalance, but they go undiagnosed…or worse, misdiagnosed.
Do You Have Undiagnosed Hormonal Imbalance?
The simple fact is it's complex to find out for sure if someone has hormonal imbalance…
But if you're experiencing any of the above then your hormones could be the deciding factor.
Ask yourself:
Do you have trouble dragging yourself out of bed in the morning?

Do you experience insatiable sugar cravings an hour after lunch?

Do you have debilitating PMS every month?

Do you suffer from broken sleep patterns and are unable to get back to sleep?

Do you get stressed out and anxious about work or money even when things are going well?

Do you have difficulty coping with even easy tasks?

Do you feel bloating no matter what you eat?

Do you have dull skin, eyes or hair?

Or do you have belly fat that just won't go away?
The list goes on and on…and an over-acidic, inflammatory, standard Western diet and lifestyle is a fast track to hormonal disruption and imbalance.
And even if you are unsure if you have hormonal imbalance I STRONGLY recommend following the steps in this guide for 14 days every year…
What Are Hormones…and what are the Most Important Hormones?
Hormones, such as estrogen, cortisol, and insulin, are chemical messengers that influence so many roles in your health, traveling through your bloodstream and throughout your entire body.
Just a handful of hormones regulate your body shape, your metabolism, your appetite, and your cravings.
They control your stress level, when you feel awake and tired, how hungry you feel before, during and after eating, your muscle growth your reproductive capacity and so much more.
Your hormones are regulated by the endocrine system, a collection of glands that produce hormones that regulate metabolism, growth and development, tissue function, sexual function, reproduction, sleep, and mood and all of the functions above.
If your hormones become even slightly imbalanced it can cause major health issues.
11 Steps to Nourish, Protect and Reset Your Hormones:
The good news is, it can be quite simple to give your body a helping hand in looking after your endocrine system and thus your hormone production and balance.
Here are 11 steps for doing this:
1. Get an Abundance of Coconut Oil and Fat-Rich Avocado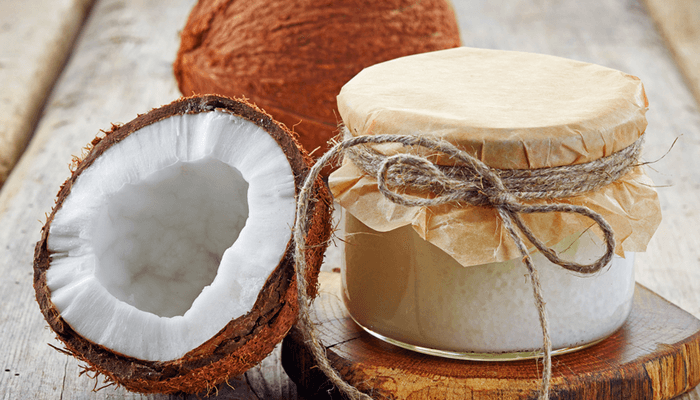 Getting enough healthy fats is absolutely critical to our health and SO vital to our hormone regulation. If anyone out there is still fearing that fat may make them fat – stop it now!
Healthy fats, especially omega 3 and the saturated fats from coconut oil, with speed the metabolism, protect the brain and heart, regulate your blood sugar, regulate your 'hunger hormones' (Leptin, a hormone, made by fat cells, that decreases your appetite & ghrelin, a hormone that increases appetite) and so much more.
The Harvard School of Public Health states:
"What makes omega-3 fats special? They are an integral part of cell membranes throughout the body and affect the function of the cell receptors in these membranes. They provide the starting point for making hormones that regulate blood clotting, contraction and relaxation of artery walls, and inflammation."
It's clear, you should be consuming plenty of these healthy fats, and an easy way is to include a heap of flax, coconut oil and avocado.
Katie at wellnessmama.com states about coconuts:
Coconut Oil is amazing for hormone health. It provides the necessary building blocks for hormone production, can assist weight loss, reduce inflammation, and even has antimicrobial and antibacterial properties.
I love to cook with coconut oil, add it to smoothies and soups, use it in turmeric and ginger teas (SO super anti-inflammatory) and even just by the spoonful if I don't feel I've had enough in any given day. There are hundreds of ways to get it into your diet.
Avocado is also a great food to include for hormonal balance due to it's fat content.
NaturalNews.com states:
"Avocados contain certain plant sterols, such as beta-sitosterol, that possess antiestrogenic properties, meaning they can block the estrogen receptors in our cells and reduce estrogen absorption rates. Consequently, progesterone levels in women and testosterone levels in men are increased. This makes avocados an especially valuable food in today's world of widespread pollution and gender-bending chemicals, which can greatly compromise endocrine function."
And finally, getting an abundance of omega 3 from flax is incredibly easy. Drizzle it on everything, use it for salad dressings, add to soups and smoothies and however else you can think to include it!
You can't get too much flax, the body just LOVES it.
Adding healthy oils is probably the most important thing you can do to help your endocrine system and thus your hormonal balance.
[Sources: Natural News & WellnessMama, Harvard School of Public Health]
2. Supplement with Vitamin D3
Bestselling author and hormone expert, Dr Sara Gottfried is BIG on getting enough D3 for hormone health.
She states:
Vitamin D deficiency can cause low estrogen in women, which meanslow sex drive.  It also causes low testosterone in men. Testosterone and estrogen levels don't just affect sex drive; they also have huge impacts on your mood.  Low testosterone can cause depression, anxiety, and irritability.

Similarly, estrogen helps boost serotonin and GABA, critical neurotransmitters, which help keep you calm and happy.

Vitamin D also has other, more direct, effects on your mood.  Vitamin D activates the genes that release dopamine and serotonin. The lack of these neurotransmitters is commonly linked to depression.
It's clearly super important, but she estimates that 77% of Americans are chronically deficient in vitamin D.
Thankfully the solution is simple…supplement!
Dr G's recommendation is 1,000 IU daily per 25lbs of total body weight.
[Source: Dr Sara Gottfried]
3. Balance Omega-3/6 Ratio
And further to the encouragement to consume more healthy fats – you also need to cut down on unhealthy fats – and particularly omega 6.
Our biggest source of omega 6 by far is vegetable oils. Our consumption of these since the start of the 20th century has gone through the roof. And simultaneously we're consuming nowhere near the same levels of omega3 – these have gone in the wrong direction.
According to Udo Erasmus, possibly the World's leading authority on fats & oils, our omega 3 intake is approximately only 1/6th of the amount we were eating 150 years ago.
In modern times, soybean oil, the biggest source of omega 6 in the USA, has skyrocketed: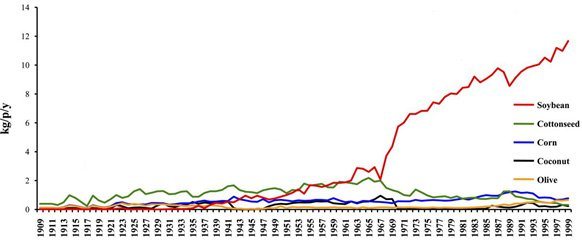 (Note: while avocado is a source of omega 6, it also contains many hormone balancing nutrients and saturated fats which help balance hormones)
We need to balance our intake of omega 3 to omega 6 to balance our hormones.
According to Dr Chris Kresser:
"In plain english, what this means is that the more omega-3 fat you eat, the less omega-6 will be available to the tissues to produce inflammation. Omega-6 is pro-inflammatory, while omega-3 is neutral. A diet with a lot of omega-6 and not much omega-3 will increase inflammation. A diet of a lot of omega-3 and not much omega-6 will reduce inflammation."
Cut vegetable oils, cut grains, cut processed foods…and add flax, leafy greens, oily fish, chia, quinoa…and we'll see our ratios returning to normal.
[Sources: Udo Erasmus | Chris Kresser]
4. Give Up Meat (at least for a while…)
Dr Sara, in her book The Hormone Reset Diet, also suggests giving up meat as a way to help control and balance hormones, at least temporarily:
Meat consumption raises your estrogen. Eating meat can aggravate estrogen dominance. Indeed, women with endometriosis consume more red meat, and eat less fish and vegetables. Overall, more meat consumption is associated with less fiber consumption, which raises bad estrogens and grows the wrong bacteria in your microbiome.

(And) factory-farmed meats are high in certain endocrine disruptors and persistent organic pollutants (POPs). Meat, pork, and dairy expose you to multiple endocrine disruptors, including phthalates, HBCD, PBDEs, and Deca-BDEs. Persistent Organic Pollutants (POPs) are linked to lower adiponectin levels, diabetes, breast, and prostate cancer. Not surprisingly, POPs exposure shifts the microbiome in the wrong direction.
And according to Dr Neal Barnard at the Physicians Committee for Responsible Medicine (PCRM):
"Animal fats are apparently a bigger problem than vegetable oils. Paulo Toniolo of the New York University Center compared the diets of 250 women with breast cancer to 499 women without cancer from the same province in northwestern Italy. The two groups ate about the same amount of olive oil and carbohydrates. But what made the cancer patients different was that they had eaten more meat, cheese, butter, and milk. Women who consumed more animal products had as much as three times the cancer risk of other women"
All of the free alkaline recipes on this site are meat free, so get stuck into these OR make it super easy for yourself and grab my Alkaline Recipe System with hundreds of recipes, plus done-for-you meal plans and shopping lists.
[Sources: Dr Sara Gottfried | PCRM]
5. Quit Sugar
Sugar is perhaps the most acidic, inflammatory, health-robbing substance we can consume, and it wreaks havoc on our hormones.
According to iquitsugar.com (who else!) sugar can be responsible for:
Irregular Periods: "Sugar causes insulin resistance which in turn causes a common hormonal condition called polycystic ovarian syndrome or PCOS. PCOS and typically presents with the symptoms of irregular periods, acne, hair loss, and hirsutism (excess facial and body hair)."
Bad Skin: "Sugar causes acne by stimulating a hormone called insulin-like growth factor 1 (IGF-1).To address breakouts, I ask my patients to avoid all sugary foods, especially dates and other dried fruit, which I have found to be amongst the worst foods for skin."
Dull and Loss of Hair: "Androgenetic alopecia is a type of hair loss that occurs when hair follicles shrink because of exposure or sensitivity to androgens or male-type hormones.Quitting sugar can treat androgenetic alopecia because quitting sugar lowers both androgens and the inflammation that is the underlying cause of androgen "sensitivity"."
…and so much more due to sugar tampering with progesterone production, oestrogen excess, androgen sensitivity and more!
Check out my guide here to quitting sugar and curbing sugar cravings.
———-
See Also: 9 Powerful Reasons to Quit Sugar for Good
———-
6. Heal Leaky Gut
This is a big one, according to Dr Josh Axe:
"Leaky gut is a condition that not only affects your digestive tract, but also causes hormone issues and can more specifically target your thyroid.
When undigested food particles like gluten leak through your gut into your bloodstream, it causes disease-causing inflammation of the entire body and more specific organs like the thyroid.
Also, most people with leaky gut have an a deficiency of probiotics in their guts. Probiotics actually help your body produce certain vitamins that affect hormone levels like insulin.
The top foods and supplements that support healing leaky gut include: kefir, fermented vegetables, and high-fiber foods like vegetables and sprouted seeds.
In addition, supplements like digestive enzymes and probiotics can aid in repairing your gut lining, which in turn can balance your hormones.
Some of the main things that damage your digestive health include processed foods, gluten, hydrogenated oils and emotional stress."
Following a lot of the steps already mentioned will go a long way to soothing inflammation and healing leaky gut so be sure to:
1) cut out gluten
2) cut out sugar
3) add in healthy fats, leafy greens and vitamin d!
[Source: Dr Josh Axe]
7. Eliminate Toxic Home & Body Products
According to Dr Joseph Mercola, household cleaning products, beauty products, personal products, and non-stick cookware are rife with endocrine disruptors, with up to 800-1,000 endocrine-disrupting chemicals on the market.
And just check this from the Environmental Working Group:
"The Environmental Working Group detected phthalates in nearly three-quarters of personal care products tested, noting: "Major loopholes in federal law allow the… cosmetics industry to put unlimited amounts of phthalates into many personal care products with no required testing, no required monitoring of health effects, and no required labeling."
It's quite frightening when you dig into the topic, but for now just try to remove chemical-based cleaning, beauty and personal products from your life.
It's SO easy to find natural products, and if you want to make your own, here are a few recipes!
[Sources: Mercola | EWG Guide to Cleaning Products]
8. High Intensity Interval Exercise (HIIT)
High Intensity Interval Training (HIIT) is exercise characterised by an alternating between high and low intensity exercise(s) or between high intensity exercise and a short period of rest.
Precision Nutrition give examples such as "a short sprint up a flight of stairs followed by a walk back down is interval training. Or a set of burpees followed by bodyweight rows."
There are three very important hormones that HIIT helps to stabilise and regulate:
Ghrelin: often called the 'hunger hormone', ghrelin is the hormone responsible for long-term weight gain and short-term eating habits. When there is an imbalance of ghrelin (most often caused by insulin resistance) your body doesn't recognise when it is full and it constantly triggers the signal to get you to eat more food, more often. HIIT has been proven to help regulate this hormone.
Leptin: often known as the 'starvation hormone' – leptin tells you when you are full. It signals to your brain that you have eaten enough food, and tells you to stop. When the leptin is not regulated properly you never feel full. As you can imagine, an imbalance of leptin and ghrelin would mean that you always feel hungry and never feel full. What a disastrous combination. HIIT helps to naturally rebalance this. It's important to note that having too much or not enough leptin is not the problem, it's the brain's ability to recognise it that's the problem, and HIIT has been shown to help get this under control.
Human Growth Hormone: (HGH) is more and more important the older we get. The more we age, the more our HGH levels drop off, expediting the ageing process. It's chiefly responsible for the muscle loss and atrophy that typically occurs with ageing. When you perform HIIT it has been shown to increase the levels of HGH in the body by 771%…this is significant. The older we get the more important it is to keep our HGH levels high.As a simple starter, Mercola recommends:

Warm up for three minutes
Exercise as hard and fast as you can for 30 seconds. You should feel like you couldn't possibly go on another few seconds
Recover for 90 seconds
Repeat the high intensity exercise and recovery 7 more times

Just 20 minutes of exercise is all it takes, a few times a week.
[Source: PrecisionNutrition.com]
9. Get More Sleep
You've got to get between 7-9 hours of sleep per night if you want to maintain optimal health.
There are a very small percentage of people who can get the same restorative effects from 4 hours of sleep, but this isn't necessarily something you can model or train your body for. It's just a genetic strength of those people.
Unless you're one of those lucky few – you have to get 7-9 hours of sleep per night.
And if you don't? You're really putting your body under unnecessary stress.
Lack of sleep and sleeping at strange times is one of the worst habits people with imbalanced hormones have.
As Dr Alan Christianson explains in his book "The Adrenal Reset Diet", our hormones actually work on a very rigid timetable and need you to operate the way we have evolved, with the rolling cycles of the day (particularly with regards to light and temperature).
Cortisol, the stress hormone, is a great example. This hormone is regulated at midnight. Therefore, people who go to bed late never truly get a break from the sympathetic flight/fight stress response as their body doesn't get this change to replenish.
To maximize hormone function, get to bed by 10 p.m. Endocrinologists (hormone experts) claim that one hour of sleep between 10 p.m. and 2 a.m. is equal to two hours of sleep before or after this time.
Lack of sleep is especially tough on the adrenal glands which are responsible for cortisol, sex hormones, aldosterone and adrenaline.
According to Dr Christianson:
"Sleep deprivation takes a toll on the adrenal glands, leading to a decline in the production of DHEA. Focusing on achieving organic-induced sleep is really important. This means getting anywhere from 6-9 hours of sleep at night. Everyone requires different amounts, but you must make sure you get sufficient hours of sleep for you."
And it doesn't end there! According to Vanessa Bennington of BreakingMuscle.com:
"Sleep deprivation has been shown to lower leptin (an appetite-suppressing hormone produced by fat cells, which is normally produced in abundance at night) and increase ghrelin, (a hormone released by the stomach that stimulates hunger, which is also secreted at night but normally in lesser amounts). Research subjects were found to have an increased sense of hunger and tended to reach for carbohydrate-dense, sweet, and salty foods when sleep deprived. So, let's see – you're glucose tolerance is impaired, you're hungier, and you're reaching for all the wrong things to eat. "
[Sources: Dr Alan Christianson | BreakingMuscle.com]
10. Limit Caffeine
According to Yuri Elkaim – bestselling author of The All-Day Energy Diet, caffeine stimulation is bad for our adrenals, in a different way to sleep, but in a way that is equally detrimental:
"…excessive stimulation and stress cause your adrenals to release adrenaline and cortisol—two catabolic hormones, which break down your energy reserves for immediate use. Remember, your body thinks it's in a state where it needs to fight or flee—so it needs that readily available energy.

When chronically elevated in your bloodstream, cortisol is a detrimental hormone, leading to quick glycogen (stored carbohydrates) depletion, a rise in blood sugar, and eventually weight gain (especially abdominal weight gain). And even when it's less present (adrenal fatigue), epinephrine picks up the slack, yielding the same problems.
Adrenaline (epinephrine) has similar energy-depleting effects.

Initially, however, it gives you that feeling often described as a "natural high" or "caffeine rush," because it temporarily increases your heart rate, breathing rate, blood pressure, and carbohydrate breakdown into blood sugar.

Having these two hormones chronically circulating in your blood is not a desirable situation, but this only occurs up until the threshold where your adrenal glands can no longer keep up. Once you reach that point, say hello to "adrenal fatigue" in which case there is less and less hormonal output and you're unable to cope with even minor stresses on a daily basis.
While nobody is saying you can never have a coffee again, try to give up for 14 days every three months to give your adrenals a chance to reset.
11. Reduce Stress
As Robert Young (pH Miracle) has always said – stress is as damaging to the body as any food.
I truly believe this too.
I urge you to watch this Ted Talk by Madhumita Murgia about the effect of chronic stress on the brain:
Chronic stress can deplete the adrenals to such a point that it has a knock-on effect on every area of the body.
According to WellnessMama:
While stress is often thought of as a strictly emotional and mental problem, there is a growing amount of evidence that is has a host of physiological effects as well. One study found that a chemical released when the body is in a stressed state, Neuropeptide Y, causes fat cells to open and store fat rather than burn it. Another study found that, especially in women, higher cortisol (stress hormone) leads to weight gain around the waist, even in otherwise slender women.
Another study found that stress shortens telomeres in cells at a faster rate, leading to premature aging and the increased risk of diseases that accompanies it.
Stress can impact hormones and fertility as well. When cortisol is high in the body, progesterone is often low because the body uses progesterone to manufacture cortisol. This is often why stress and elevated cortisol levels correlate with trouble conceiving or maintaining a pregnancy. While natural progesterone cream can be help.
You've got to find ways to eliminate stress.
And not just emotional, but also the stress caused by some of the topics covered above: not enough sleep, toxic foods, toxins in the home and so on.
But controlling your stress emotions is a big one, and the single most powerful tool I know of, that gives you the most benefit quickly, is mindfulness meditation.
I highly recommend the app Headspace for this.
If you've ever had challenges 'getting into' meditation or believing you can do it – this app is fantastic. It makes it relaxed, easy, at a gentle pace and is very well structured. Please give it a go.
Bringing it All Together: The Action Plan
I challenge you for the next fourteen days to follow at least 8 of these 11 steps:
Include LOTS more coconut oil, flax, oily fish, nuts, seeds, chia and leafy greens for an abundance of hormone healthy fats
Calculate your Vitamin D requirements (1,000 IU daily per 25lbs of total body weight) and source a high quality daily supplement
Drop all vegetable oils (and other excessive sources of omega 6)
Give up meat (especially red meat) – maybe swap it for oily fish
Give up sugar. This includes 'natural' sugars such as honey and fructose from fruits – for 14 days.
Focus on your gut and quit gluten/grains for 14 days
Get 7-9 hours sleep EVERY NIGHT for 14 days
Undertake at least 5 high intensity interval sessions over 14 days
Give up coffee (and other sources of caffeine) for 14 days
Use only natural cleaning and personal products for 14 days
And use the Headspace app to practice mindfulness meditation daily for 14 days
It's just TWO WEEKS of your life and I assure you that you'll feel sensational at the end of it.
And do check out some of the sources given in this guide as they're all fantastic people, teachers and websites and I'd love you to spend some time with them too!
More Guides & Resources from Ross
The Adrenal De-Wire Juice Recipe
How to End Cravings & Willpower Struggles
The Seven Most Acidic Foods to Avoid
The Seven Most Alkaline Foods to Include!
3 Steps to Heal Adrenal Fatigue
Beginner's Guide to Living Alkaline
Let's get started!
Ross