The Alkaline Diet Q&As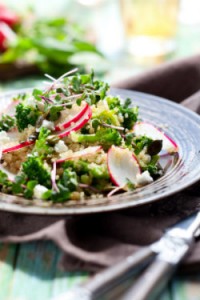 Hi all – every day I answer somewhere between 10-50 alkaline diet questions. So I have decided I should share some of the best!
So each week I'll be posting the best and most relevant alkaline diet Q&A so that all of you can benefit from my answers!
Salad Dressing
Hi Ross,
I've been reading things over and I'm starving right now. Thought I would go ahead and have a salad even though technically it's still breakfast time. So I have fresh spinach and red bell pepper but what is best for a salad dressing. I usually have balsamic and olive oil.
Ross' Answer
Dressings can be your secret to loving salads, at any time of day.  Admittedly, I might stray from 100% alkaline to 80% alkaline with my dressings at that time of day…
Here are some suggestions:
– fresh squeezed orange juice (1/4 orange per serve) and drizzle of olive oil
– same but with lemon (this is more alkaline)
– lemon, crushed garlic, mustard (a little) and olive oil (mixed together)
– olive oil, lemon juice and pomegranate
– surprisingly, stirring hummous through a salad makes a great thick and creamy dressing
Another simple one is to simply use or make infused olive or flax oils – these can be infused with herbs, spices, garlic etc.  I personally love basil, chilli, garlic, rosemary (not all together) infused oils.  They're really easy to make, you just decant some oil into a dark glass bottle and pop in the herbs/spices and leave for a few days/weeks.
I hope this helps!  I'd prob go for the orange dressing at breakfast!
I have some more recipes in my recipe book and on my blog for breakfasts and for dressings (and salads!).
You can get the recipe book here: https://liveenergized.com/redirecttransition
And my other blog recipes are here: https://liveenergized.com/category/alkaline-recipes/
Hope this helps!
Ross
[Note: This blog is only my opinion. It is not medical advice or diagnosis. Only opinions based upon our own personal experiences or information detailed in medical/academic journals or other publications is cited. WE DO NOT OFFER MEDICAL ADVICE or prescribe any treatments. Please consult with a medical professional before making any diet or nutrition changes. Refer to our full disclaimer for more information.]