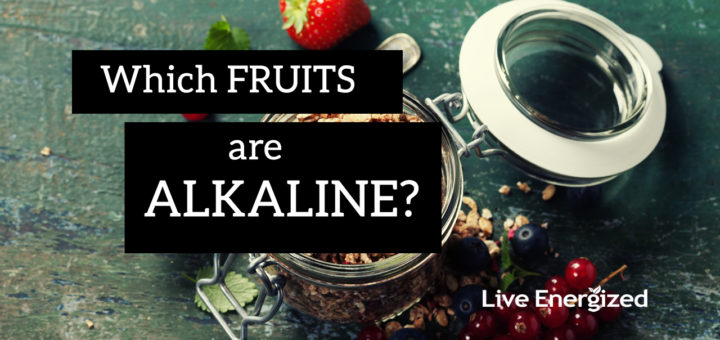 Alkaline Fruits: Which Are Alkaline & Why
The question of which are the alkaline fruits is such an important one to understand when you're first starting on the alkaline diet.
Not all fruits are created equal, and while there are a lot of fruits you can eat with wild abandon, it is a mistake to think that all fruits are alkaline-forming and you can easily fall into the trap of over-consuming them.
Yes, you can over-consume fruit.
I'll get onto this in just a moment, because first it's essential to point out that most alkaline foods charts are dead wrong.
The Charts You Need to Ignore: When they List All Fruits As Alkaline Fruits
There are a lot of alkaline food lists out there, and I know so many people get frustrated because they all seem to conflict with each other.
But the fact is, there are not actually that many differences between them – really there is just one big difference:
The simple truth is that most fruits are not alkaline-forming.
Think things like pineapple, banana, oranges, melons – these are commonly listed as alkaline fruits, but they are actually mid-to-very acid-forming.
I know this could be a shock to a lot of people, so let me explain.
If These Are Not Alkaline, Why Are They On the List As Alkaline In So Many Food Charts?
The simple answer is that most charts are classifying the foods based on the PRAL method of determining pH (PRAL stands for Potential Renal Acid Load). In this methodology the food (or any other substance) is burned down to a fine ash, and the pH of the ash is measured.
This is a hugely useful measure for many hundreds of clinical applications.
But when it comes to food pH and our diet, it's pretty useless. Why?
Because it doesn't take SUGAR into consideration.
These fruits, like those I mentioned, the common fruits like bananas, pears, cherries, kiwi fruit, oranges, pineapple, apple and so on taste, well, really sweet and delicious.
And they taste sweet because they have a ton of fructose in them! And fructose is a pretty damaging sugar for the body (I'll get into this more in a minute, but basically fructose is the WORST of the sugars).
Yes, they contain vitamins, minerals, antioxidants and so on, but when you look at the net affect these fruits have on the body, the sugar means they do more damage than good.
So Are You Telling Us to AVOID FRUIT?!
No, that's not my point. I still think fruit is a wonderful treat and you should feel free to have 1-2 pieces per day (preferably organic and in-season). My point is that these fruits shouldn't be eaten with wild abandon and seen as a 'health food' or free pass.
Plus, when it actually comes to WHY I would eat fruit, it's actually more to do with it's taste and convenience over it's nutritional profile.
Research published in 2014 out of William Paterson University compiled the list of the world's most 'powerhouse fruits and vegetables' based on the nutrient density and bioavailability of 41 different foods.
Foods were awarded "powerhouse" status by providing, on average, 10 per cent or more of the daily recommended intake across 17 nutrients that have been proven to prevent and reverse chronic disease.
SO of all of the fruits and vegetables they published the top 41.
Of the top 41, 38 were alkaline forming foods …and of those the TOP FIFTEEN WERE ALL LEAFY GREENS.
The only fruits to appear in the top 41 were strawberries, oranges and blackberries which were at 30, 33 and 38 respectively.
So for a nutrient hit, I like to stick to my vegetables. They don't contain fructose and they DO contain a lot more nourishment.
The Problem With Fructose
Fruit, as delicious as it is, contains fructose. And fructose is be a problem.
While most types of sugar can be metabolised by practically every cell in the body, fructose can ONLY be metabolised by the liver. We were not designed to eat the vast volumes of fructose we now eat.
Regular sugars – table sugar, brown sugar, raw sugar, cane sugar – these are all 50% glucose and 50% fructose.
Don't get me wrong, the glucose is acidic, oxidising, inflammatory and bad news – but if you're moderately active, the body can use it.
Fructose cannot be used and it stresses the heck out of the liver, the pancreas and so much more.
[Note: Guide to Supporting Your Liver Naturally Here]
People think of fructose as a 'natural sugar', 'fruit sugar' or 'healthy sugar' but this is just not the case. It's not only as damaging as any other sugar, but in reality – it's actually worse.
The direct effects of fructose metabolism include:
100% of the fructose being stored as fat cells – leading to weight gain, fatty liver disease & insulin resistance (and thus Type 2 Diabetes)
Fructose being processed by the liver heavily interferes with our appetite hormones
When our appetite hormones are out of balance, this metabolic shift to puts us into 'starvation mode' causing the body to store _all _food as fat
Fructose raises the levels of our 'hunger hormone' ghrelin and when ghrelin is elevated our brain sends the signal that we're always hungry, no matter how much we eat

In short, fructose causes inflammation, liver stress, oxidative stress, uric acid formation, it makes us gain weight, we can't stop eating it, and it makes us want to keep eating more. Not good.

And fruit contains a LOT of fructose.

Just check out this chart showing the total grams of sugar per serve:

These are not alkaline fruits! They are most definitely acidic, and we need to make sure we don't eat, juice and smoothie a ton of them every day.

In fact, see below for my rules on juicing fruits.

You should definitely still eat these fruits, alkaline or not, 1-2 times a day because they're a delicious snack, way more healthy than something that contains the sugar but NOT the vitamins etc.

But it is clear to see that they are not alkaline fruits and shouldn't be classified as such.

Alkaline Fruits & Acidic Fruits

There is a key distinction here, because we're not actually talking about alkaline fruits or acidic fruits…we're talking alkaline-FORMING fruits and acid-FORMING fruits.

Remember this: It is not the pH of the food BEFORE we consume it that is the biggest influence, it is the EFFECT the food has on the pH of the body AFTER consumption.

Sounds like a minor thing, but as you're about to see, it's very important.

Alkaline Fruits List

Lemon
Lime
Avocado
Cucumber
Tomato
Grapefruit
Pomegranate

That's it! And half of these you wouldn't normally consider to be a fruit anyway!

Now, I mentioned alkaline-FORMING before and this rule applies most clearly to lemons and limes. This confuses a lot of people because, as we all know, lemons and limes are acidic in nature.

However, when metabolised they have an alkaline-forming effect on the body, and so are to be classified as alkaline forming fruits.

Acidic Fruits List

Well, this is a list of basically every other fruit…

Banana
Pineapple
Melons
Grapes
Oranges, mandarins, satsumas etc
Berries: strawberries, blueberries, raspberries etc.
Pears
Passionfruit
Kiwifruit
Papaya
Paw Paw
Mango

Before you ask about any other fruit, the easy answer is – if it's not on the alkaline fruits list, it's not alkaline. The acidic fruits list isn't exhaustive!

A note on fruit in juices and smoothies & dried fruit

I strongly recommend you don't juice, blend or dehydrate (dry) fruits. Eat them whole and raw.

Fructose is far less damaging when consumed with fibre, chewed and digested slowly.

When the fibre is removed (as with juices) it is even more rapidly metabolised by the liver. Same goes for dried fruits. These give a huge hit of fructose with very little fibre and immediately stress the liver.

So there should be no fruit in juices (because the fibre is removed) and even in smoothies, because if your smoothie contained several serves of fruit and you drink the smoothie at a normal drinking pace, this would overload the liver very quickly (think about the time it takes to drink a drink vs to eat 2-3 pieces of fruit including chewing time).

The Best & Worst Acidic Fruits – A Rough Guide:

Really, it all comes down to the sugar content, as this pretty much overrides the nutritional content. So to keep it simple, you want to be eating less of the high-sugar fruits like pineapple, apple, oranges and bananas and instead, the alkaline forming fruits aside, sticking to the lower sugar fruits like berries and melons.

Honestly, all are fine in moderation as long as you're sticking to the rules of:

1-2 pieces only per day
Don't juice or smoothie them
Stay away from dried fruit

Stick to those simple rules and you're all set to continue enjoying fruits each day – regardless of their pH!

I really don't want you to freak out about fruits, but at the same time I don't want you eating (and worse, juicing) a ton of fruit every day thinking that it's healthy and fine to eat in huge quantities.

The simple truth is that you CAN still eat a little fruit, but keep it within my rules and you'll be set.

Any questions, please do ask below,
Ross

Alkaline Fruits Further Reading & Resources

What is PRAL
Sugar Alternatives: Complete Guide to Sugar & 'Healthy' Sugar
Full Alkaline Foods Chart
Introduction to the Alkaline Diet
Alkaline Diet Evidence
The Most Powerhouse Foods Study