It's official, I LOVE tumeric! I wish I had discovered how much I love it a lot earlier, especially now I know how good it is for you!
Tumeric has long been used in Indian cuisine (it's the colour that stains you, your clothes, your mouth, your kitchen etc! – I've lost many shirts to the tumeric glow!) – but tumeric is also a wonderfully healthy spice that I have recently incorporated heavily in my cooking.
In fact, it is featured quite a bit in my Alkaline Diet Recipe Book & I will be using it even more now!
Tumeric will make you glow!
Officially named Curcuma longa, tumeric is being hailed as a strong weapon in the fight against rheumatoid arthritis, protection against cancer and a whole lot more.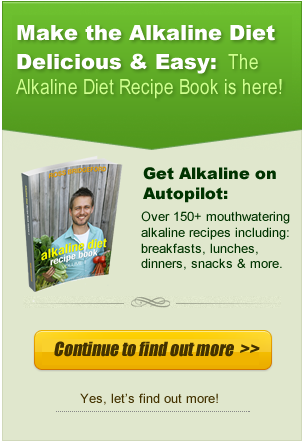 Traditionally it has been used as a digestive aid and for the treatment of fever, infections, arthritis, jaundice and other liver problems. It's fantastic for the liver! In a pure cooking sense, it is of course delicious and is responsible for giving curries that vibrant yellow colour that is so hard to get out of clothes!
Why Is It Healthy?
Tumeric is a rich source of beneficial phenolic compounds that are known as curcuminoids. The beneficial health effects of eating lots of cumeric are:
Antioxidant-Rich: curcuminoids have powerful antioxidant properties, meaning that tumeric can not only scavenge and neutralise free radicals, but also prevent the formation of free radicals at all!
Antiviral: recent research has shown that the antioxidant and antimicrobial capacities of tumeric can be a powerful weapon against many viruses.
Anti-Inflammatory: clinical trials have shown tumeric to inhibit the molecules that are involved in inflammation. This is related to the antioxidant content of tumeric. Further research has also demonstrated that tumeric can have significant benefits for sufferers of rheumatoid arthritis, with a study in the International Journal of Clinical Pharmacology and Therapeutic Toxicology showing that tumeric showed similar effects, comparable to using commonly prescribed drugs such as cortisone.
Anti-Cancer: a recent trial has found that tumeric may reduce the size and number of pre-cancerous growth in the intestinal tract, thus reducing the risk of colon cancer.
Start Eating More Tumeric
Tumeric can be found in many Indian recipes (including a fair few in my Alkaline Diet Recipe Book) – including this delicious breakfast recipe.
Get cooking and currying!
Ross
www.energiseforlife.com