It always frustrates me when I see people struggling with the alkaline diet because I know that most people have been led to believe it is harder than it really is, and that you have to try and be perfect right from day one.
[NINE Alkaline Recipe Ideas Below!]
If you've read many of my articles/guides you'll know I don't believe that this is true and that going slowly, transitioning gently and building up is THE only, sustainable way to get alkaline and stay alkaline. And I really want this blog post to help get you started and keep you on track.
Alkaline Recipe Ideas – A Daily Plan
So I've been doing this whole alkaline thing for about 8 years (not always perfect of course, it took me AGES to get it sorted and even now I have the occasional blow out*) and the #1 question or hurdle most people face is that they simply don't know what to cook when it gets to meal time (or when their stomach rumbles).
In this resource I want to give you 3 sets of Alkaline Recipe Ideas: a Beginner, an Intermediate and on the request of Chris Masiello, an Advanced (or 100% alkaline) meal plan.
The idea of this is to give you some ideas, and if you ever get stuck you can just wheel this out 🙂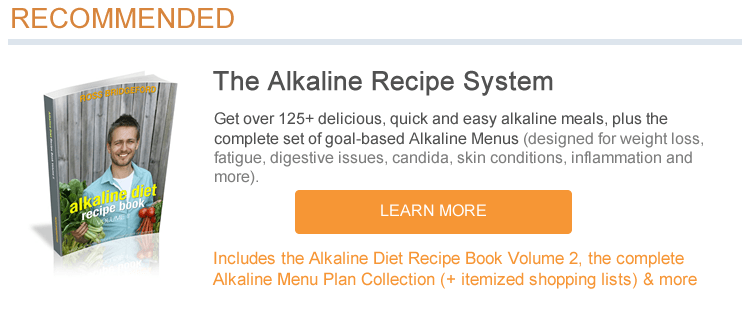 Alkaline Recipe Ideas: Beginner
These are some nutritious meals, but are not necessarily 80-100% alkaline, they're probably more in the 50-70% range. I've compromised on the alkalinity a little to make way for convenience and taste, so that the meals are more like 'normal' meals. These are handy alkaline recipes for those trying to convert their husband/wife/partner/kids/housemate 🙂
Breakfast: Quinoa & Apple Warmer
Lunch: Alkaline Fajitas
Dinner: Alkaline Vegetable Curry
Alkaline Recipe Ideas: Intermediate
Breakfast: Alkaline Oats
Lunch: Tomato & Avocado Quinoa Salad
Dinner: Alkaline Chilli-Lime Steam Fry
Alkaline Recipe Ideas: Advanced
Breakfast: Alkaline Raw Smoothie
Lunch: Alkaline Green Soup
Dinner: Fill You Up Alkaline Salad
Eating Alkaline Is Easy With the Right Recipes…
So I really hope this helps get you going on your way.
Believe me it took me a long time to get really going in the kitchen, but once I realised how to work around ingredients and make 'normal' meals alkaline it soon became a breeze.
Until then – enjoy these alkaline recipe ideas and let's get energized!
Ross