Don't freak out. I know. The recipe says PASTA. Whaaaat? Listen, you have to remember two important things if you are going to successfully live the alkaline diet:
The alkaline diet means aiming for 70-80% alkaline and 20-30% acid – not 100% alkaline. So you can include some items such as pastas, rices etc in your 20% acid, it makes things way easier.
You can be smart with ingredients to make what would normally seem an acidic meal a rather alkaline one – for instance, with this recipe if you use spelt or vegetable pasta you will be making the pasta far, far less acid forming. Plus, if you keep the pasta to 30% of your plate and veggies the other 70% you are having a really alkaline meal that is filling and delicious!
These are the principles I have written my Alkaline Diet Cookbook with and the principles that have kept me alkaline for nearly six years. They work. Trust me.
So with that in mind, lets enjoy this wonderfully filling, satisfying, energising, alkalising meal!
Spicy Aubergine Pasta
Serves 2
200g spelt or vegetable pasta
1 large aubergine (eggplant)
1 red pepper (capsicum)
3 tomatoes
A handful of baby spinach
1 medium-sized red onion
2 cloves of garlic
1 small chilli (or two if you can handle it!)
150ml yeast-free vegetable stock (I prefer the Marigold brand)
1 handful of fresh basil
1/2 teaspoon organic sea salt or Himalayan salt
1 pinch of cayenne pepper
Drizzle of cold-pressed extra virgin olive oil (to use afterwards)
1 teaspoon of coconut oil (to cook with – coconut oil is the only oil that doesn't go toxic on exposure to heat, light and air)
Instructions
Firstly get the pasta on, spelt pasta takes a little longer than normal pasta.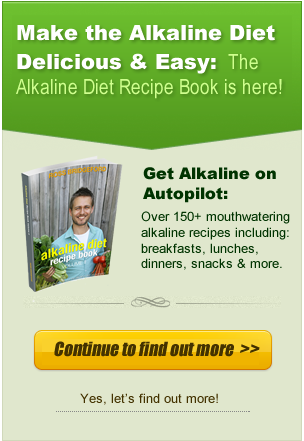 Now get the veggies going. Start by chopping the aubergine and tomatoes into medium sized chunks (a little bigger than a cubed cm), slicing the pepper, onion, chilli and dicing the garlic. Tear the basil up.
Now warm the coconut oil in a pan and lightly cook the onion and garlic, then throw in the aubergine. Once the aubergine has browned a bit, chuck in the tomato, capsicum and then add the stock, salt and cayenne pepper. Let this simmer for ten minutes until it is starting to reduce a bit and get a bit saucy.
Once the pasta is cooked, you're almost there. For the final 30 seconds just throw in the basil and spinach to just let it wilt slightly. Now serve over the pasta and drizzle very lightly with the olive oil.
Delicious!
Optional extras if you're transitioning: olives, sprinkling of parmesan.