DELICIOUS!
I love this dip. It is so quick and easy to make and contains a heap of the wonderful nutrients I always look for in my day: omega 3, omega 6, fibre, iron, protein, selenium and the wonderfully alkaline minerals potassium, manganese, calcium & magnesium.
Not only are avocados a potent source of monounsaturated fatty acids including oleic acid, which has recently been proven to offer significant protection against breast cancer, but it is also a very concentrated dietary source of the carotenoid lutein; it also contains measurable amounts of related carotenoids (zeaxanthin, alpha-carotene and beta-carotene) plus significant quantities of tocopherols (vitamin E).
In the British Journal of Nutrition, researchers Diplock, Charleux, Crozier-Willi et al found that people consuming diets rich in carotenoids from natural foods, such as fruits and vegetables, are healthier and have lower mortality from a number of chronic illnesses.
An extra bonus is that one of the other great food sources of these carotenoids is tomatoes, which also feature in this wonderful recipe.
So this is a dip I make every few days and always have available in my fridge for snacks, wraps and salads. People often ask me what they should snack on that is alkaline and this is a great example – when you've got a great flavour like this you can just dip veggies, healthy tortillas, use it in wraps, put it on sprouted bread, flavour-up your salads…it makes dozens of quick snacks so much more flavoursome!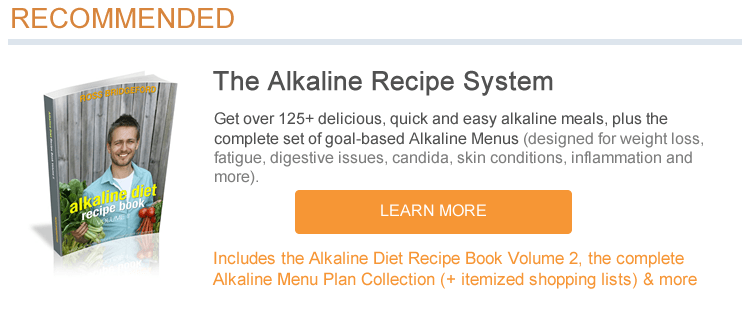 Smooth and Alkaline Avocado & Tofu Dip
Makes 1 Bowl
Ingredients
1 avocado
1/2 pack of silken tofu
1 large tomato
1 clove of garlic
1 small onion (try brown or red)
Some fresh parsley (if available, but not vital)
Freshly ground black pepper and Himalayan/sea salt
Instructions
Easy – just peel and core the avocado, roughly chop the tofu, tomato, garlic and onion, rip up the parsley and throw it all into a blender and blend until smooth!
If you want to thin it out a little you can add a little olive or avocado oil and some filtered water until you get the consistency you like. Or you can have it thick and rich. You can also make it as chunky or smooth as you like by blending for less or more time!
Enjoy this and I promise you will get addicted!
Ross