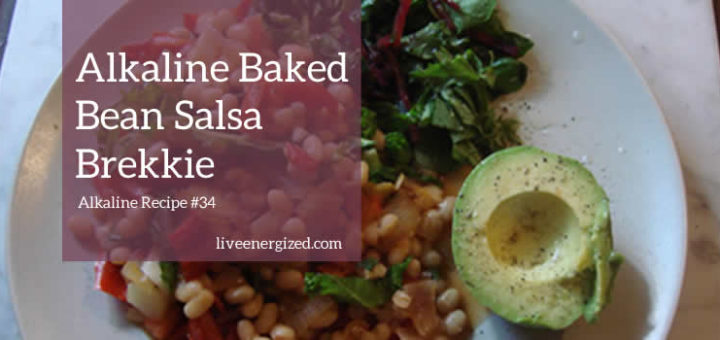 This is a brilliant, warm, filling alkaline breakfast. I love it and again have to credit Tania for it. It is really easy and really great for setting you up for the day. This is my find of the year!
Alkaline Baked Bean Salsa Brekkie
Serves 2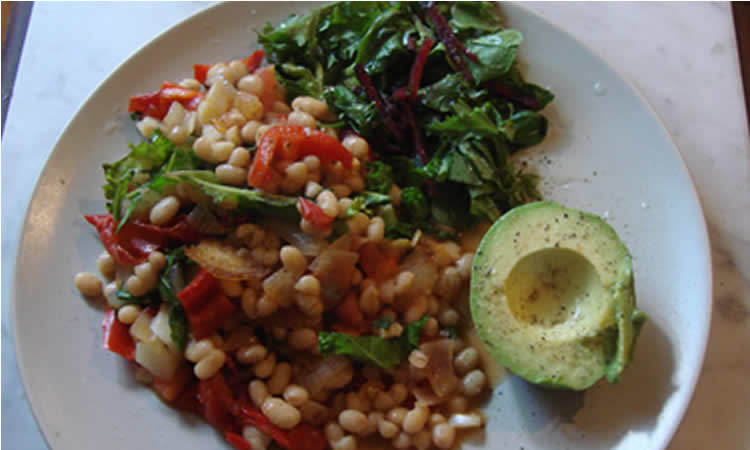 Ingredients
1 can of haricot beans (pref. organic)
4 spring onions
6 cherry tomatoes
1 handful of basil
2 handfuls of spinach
2 cloves of garlic
1 avocado
½ lemon
Olive oil
1 dessert spoon of coconut oil
Himalayan salt & black pepper
[Note: you can swap the haricot beans for lentils, kidney beans, black beans, aduki beans…you get the drift!]
Instructions
Roughly chop the spring onions, halve the cherry tomatoes, and finely chop the garlic. Now, in a reasonably sized frying pan, bring a little water to the boil (maybe 50ml or less) and 'steam fry' the garlic for one minute. Now throw in the cherry tomatoes, haricot beans and spring onions until everything softens.
Next add the basil and spinach until it is wilted and season with Himalayan salt and black pepper and then stir in the coconut oil.
While this is cooking prepare a side salad and halve the avocado and voila.
Serve the bean salsa mix with salad and the halved avocado, with lemon and olive oil drizzled all over.
Delicious – enjoy!
Ross
P.S. Take a look at the Alkaline Recipe System. With hundreds of easy-to-prepare Alkaline recipes PLUS 7 goal-based meal plans each with itemized shopping lists (for goals including weight loss, more energy, better digestion, clearer skin and more) – it makes reaching your health goals SO easy!
+ Make sure to sign up for our free newsletter to get our latest alkaline recipes delivered weekly (it's free).