Alkaline DESSERT OR Breakfast Recipe: Coconut Chia Cream Pot
Oh. My. Gosh.
I am predicting this might be my favourite recipe of the year. My Coconut Chia Cream Pot has been tested on some of my most happily unhealthy friends (heh) and they LOVED it. My most healthy friends? They loved it too!
It's an alkaline, delicious dessert you can serve to the family, at a dinner party, you can take it to work in your packed lunch…
And it packs a whole lotta omega 3, fibre, alkaline minerals, vitamins, antioxidants…it's amazing.
There are a couple of not 100% alkaline ingredients in here, but they are outweighed easily by the alkaline ingredients. But they add some delicious flavour and make this a huge hit.
Remember, we're never aiming for perfection, we're aiming to make being healthy a fun, enjoyable and delicious experience for life 🙂
Here's how you do it:
Coconut Chia Cream Pots
Serves 4
Ingredients
1 cup of (organic) coconut milk
1/4 cup of chia seeds
1 date
1 cup of coconut yoghurt
1 tablespoon of flax seeds, ground, or 1 tablespoon of flax meal
1 tsp of sesame seeds
1/2 teaspoon of vanilla extract
Toppings for 3 varieties:
1 handful of blueberries
1 handful of mixed nuts (almonds, macadamia, pistachios, brazil nuts etc)
1 tsp of ground cinnamon
1 fig
Instructions to Make the Chia Cream Pots!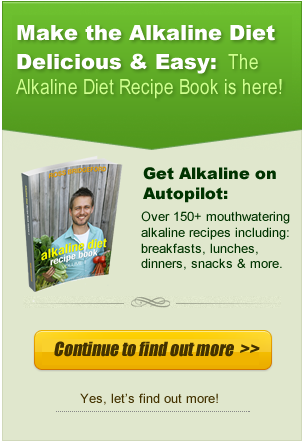 Firstly, sweeten the coconut milk by blending with the date. This little touch of sweetness and flavour from the date makes a huge difference!
Next combine the coconut milk in a large bowl with chia seeds, vanilla, flaxmeal (ground flax) and sesame seeds.
Put into the fridge for 20-30 minutes until the chia has expanded.
To serve, fill a small glass with a layer of coconut yoghurt, followed by the chia mix, then a little extra layer of coconut yoghurt.
Top with your choice of toppings!
The three varieties I love are:
simply with blueberries (a fruit that is very mildly acid forming, but delicious with this mix and the dish is still overall alkaline forming)
with mixed nuts and cinnamon – yum!
with fig for a sweeter, more exotic flavour to complement the coconut!
A final variation would be to mix 2 teaspoons of raw cacao powder in with the chia or with the coconut milk (when you blend in the dates) to make it a chocolate chia cream pot!
Enjoy and test it on your family and friends!
It's creamy, delicious and alkaline!
[yumprint-recipe id='6′]