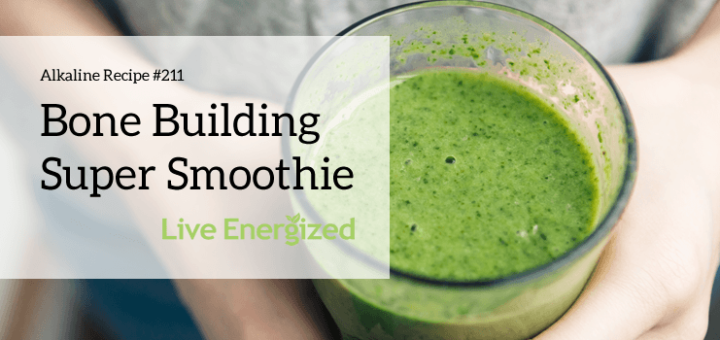 Bone-Builder Super Smoothie
An alkaline-based diet is proven to help build stronger bones and reduce the risk of osteoporosis. An acidic diet is proven to increase the risk of fractures, weaker bones and osteoporosis. This has been researched and proven beyond question.
However, are there specific nutrients and specific alkaline foods that can speed the journey and fortify our bones as quickly as possible?
Yes.
And in today's recipe (the 211th I've published!) I have combined the foods with the most powerful bone building nutrients into this single smoothie. Plus, as well as all of that bone-building goodness, it's creamy and delicious. It's filling too!
You see, strong bones is more than just dairy (in fact, dairy has been proven to actually weaken bones). It's a combination of nutrients, of which calcium is just one. You also need potassium, zinc, magnesium, healthy fats, phosphorous, vitamin K, antioxidants and more.
The Bone Builder Smoothie has them all, in abundance.
---
---
Enjoy:
Bone Builder Smoothie
Ingredients
1/2 Avocado
Handful Kale
1 Tbsp Pumpkin Seeds
1 Tbsp Sesame Seeds
1 Tbsp Almonds
1 Cucumber
Handful Spinach
Handful Swiss Chard/Beet Greens or other greens
250ml Almond or Coconut Milk
Coconut Water or Filtered Water (for preferred consistency)
Instructions
Blend together all ingredients until smooth, adding coconut water or filtered water at the end to get to the desired consistency.
That's all there is to it, enjoy and if you want to check out more of my recipes, have a look at my Alkaline Recipe System by clicking on the image below!
Ross