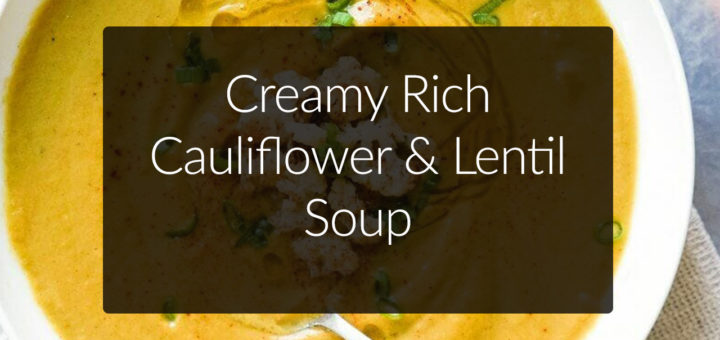 Cauliflower & Lentil Soup: Alkaline, Anti-Inflammatory & Delicious!
This is a brand-new soup I whipped up last week to warm and nourish the fam on a 'cold' winter's day here in Brisbane. It went down a treat.
It's deep, rich, warming and so, so full of goodness.
The combination of the broccoli, cabbage and cauliflower gives plenty of sulforaphane among other powerful antioxidants and anti-inflammatories.
The turmeric gives a hit of anti-inflammatory power like no other…
Then there is the healthy fats from the coconut oil, cashews and hemp seeds…the protein and fibre from the lentils…the anti-viral power from the garlic…the all-round green goodness from the spinach…
It's a delicious and nutrient-dense super soup!
Give it a try this weekend!
Rich Cauliflower & Lentil Soup
Serves 2
Ingredients
1 small head of cauliflower, roughly chopped
1/2 small head of broccoli, roughly chopped
3 cloves of garlic, crushed or finely diced
1 cm of fresh turmeric root, sliced
1/4 head of green cabbage, roughly sliced
1 small brown onion, diced
150ml of dried lentils
2 handfuls of spinach leaves
A handful of cashews
2 tbsp of hemp seeds (optional)
250ml of filtered water
Gluten-free vegetable stock cube / 1tsp of vegetable bouillon powder
Coconut oil
Himalayan salt & black pepper
Optional: coconut cream to garnish
Instructions
Start by gently sauteeing the onion in a little coconut oil, in a large pan. After 2-3 minutes add the garlic and turmeric and stir for a few seconds to coat it all in oil, and then add the cauliflower, broccoli, cabbage and the cashews and hemp seeds.
After 3-4 minutes, add the water and the stock/bouillon powder, stir and then add the dried lentils and bring to a boil.
Once boiling, return to a simmer and allow to cook for 30-35 minutes, stirring occasionally.
After this time has passed and the lentils are cooked and tender, transfer everything to a blender, and add in the spinach leaves (feel free to add more if you like), and blend everything until completely smooth. Season to taste.
Serve with an optional swirl of coconut cream!