Recipe: Alkaline Creamy Broccoli Soup with Ginger and Leek
I absolutely adore this soup! It's simple, creamy, alkaline, and anti-inflammatory. The ingredients are easy to find but absolutely packed with nutrients.
It only takes 15-20 minutes to prepare and make, and you can have it completely blended (my preference), or left chunky, it's totally up to you.
So Nutritious!  The Health Benefits of this Soup is Crazy!
The broccoli is so good for you because it promotes detoxification and is rich in vitamins B, C, and D. It contains the broccoli sulfur compounds that are so beneficial for both cancer and heart disease prevention.
Broccoli also contains sulforaphane which is a detoxifier of carcinogens and removes the bad estrogens from our body. Broccoli is also known to protect breast tissue from excess estrogen which is very helpful in preventing breast cancer.
Broccoli has been shown to be an antioxidant that delays aging, reduces the risk of osteoporosis, and has some anti-disease activity as it contains glucoraphanin which is one of the most potent plant enzymes known to scientists.
The ginger in this soup is another powerful healing food. Ginger relaxes us by reducing our stress hormones and improves digestion by helping relieve nausea, morning sickness, arthritis, migraines, and many forms of pain. It also has anti-inflammatory effects, which help with rheumatoid arthritis and osteoarthritis.
The asparagus in this soup is a blood cleanser and it also contains protein, vitamins D, K, and B6, folic acid, and fiber. Asparagus is said to be a natural diuretic so it will help you rid of excess water weight.
Asparagus also contains betaine, which comes from the amino acid glycine and helps reduce inflammation in our body.   Betaine can also be used to help protect our liver.
The coconut oil gives the soup its creamy texture, but is also so good for you! Coconut oil is loaded with antioxidants and has anti-fungal, antibacterial, and antiviral properties. The medium-chain fatty acids can be used right away for energy instead of being stored as fat like unhealthy processed fats.   Coconut oil is also excellent at conditioning and moisturizer for our skin.
The turmeric gives this soup its yellow colour which is said to be detoxifying, anti-inflammatory, and good for immunity.   Turmeric can be used both internally and externally to help with joint pain, arthritis, ulcerative colitis, and Crohn's disease.
It's great to add leeks to your diet because they contain allicin and quercetin – two anti-inflammatory antibiotics. Leeks are also good for you because they contain a lot of vitamin c, fiber, and potassium.
There is so much power in this soup! It will help your body get rid of excess estrogen and toxins, it'll reduce inflammation in your body, give you more energy and boost your immune system.   The flavor is amazing as well; the ginger makes it spicy while coconut oil and milk give it the creamy texture.
If you prefer a more creamy texture to your soup then I recommend using coconut cream instead of coconut milk, and you can always adjust with a little more water if you go too thick!
Creamy Broccoli, Leek & Ginger Soup
Serves 2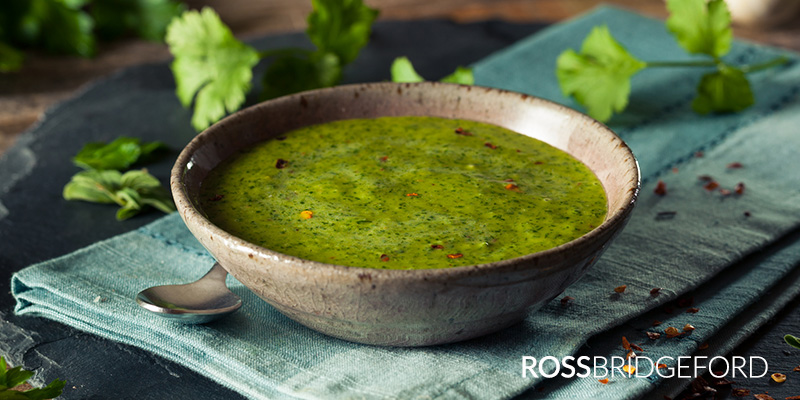 Ingredients:
2 tbsp coconut oil (or butter/ghee or other healthy fat)
1 leek – rinsed and chopped
3 garlic cloves – minced
1 tsp grated ginger root
4 stalks of asparagus
8 cups broccoli florets
2 cups coconut milk
1/4 cup water
2 tsp turmeric powder or 1cm of raw turmeric, grated
Himalayan salt & black pepper to taste
Optional: 1/2tsp each of cumin, fenugreek seeds, and dried coriander
Also Optional: chilli flakes (my fave)
Directions:
Melt the coconut oil in a soup pot and add the cumin, fenugreek and coriander (if using).  Stir for a minute, and then add the broccoli and asparagus and let it cook for about 3 minutes covered on medium heat to slightly cook the broccoli. When the broccoli is almost done add the water and turmeric powder. Let it cook for another 2 minutes.
Add coconut milk, leeks, garlic, and ginger. Cook on medium heat until the broccoli is soft enough to eat but not overcooked – this will take about 5-10 minutes depending on the size of your broccoli florets.
When ready pour in a bowl and enjoy, OR blend until smooth and enjoy!
This soup tastes even better the next day.
Note:   If you're not vegan, you can add some ghee to this recipe for extra taste and extra healthy fat, about 1-2 tbsp depending on your preference.
Would You Like a Brand-New Recipe From Me Every Friday?
How would you like, each Friday afternoon, a new alkaline recipe from me to try…ready for the weekend? It's called my 'Recipe for the Weekend' and it's just that. We don't need something else heavy, clogging up our inbox and our headspace, so this is just a little delicious slice of alkalinity to take with you on your way into the best part of the week.
I hope you love the recipes!