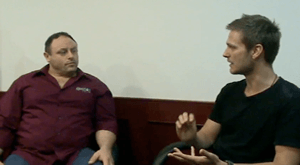 If you're serious about building muscle but are wondering how this works with the alkaline approach you HAVE to watch this video.
Ronnie Ruiz, the CEO of Chanson Water interviewed 'Big' Dan Hill, the youngest winner of the IFBB bodybuilding competition. He uses Chanson water to stay hydrated and to recover faster from intense workouts.
Ronnie chats to Dan about the importance of hydration, recovery, and more.
To find out more about Alkaline & Ionized Water and Chanson click here