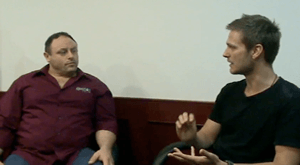 If you're serious about building muscle but are wondering how this works with the alkaline approach you HAVE to watch this video.
Ronnie Ruiz, the CEO of Chanson Water interviewed 'Big' Dan Hill, the youngest winner of the IFBB bodybuilding competition. He uses Chanson water to stay hydrated and to recover faster from intense workouts.
Ronnie chats to Dan about the importance of hydration, recovery, and more.
To find out more about Alkaline & Ionized Water and Chanson click here
Do You Want to Turn Your Health Around in Just 7 Days for Just $1.99?
If you love the look of this guide and the benefits it will bring, check out my book The Alkaline Reset Cleanse. It's a gentle, enjoyable seven-day Cleanse that will completely transform your health and life. Abundant energy, dramatic weight loss, digestion healed, inflammation gone...these are all results my students have experienced from doing their Alkaline Reset Cleanse...
LIMITED TIME OFFER: The Alkaline Reset Cleanse Book is Just $1.99 (Kindle/eReader) -- Click to order now and get over $120+ of extra alkaline training from me!
Real Results from the Alkaline Reset Cleanse Book:

---