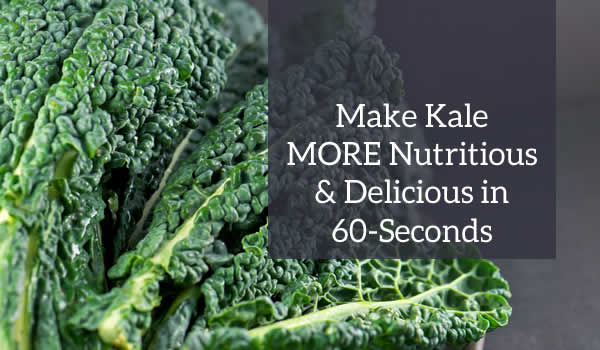 How to Make Kale MORE Delicious, Palatable to Kale-Phobes and Even More Healthy!
Kale is one of THE most alkaline foods there is. And it's an alkaline diet staple – used in soups, smoothies, juices, stir fry, salads, curries and so much more.
It's a snack too – making delicious Kale Chips!
Why Kale is Such an Amazingly Alkaline Food & Good for You
Being SO nutrient-dense, I like to get it as often as possible (pretty much every day). It's packed with vitamins and minerals, including masses of vitamin K and sulfur.
Like spinach it is also massively high in vitamin a and vitamin c and being leafy green it also has a huge chlorophyll content.
And surprisingly, like so many leafy greens surprisingly have – it even contains omega-3 fatty acids.

This wonderfully alkaline food has been proven to support liver detoxification, helps to lower cholesterol, reduces inflammation levels, clears toxic estrogen from the body, and prevents cancer of the bladder, breast, colon, ovary and prostate.
The reason it is so powerful against the cancer fight is that kale contains at least four glucosinolates. I don't want to lose you here by using words like glucosinolates – all you need to know is that as soon as you eat and digest kale, these glucosinolates are really easily converted by the body into cancer fighting compounds.
BUT…Not everyone loves it…
It's not as polarizing as Brussels Sprouts…but it's close.
Some people just do not love the kale.
Madness…
BUT, by giving it a simple little massage you can reduce the bitterness, soften it right up and even make the nutrients MORE bio-available to your body!
As anyone in a long-term relationship knows…sometimes it just takes a little massage.
Kale Massage Technique!
What You Need:
1 Tbsp Fresh Lemon Juice (not from a bottle)
1/8 Tsp Himalayan or Sea Salt
2-3 Tbsp olive oil
1 Large bunch of kale (Tuscan, Curly…whichever type you like)
How to Do the Massage:
Wash the kale, remove any large stems and tear it up, by hand and put it in a bowl
Now add the salt, oil and lemon juice
Now get your hands in there! Massage it all together like you're massaging someone sexy's shoulders
After 2-3 minutes give it a check – is it less bitter and more tasty? If so, you're done. If you want some more then go for some more!
Now you can use this kale as the base of any salad and it will be much less bitter, much more delicious and actually more bioavailable!
Massage for about 3 minutes, until the kale has reduced in size. Taste to see that it has softened. If needed, massage longer until you reach the consistency you desire.
Add other salad ingredients and any other dressing ingredients (tahini, vinegar, nutritional yeast, fresh herbs, etc.) to complete the salad.
And while you're in the mood for love after all of that massage – check out these kale flowers!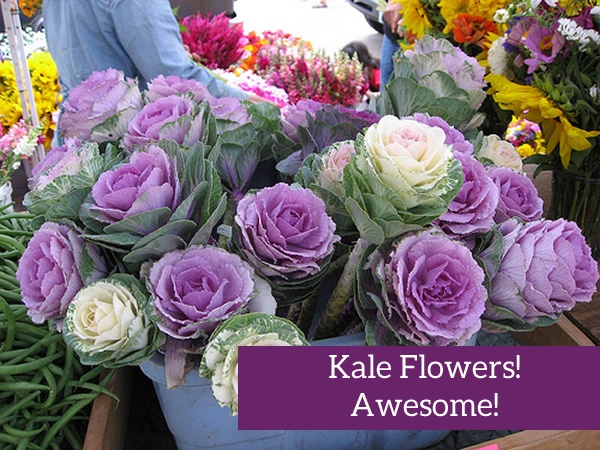 Kale Nutrients Per 1 Cup:
Vitamin K: 1327% RDA
Vitamin A: 354% RDA
Vitamin C: 88.8% RDA
Manganese: 27% RDA
Fiber: 12% RDA
Calcium: 11% RDA
Magnesium: 11% RDA
Iron: 9% RDA
Omgega 3: 7% RDA
Ross' Alkaline Recipes Containing Kale:

Chickpea & Kale Rolls with Tomato Salsa

Kale & Chickpea Mash
Research on Kale:

Ambrosone CB, Tang L. Cruciferous vegetable intake and cancer prevention: role of nutrigenetics. Cancer Prev Res (Phila Pa). 2009 Apr;2(4):298-300. 2009.
Angeloni C, Leoncini E, Malaguti M, et al. Modulation of phase II enzymes by sulforaphane: implications for its cardioprotective potential. J Agric Food Chem. 2009 Jun 24;57(12):5615-22. 2009.
Bhattacharya A, Tang L, Li Y, et al. Inhibition of bladder cancer development by allyl isothiocyanate. Carcinogenesis. 2010 Feb;31(2):281-6. 2010
Higdon JV, Delage B, Williams DE, et al. Cruciferous Vegetables and Human Cancer Risk: Epidemiologic Evidence and Mechanistic Basis. Pharmacol Res. 2007 March; 55(3): 224-236. 2007.
Zhang Y. Allyl isothiocyanate as a cancer chemopreventive phytochemical. Mol Nutr Food Res. 2010 Jan;54(1):127-35. 2010.