Do You Want HUGE Energy and a Choco-Delicious Smoothie?
Yesterday I posted my All-Day Energy Smoothie, a delicious combination of fats (avocado, coconut oil, almonds, cashews), proteins (kale, spinach, almond milk, almonds, cashews), antioxidants (kale, spinach, sunflower seeds), blood-sugar regulators (all of the ingredients), fibre, protein and proven energy producers (the coconut oil in particular).
Phew.
And I promised you a variety.
SEE ALSO: Get Over 150+ Delicious, Easy Alkaline Recipes Here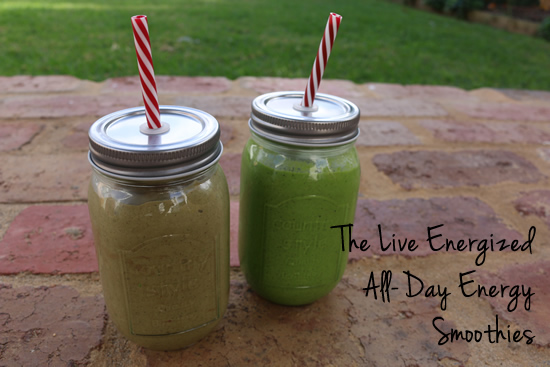 For some beginners and those who already have a lot of greens, that last one was possibly a little green.
This one, which has about 60% of the same ingredients, but a VERY different taste is more like your traditional smoothie – it's CHOCOLATELY!
The (Chocolately) Smoothie That Doubles Your Energy…All Day Long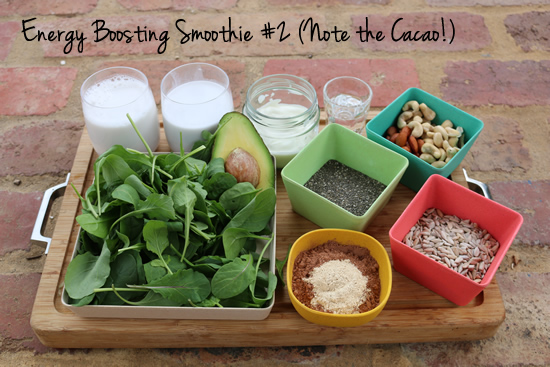 Ingredients
1/2 a ripe avocado
2 handfuls of spinach
200ml almond milk
200ml coconut milk
3 tbsp coconut yoghurt (or other non-dairy yoghurt)
3 tsp coconut oil
3 tbsp raw cacao
1 tbsp maca powder (optional)
50g soaked almonds
25g soaked cashews
1 tbsp sunflower seeds
1 tbsp chia seeds
Instructions:
If you are reading this a few hours (at least) before you're going to make this energy-booster, start by soaking your almonds and cashews for at least an hour or so, preferably overnight. If you want to make it now, try to soak them for at least 20 minutes!
Start by blending the avocado, spinach and liquids to make a smooth 'paste'
Now add the soaked nuts, the yoghurt and the seeds
After about 10 seconds add the cacao and maca (if using, it has a strong taste so experiment with it)
Finally, just before it's finished, add the oil
This will give you a delicious, all-day energy boost because:
Of all of the same reasons as yesterday:
And you can read all about them here (fibre, blood sugar regulation, energy provision, cellular support, protein, antioxidants and more).
PLUS THE FOLLOWING:
The Cacao Provides: a higher antioxidant rating (ORAC) than acai berries, spinach or blueberries, cellular support (required for energy production), magnesium, iron, zinc, manganese which are all high alkaline, energy-giving minerals (they are required for energy production and storage) plus heart health & cholesterol benefits!
The Maca Provides:

Maca is a nutritionally dense super-food that contains high amounts of minerals, vitamins, enzymes and all of the essential amino acids. Maca root is rich in B-vitamins, which are the energy vitamins, and maca is a vegetarian source of B-12. To boot, maca has high levels of bioavailable calcium and magnesium and is great for remineralization. It's also excellent for moods, hormonal balance, your skin, libido, fertility and lots more!
I'll be back in a couple of days with a big announcement!

Until then, join the conversation on Facebook or leave me a comment below!
I would be absolutely delighted to hear from you, answer your questions or hear YOUR energy smoothie recipe!
Keep in touch
Ross