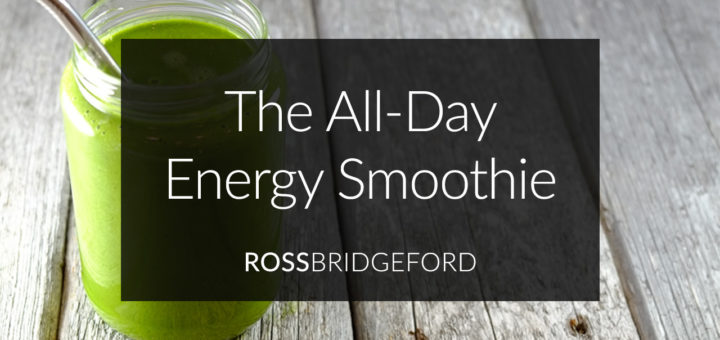 All Day Energy Smoothie
Wouldn't it be great to have more energy?
Not the buzzy, short-lived caffeine energy (and then crash) that so many of us try to survive on…
But, the kind of energy that gives you that positive feeling, the belief that you can take anything the world throws at you…
The kind of energy where you always feel like you can do your best…
And the kind of energy that leaves you excited and smiling and a joy to be around.
Would you love to have more of that?
Thought so… let's get some!
SEE ALSO: Get Over 150+ Delicious, Easy Alkaline Recipes Here
The All-Day Energy Smoothie
Over the next two days, I am going to give you two of my favourite energy-boosting smoothies that you can have every day to double your energy.
They contain a special combination of high-alkaline ingredients that will dramatically boost energy, while also supporting your body's blood sugar levels to prevent energy dips and fatigue.
If you're currently suffering from fatigue, or just want more energy – these are an absolute MUST!
All Day Energy Smoothie #1: The Green Energy Machine
Ingredients
1/2 a ripe avocado
2 handfuls of spinach
1 handful of kale
½ cucumber
200ml almond milk
3 tbsp coconut oil
50g soaked almonds
25g soaked cashews
1 tbsp sunflower seeds
1 tbsp chia seeds
Instructions:
If you are reading this a few hours (at least) before you're going to make this energy-booster, start by soaking your almonds and cashews for at least an hour or so, preferably overnight. If you want to make it now, try to soak them for at least 20 minutes!
Start the blending with the avocado, liquids and cucumber
Next add the oil and the leaves
Finally add the soaked nuts, the seeds and blend at a high speed until smooth
This smoothie tastes DELICIOUS!
If you want to make a little more creamy, add more almond milk OR substitute the almond milk for coconut cream.
Or you can even increase the ratio of cashews to almonds, as cashews generally make things more creamy!
This will give you a delicious, all-day energy boost because:
High Healthy Fat Content:
The inclusion of avocado, almond milk, almonds, cashews, sunflower seeds, chia seeds, coconut oil and even the kale and spinach, means that only the cucumber is not high in omega oils.
Fats, and especially omega 3s are a class of food whose primary purpose is to provide the body with energy.
Consuming a diet rich in healthy fats (including the medium-chain fatty acids from coconut oil – these are metabolized differently by going straight to the liver from the digestive tract to be used directly as a source of energy).
High Protein Content:
This smoothie contains 17.3g per serve – not too bad for a 100% vegan, alkaline smoothie!
While protein does not directly lead to energy production, the combination of protein with fats and fibre is the combination to keep you feeling fuller for longer, leading to less unhealthy snacking, which leads to blood sugar spikes.
By feeling satiated throughout the day you are much more likely to have a consistent energy level, consistent energy production and are much less likely to turn to unhealthy, energy-zapping foods.
High Fibre Content:
Fibre is an indispensable component in the energy production factory in the body. Fibre helps slow the breakdown of and absorption of sugar from high carb/high GI foods.
The fibre from the spinach, kale, nuts and seeds is awesome. You will be getting 11.5g of fibre per serve of this super-smoothie.
That's almost half of your daily requirement for a woman, and over a third for a man!
Blood Sugar Balance:
Having a balanced blood sugar level is critical to having sustained energy.
Foods that lead to a strong, fast blood sugar peak after consumption are called high glycemic index foods. These foods may give a quick burst of energy for the first hour or so after eating them, but research shows that this energy burst often goes down just as quickly, resulting in a slump or low energy feeling within a couple of hours after the meal.
This smoothie is packed with low-glycemic index foods.
These foods release energy slowly, resulting in a smaller change in the blood sugar level and a steadier, longer-lasting feeling of energy.
Nutrients for Energy Transfer & Storage:
the cells in our body that are responsible for energy production, transfer and storage require a wide range of nutrients to support their proper functioning.
This smoothie has all of them. B vitamins, magnesium, iron, sulphur, co-enzyme Q10, and heaps of other antioxidants, omega oils and more!
Imagine Consuming THIS SMOOTHIE Every Day!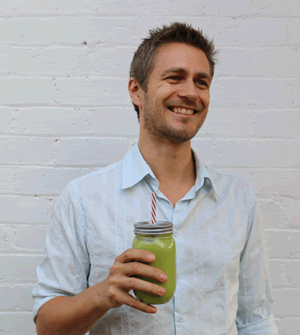 With 11.5g of fibre, 17.3g of protein, 4 serves of alkaline greens, a huge range of vitamins, minerals, phytonutrients, antioxidants, healthy fats, blood-sugar balancing, cell supporting goodness…
You can see why this smoothie leaves you feeling great with all-day-energy.
Tomorrow I will be posting my CHOCOLATE variation on this smoothie that is simply DELICIOUS!
[Update: here is the Chocolate Energy Smoothie – Version 2]
If you love this, leave me a comment below!
I would be absolutely delighted to hear from you, answer your questions or hear YOUR energy smoothie recipe!
Keep in touch
Ross
—————————————————————————
Scientific Research & Sources:
Aw TY, Jones DP. Nutrient supply and mitochondrial function. Annu Rev Nutr. 1989;9:229-251. 1989. PMID:2669872. (link)
Lachance PA, Nakat Z, Jeong W-S. Antioxidants: an integrative approach. Nutrition. 2001;17:835-838. 2001. PMID:11684390. (link)
Ludwig DS. Dietary glycemic index and obesity. J Nutr. 2000;130:280S-283S. 2000. PMID:10721888. (link)
Manuel y Keenoy B, Moorkens G, Vertommen J, Noe M, Neve J, De Leeuw I. Magnesium status and parameters of the oxidant-antioxidant balance in patients with chronic fatigue: effects of supplementation with magnesium. J Am Coll Nutr. 2000;19(3):374-382. 2000. PMID:10872900. (link)
Protein Content of the Energy Smoothie (2 Serves)
Almond Milk: 1.5g
Avocado 2.2g
Kale 1.2g
Spinach 2.8g
Almonds 9.8g
Cashews 5.1g
Sunflower Seeds 5.9g
Chia 6.1g
Fibre Content of the Energy Smoothie (2 Serves)
Chia 11.3g
Avocado 3.1g
Spinach
Kale 1.3g
Cucumber 1.5g
Almonds 4.4g
Cashews 1.5g
Sunflower Seeds